Franchisees lauded for dedication to customer service and team-focused workplace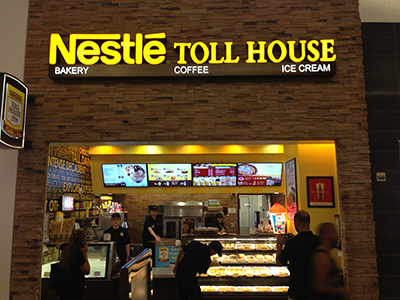 Doug Barnes and Lyle Cornelius knew they had a winner when they started operating their first Nestlé Toll House Café by Chip in the Miracle Mile restaurants in Las Vegas. But little did they know they would hit the jackpot, becoming the first café in the chain's U.S. system to break the $1 million mark in annual revenues.
Even more impressive, the figure is roughly double the location's 2012 revenues.
The successful franchisees purchased their café from a previous owner in March 2012, and recently completed a comprehensive remodel to update its look and branding. The café, at 3663 S. Las Vegas Blvd, Suite 96, is one of two Nestlé Toll House Cafés in the city.
"From the very beginning, Lyle and Doug have exhibited a world-class service mentality that extends not only to their guests but to their team as well," said Shawnon Bellah, Senior Vice President of Global Operations for Nestlé Toll House Café. "One of the many reasons they've risen to the top is their commitment to hiring and retaining exceptional employees that truly care about providing customer service that's as superb as the treats they sell."
Nestlé Toll House Café is a premium dessert destination concept built around the world's most powerful food name – Nestlé. It's a place to relax, bring back a flood of childhood memories and dare to explore the exciting confections baked fresh throughout the day. Along with its universally loved Nestlé Toll House cookies, the café serves brownies, muffins, Nescafé gourmet coffee drinks, smoothies and Dreyer's Premium Ice Cream.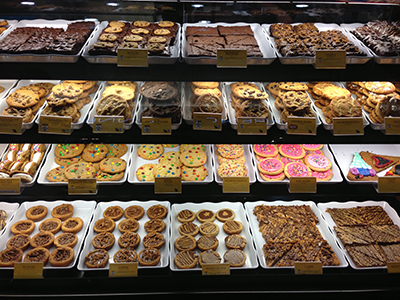 "Lyle and I had no idea we were on pace to break a company record, but we're really excited to have done so," said Barnes. "It's a genuine pleasure to bake and serve delicious treats that everyone loves. But in the end, we owe our success to our outstanding team of employees that brings smiles and warm memories to our guests day after day."
The Miracle Mile restaurant location officially crossed the $1 million milestone on December 30, 2013.
About Nestlé Toll House Café by Chip
Nestlé Toll House Café by Chip is a premiere dessert and bakery café offering customers an unrivaled experience through the use of fine ingredients, indulgent creations, distinct flavor profiles, and the rich tradition of the very best Nestlé brands. Crest Foods Inc., dba Nestlé Toll House Café by Chip, based in Richardson, Texas, is a premiere restaurant franchisor company. The company currently franchises 122 bakery cafes in the United States, Canada and the Middle East. The versatile concept has kiosk, in-line mall and street café locations. The company opened the first Nestlé Toll House Café in 2000. Nestlé Toll House Café has been recognized by Entrepreneur magazine as #1 in Category in the 2009 and 2010 Franchise 500, and has ranked in the Franchise 500 for eight consecutive years through 2013.
For more information please visit www.nestlecafe.com.