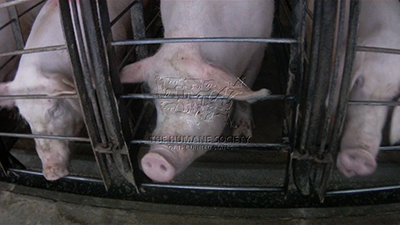 Restaurant Chain Announces More Progress Toward Eliminating Controversial Pig Cages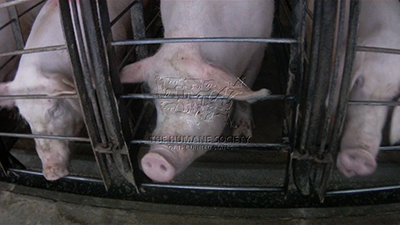 Wendy's, the world's third-largest fast food chain with more than 6,500 locations, announced that it will require its suppliers to produce quarterly reports regarding their ability to provide pork produced without the use of gestation crates. The cages used to house breeding pigs are so restrictive, the animals can't even turn around.
The Humane Society of the United States applauded the announcement, which follows a 2012 commitment made by Wendy's to eliminate the controversial cages from the company's American and Canadian supply chains.
Wendy's states on its website:
"In 2013, Wendy's met on multiple occasions with pork industry representatives and outside experts to continue work towards our stated goal of sourcing only from gestation stall-free pork suppliers. As a part of this commitment, we now require every raw material and finished product supplier to submit quarterly progress reports that reflect the percentage of stall-free pork supplied to Wendy's."
Wendy's is one of 60 food companies that have mandated an end to gestation crates in their supply chains. This list includes McDonald's, Burger King, Costco, Kroger, Oscar Mayer, Johnsonville Sausage, and Sysco.
"We appreciate that Wendy's and other food companies are walking the walk when it comes to their commitments to eliminate a cruel system that's simply out of step with how people think animals ought to be treated," said Josh Balk, HSUS' director of food policy. "There's clearly no future for gestation crates in pork production."
Wendy's announcement, along with the dozens of other food companies that are eliminating gestation crate pork, signals a reversal in a three-decade-old trend in the pork industry that leaves most breeding pigs confined day and night in gestation crates during their four-month pregnancy.
These cages are roughly the same size as the animals' bodies and designed to prevent them from even turning around. The animals are subsequently transferred into another crate to give birth, re-impregnated, and put back into a gestation crate. This happens pregnancy after pregnancy for their entire lives, adding up to years of virtual immobilization. This confinement system has come under fire from veterinarians, farmers, animal welfare advocates, animal scientists, consumers and others.
World-renowned animal scientist and meat industry advisor Temple Grandin, Ph.D., states, "Gestation crates for pigs are a real problem… Basically, you're asking a sow to live in an airline seat … I think it's something that needs to be phased out."
Nine states have passed laws banning gestation crates, as has the entire European Union. Australia, New Zealand, South Africa and India have also either banned gestation crates or their country's pork industry is voluntarily eliminating them.
About Wendy's
The Wendy's Company (NASDAQ: WEN) is the world's third largest quick-service hamburger company. The Wendy's system includes more than 6,500 franchise and Company restaurants in the U.S. and 27 other countries and U.S. territories worldwide. For our brand website, visit www.wendys.com.
About The HSUS
The Humane Society of the United States is the nation's largest animal protection organization, rated the most effective by its peers. Since 1954, The HSUS has been fighting for the protection of all animals through advocacy, education and hands-on programs. We rescue and care for tens of thousands of animals each year, but our primary mission is to prevent cruelty before it occurs. We're there for all animals, across America and around the world. Celebrating animals and confronting cruelty — on the Web at humanesociety.org.