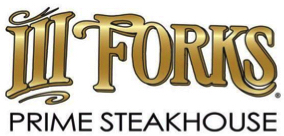 Set your GPS for a gustative adventure at III Forks. Tucked inside Mainstreet at Midtown in Palm Beach Gardens, the venerable steakhouse's dinner menu is embracing the start of a new season with fall-inspired starters, sides, and entrées inspired by the garden and pasture.
Hungry gourmands will have a hard time saying no to a third helping of Spinach Artichoke Dip ($15) crafted from local-sourced spinach, artichokes, roasted red bell peppers, Gruyère cheese, and fresh garlic accompanied with toasted challah bread; or Fried Brussels Sprouts ($12) tossed with citrusy lemon aioli and III Forks seasoning.
Protein aficionados and vegetarians have their pick of scrumptious, 12 oz. Steakhouse Burgers, including the Prime Burger ($19) with four-year aged cheddar and lemon aioli dip; the Truffled Mushroom Burger ($22) with portabella mushrooms, King's butter, and crispy yellow onions; the Bacon Gouda Melt ($20) with crisp Neuske's bacon and smoked gouda and sandwiched between slices of Texas toast; and the Crispy Veggie Burger ($18), a savory lentil cake crowned with crisp lettuce, thick-cut tomatoes, red onions, sliced pickles, and a creamy Dijon sauce. Steakhouse Burgers, excluding the Crispy Veggie Burger, are crafted from 100% Angus Certified Beef. All burgers are inclusive of hand-cut French fries.
Executive chef Tommy Nevill's latest USDA Prime steak options—Baseball Cut Filet Mignon (10 oz., $52); Eye of Ribeye Pepper Steak (10 oz., $44); New York Strip Filet (8 oz., $46); and bacon-wrapped Ribeye Cap (7 oz., $52)—won't disappoint. If you are hankering for a healthy alternative, try the Charred Cauliflower Steak ($21) with red chili-and-sesame crust and silken mashed potatoes.
III Forks is located at 4645 PGA Blvd., Palm Beach Gardens. For more information, call (561) 630-3660 or visit 3forks.com to order online.