William Grant & Sons Welcomes Two New Ambassadors to Hendrick's Gin

Hendrick's Gin is pleased to introduce two new Ambassadors to the U.S. market – Mattias Horseman and Erik Andersson – who join the ranks with Mark Stoddard (West) and Fred Parent (South). With all ends, middles and corners of the U.S. covered, the Hendrick's Ambassador team is prepared to embark on an exciting new cocktail strategy in the new year while remaining true to the well-established, curious brand world. The Hendrick's Ambassadors hold highly important roles, serving as gin specialists, mixology masters, and knowers of all things hospitality – tending events, tastings and educational opportunities in all regards.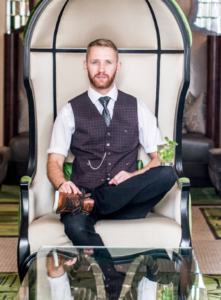 Mattias Horseman will oversee the Central region of the U.S., covering everywhere from Montana to Texas, to Minnesota and Ohio. Hailing originally from the UK, Mattias began his career in the spirits industry as a bartender in England while studying psychology at the University of Chester. There, he focused on the Psychology of the Hospitality Industry and still continues research into stress and the wellbeing of front line hospitality workers. After several years of running the beverage program for Chefs Club by Food & Wine Aspen, Colorado, skiing the slopes and organizing cocktail competitions in the Rocky Mountains, Horseman descended from the snowy peaks to join the Hendrick's team in October 2016. When not concocting specialized tipples, one can find Mattias and his four-wheeled partner Mila, a lovely and always pristine '94 Miata, zooming round the racetrack or busy streets of Chicago.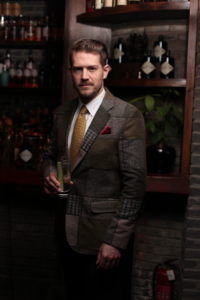 Joining the eclectic Hendrick's team from Sweden, Erik Andersson will oversee the Eastern region of the U.S. For nearly half a decade, Andersson was the Hendrick's Gin Ambassador in Asia looking after markets including China, Japan, Korea, Singapore, Thailand, Hong Kong. His love affair with spirits began when he was a young bartender in his hometown Uppsala in 1998. Andersson holds dear over 15 years of experience in the industry, and has a deep love for travel, which led him to bar programs and ownership roles in London, China and Stockholm. In addition to his wealth of knowledge in mixology, service and product, Erik is fluent in Mandarin, which he now brings with him on his travels to exotic locales. If you can pull Erik away from the bar, you can find him in the great outdoors enjoying hunting, fishing and playing classical music.
Hendrick's Gin is pleased to continue educating the United States market on its curiously infused Scottish gin, encouraging new and loyal gin drinkers alike to cultivate the unusual with the help of its full team of cucumber and tippler connoisseurs.
About Hendrick's Gin
HENDRICK'S is a deliciously super premium gin, made with a number of unusual twists. To deliver a most curious and delightfully unique flavor, Hendrick's combines a distinct blend of eleven botanicals, as well as the signature infusions of cucumber and rose petals, producing a wonderfully refreshing gin with a delightfully unique aroma. Hand crafted in Scotland in miniscule batches by William Grant & Sons, Hendrick's is the only gin that uses a marriage of spirits from both a Carter-Head and Copper Pot Still, a combination that produces a divinely smooth gin that has both the required character and balance of subtle flavors. Since Hendrick's was first introduced to America nearly 15 years ago, it has gained widespread acclaim and received numerous awards, including a Double Gold medal in the 2014 Fifty Best Gin Awards; 'Gin of the Year' at the Food and Wine Magazine Awards and voted 'World's Best Gin' by the Wall Street Journal. Hendrick's Gin has an ABV of 44% and an SRP of $34.99. Please enjoy the unusual responsibly. For further information, visit www.hendricksgin.com.
About William Grant & Sons
William Grant & Sons Holdings Ltd is an independent family-owned distiller headquartered in the United Kingdom and founded by William Grant in 1887. Today, the global premium spirits company is run by the fifth generation of his family and distils some of the world's leading brands of Scotch whisky, including the world's most awarded single malt Glenfiddich®, The Balvenie® range of handcrafted single malts and the world's third largest blended Scotch, Grant's®, as well as other iconic spirits brands such as Hendrick's® Gin, Sailor Jerry® Spiced Rum, Tullamore D.E.W.® Irish Whiskey, Monkey Shoulder® Blended Malt Scotch Whisky and Drambuie® Scotch Liqueur.
William Grant & Sons has been honored as "Distiller of the Year" by the prestigious International Wine & Spirit Competition and International Spirits Challenge 11 times over the past 16 years.
Founded in 1964, William Grant & Sons USA is a wholly-owned subsidiary of William Grant & Sons, Ltd. and features one of the fastest growing spirits portfolios in the USA with brands including Glenfiddich, The Balvenie, Hendrick's Gin, Sailor Jerry Spiced Rum, Tullamore D.E.W. Irish Whiskey, Drambuie, Milagro Tequila, Grant's, Hudson Whiskey, Gibson's Finest, Monkey Shoulder, Clan MacGregor, Reyka Vodka, Solerno Blood Orange Liqueur, Montelobos Mezcal, Ancho Reyes, Flor de Caña Rum, Art In The Age, The Knot and Raynal French Brandy. For more information on the company and its brands, please visit www.grantusa.com.