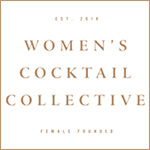 Believing that they, their brands, and the spirits industry, are stronger together, ten leading female spirits producers announced today the formation of the Women's Cocktail Collective (womenscocktailcollective.com) and introduced their inaugural fundraising initiative which puts multiple WCC brands together at retailers and in signature cocktails at bars around the country with a portion of the sales proceeds going to support National Women's History Museum (womenshistory.org) and Outsmart NYC (outsmartnyc.org).
Conceived as an incubator for strategic business development through collaboration, and embracing diversity at every turn, the Women's Cocktail Collective fills a void in the multi-billion dollar industry where female brand owners and producers are wildly under-represented and sales are left on the table. With over 1,000 craft distilleries in the United States alone, the number of brand owners and distillers is barely a double digit figure and they are challenged to be heard. Co-founder, Dr. Nicola Nice of Pomp & Whimsy, notes, "Female voices are under-represented at distilleries and in the board rooms of the industry too. This despite statistics offered up by the Wine & Spirits Wholesalers of America (WSWA) illuminating the facts that women control 70% of household spending on liquor, one in three whiskey drinkers is a woman, and that 57% of all wine volume is driven by women. There's a lot of money to be made from women drinkers, but we're losing opportunities if we're not speaking to them with the authentic voices of other women."
To make sure their voices are heard, as well as the voices of diverse bartenders and consumers, WCC member brands tap into shared resources, funding streams, sales and marketing teams, and growth opportunities to promote and sell their spirits and the cocktails created for them. The Collective is made up of female entrepreneurs who range from veteran brand owners with more than a decade in the spirits business to those introducing their spirits as recently as three years ago. And their products span the entire back bar, and the globe, offering gin liqueur (Pomp & Whimsy); liqueurs and infused spirits (pür*spirits); mezcal (Yola Mezcal); Pisco (Macchu Pisco); NY Honey Rye (Catskill Provisions); scotch (SIA); tequila (Pura Vida); vodka (Square One Organic Spirits); whiskey (Republic Resoratives); sparkling and still wines (Le Grand Courtâge).
In kicking off the Collective's existence, and celebrating great drinks for a good cause, this activation highlights original cocktail recipes from Collective brand ambassadors and the nation's top bartenders which include at least two WCC brands in a drink. At retail shops where you find four or more WCC brands on the shelves a portion of sales also goes back to the Collective's charitable partners.
For your consideration, below is a recipe featured at Libertine Social in Las Vegas. For more cocktails near you, or simply additional recipes, please inquire. Photos available upon request.
Desert Gambler
By Javier Ortega
At Libertine Social, Las Vegas, NV
2oz Pomp and Whimsy
1oz La Diablada Pisco infused with Green Apples
3/4oz Lemon Juice
3/4oz honey syrup
Dash of Angostura bitters
Top with Prosecco
Method: Add Pomp & Whimsy, La Diablada, Lemon Juice, Honey Syrup and Angostura Bitters to a shaker tin filled with ice. Shake until chilled. Pour into a coupe or flute and top with Prosecco.
For more information about the Women's Cocktail Collective, individual Collective brands and their leadership, interview opportunities are available in addition to links below:
https://www.womenscocktailcollective.com/