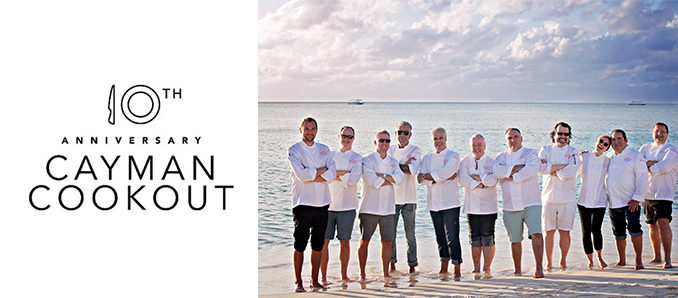 Ultimate Epicurean Extravaganza at 10th Annual Cayman Cookout
Foodies Invited to Experience the 'Culinary Capital of the Caribbean' by way of World-Class Gastronomic Events Hosted by Chefs Eric Ripert, Anthony Bourdain, José Andrés, Emeril Lagasse and More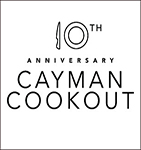 This winter, head down to the tropical paradise of the Cayman Islands to experience one of the destination's most sought after epicurean events of the year, Cayman Cookout, taking place throughout the weekend of January 10-14, 2018. Established by world-renown chef, Eric Ripert and presented by the Cayman Islands Department of Tourism (CIDOT),The Ritz-Carlton, Grand Cayman and Food & Wine Magazine, the event features esteemed chefs serving up bold, mouth-watering flavours through a wide variety of events that pay homage to the destination's thriving culinary scene and authentic Caribbean fare.
Celebrating its 10th anniversary, Cayman Cookout welcomes an elite roster line-up of the world's most creative culinary minds including Chef Eric Ripert, Anthony Bourdain, José Andrés, Emeril Lagasse, Alfred Portale, Daniel Boulud, Dominique Crenn, Michael Mina, Rick Bayless, Robert Irvine and Sean Brock, to host various gastronomic events throughout the weekend, while guests mingle with their favourite celebrity chefs on the world-famous Seven Mile Beach in Grand Cayman. With numerous interactive cooking demonstrations and one-of-a-kind tasting sessions that showcase the destination's fresh seafood, locally sourced ingredients and vibrant flavours bursting in sweet and savoury notes, the four-day festival provides gourmands with a chance to experience the international appeal of Caymanian cuisine like no other.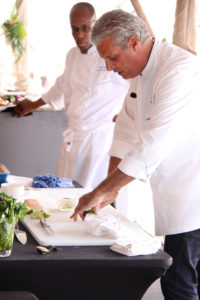 "Boasting the title of 'Culinary Capital of the Caribbean', we have not only set the standard for culinary events throughout the region, but are continuously curating and elevating our culinary works to impress avid foodies and passionate travellers alike," said Mrs. Rosa Harris, Director of Tourism for the Cayman Islands. "As this year marks our 10th annual Cayman Cookout, we extend our gratitude to the wayfarers from across the globe who travel to the destination in search of superb cuisine, as they are the reason we continuously strive to better the destination as an ever-expanding epicurean haven."
As part of the unique and immersive gastronomic festival, guests can look forward to attending more than 40 events and activities led by some of the most influential culinary experts, including top highlights such as The Adventures of Eric & Tony, a Cookout tradition which takes guests on a globe-spinning dining journey with Chef Eric Ripert and Anthony Bourdain; a Barefoot Barbecue under the stars with Chef Eric Ripert, Anthony Bourdain, José Andrés and others who entertain with sizzling grilled foods and hand-crafted cocktails; and a catamaran sail to Stingray City followed by The Beach Bash at Rum Point showcasing freshly made bites served by talented chefs. Finally, to cap off the memorable festivities, guests can enjoy the "10 Stars" Grand Finale evening hosted by Chef Eric Ripert and featuring the famed Chefs of Cayman Cookout with an elegant and unmatched 10 course dinner accompanied by wine pairings from some of the world's best producers. For more information and to purchase tickets or select packages, please visit the Cayman Cookout event website.
Feast Your Eyes on the 'Culinary Capital of the Caribbean'
As 2018 is shaping up to become the year of foodie travel, wanderlusts from around the globe can plan their visit to the Cayman Islands to discover some of the world's best culinary feats as they eat their way through the dynamic food scene. Capitalizing on the locavore trend, the destination provides visitors and locals alike with an impressive roster of passionate local chefs, acclaimed sommeliers and creative mixologists who constantly serve up a complete immersion of the Cayman Islands' unmatched homegrown culinary empire, offering dishes that satisfy the most complex of cravings. With an endless array of dining options at more than 200 unique restaurants – from five-star establishments to freshly-caught fish prepared straight off the boat – it's easy to see why the Cayman Islands is heralded as the 'Culinary Capital of the Caribbean' and a foodie destination worth travelling for.
Following the coveted 10th Annual Cayman Cookout, hungry travellers are encouraged to consider the 30th annual Taste of Cayman Food and Drink Festival, held on Saturday, January 27, 2018, where foodies and wine lovers celebrate the greatest Cayman traditions and rich culinary heritage through Heavy Cake and Mixology competitions. As the destination's largest and longest running annual event, Taste of Cayman festival is held along the water in the lively area of Camana Bay and features tasty tapas and refreshing beverages, with remarkable chef demonstrations and live music, guaranteeing an evening of fun, food, culture and tradition for all who attend.
To purchase tickets for one of the Cayman Islands can't-miss culinary events or book a food-driven vacation to the 'Culinary Capital of the Caribbean," visit us at www.caymanislands.ky. Fans and food lovers are also encouraged to join in on the Cayman Cookout conversation on Twitter at @CaymanCookout and @Cayman_Islands or by using the hashtag #CaymanCookout.
About the Cayman Islands
Located 480 miles south of Miami in the vibrant tranquillity of western Caribbean, this trio of tiny islands is a premier destination for discriminating travellers, divers, honeymooners and families. World-renowned for its idyllic beaches and recognised as a sophisticated, diverse and memorable tourist destination, the Cayman Islands offers spectacular recreational opportunities along with warm, impeccable service. To learn more about the Cayman Islands, please go to visitcaymanislands.comor www.divecayman.ky or call your local travel agent.
From large-group trips and business-focused getaways to ultra-luxurious escapes and multi-generational family vacations, the Cayman Islands provide every element needed to keep clients coming back for more. With an abundance of world-class dining options, a host of adventure activities – including snorkelling, diving, jet skiing, caving, and nature trails – and a variety of meeting spaces for groups large and small, the Cayman Islands is well-poised to host any type of traveller or special occasion.
About FOOD & WINE
FOOD & WINE is the ultimate authority on the best of what's new in food, drink, travel, design and entertaining. FOOD & WINE has an extensive social media following on Facebook, Twitter, Instagram, Pinterest, Tumblr and Foursquare. FOOD & WINE includes a monthly magazine; digital editions on the iPad, Kindle Fire and Nook Color; a website, foodandwine.com; a books division; FWx, a digital brand and website for millennials; plus newsletters, clubs, events around the globe and a restaurant partnership, Chefs Club by FOOD & WINE.