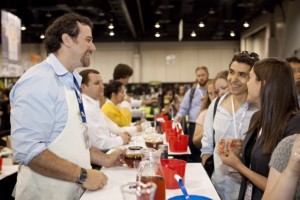 Geared towards helping restaurants, chefs, foodservice and businesses of all kinds through its in-depth education program, the 13th annual World Tea Expo takes place May 6 – 8, 2015 in Long Beach, Calif. at the Long Beach Convention Center. World Tea Expo is the leading conference and exhibit focused 100 percent on premium teas and related products.
This year's conference agenda covers a wide variety of industry topics and strategies, including:
the culinary world and tea
how tea is moving back into the kitchen and bar
the art of food and beverage pairing
tea on the menu
educating customers about tea
single serve tea in an instant
cold brew tea
an introduction to Matcha
tea and Scotch pairings
tea and desserts
Tea, bitters and the science of taste
evolution of flavor
capitalizing on tea culture
a review of the top tea trends
coffee leaf tea
the many tastes of Chai
the organoleptic experience of tea
tea cupping 101
organic teas
increasing sales through the latest trends
Curating tea experiences and tastings
and tea and health, among other key topics
In addition to the education program, the exposition floor features hundreds of new products and services, many of which cannot be found at any other trade show.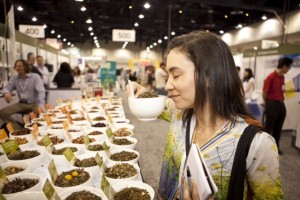 World Tea Expo attendees – top companies and professionals from more than 50 countries – will attend the event to discover "what's next" in tea. Conference delegates represent: restaurants and chefs, foodservice, gourmet retailers, tea and coffee shops, grocery chains, private label brands, convenience stores, distributors, online businesses, hotels and distributors, as well as manufacturers and beverage developers, and others interested in building their business through tea.
World Tea Expo education agenda
Core conference sessions at World Tea Expo are designed to meet the specific needs of restaurants, chefs and foodservice professionals with different levels of experience.
Just a few of the many sessions include:
Tea Moves Back into the Bar & Back to the Kitchen – Suzy Badaracco, president of Culinary Tides, Inc., will discuss culinary cocktails and non-alcoholic drinks, and how everything from tea, bacon, herbs, fruits and veggies are the "rockstars" at the bar. The session will also look at how tea has been making its way into food, showing up as a seasoning in desserts, entrées and side dishes. The presentation will explore the forces behind the movement of tea into beverages and into the kitchen.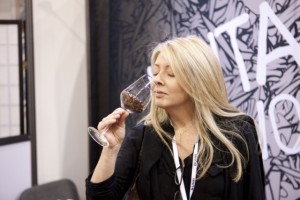 The Big Chill in Premium Tea – Maria Uspenski, CEO of The Tea Spot, says many upscale restaurants and cafes now prepare their iced teas using the cold brew method. Foodservice professionals have touted the ease and flexibility of the process, as well as the finesse of the resulting flavor. In addition, research studies have hyped the chemical benefits to cold brewing certain teas. Uspenski's session will provide a comprehensive introduction and overview to cold brew tea and how it can play into foodservice offerings.
Increasing Your Sales With the New Matcha Madness Trend – Presenter Rona Tison, senior vice president, corporate relations, ITO EN (North America) INC., says Matcha is the new culinary trend of 2015. In her session, attendees will learn how to maximize sales with the revered ceremonial green tea that's making its way into the American mainstream market. Attendees will learn the expansive world of this growing tea trend, and how to integrate Matcha into a business through culinary diplomacy.
World Tea Expo highlights for 2015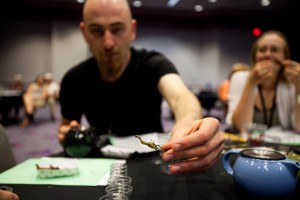 World Tea Expo offers a jam-packed agenda that's expected to draw an estimated 4,000 attendees. Highlights include:
Focused Tea Tastings – World Tea Expo offers numerous 90-minute organoleptic explorations of tea styles, tea regions and tea pairings.
Skill Building Workshops – These three-hour intensive workshops hone important industry skills and include cupping, blending and processing tea.
Best New Product Awards – Each year, World Tea Expo reviews and selects the very best new tea and related products from among the many exhibitors. The winners are typically announced prior to the show.
World Tea Awards – Now in its second year, this awards program celebrates the best and the brightest in the tea industry, covering a broad range of key categories. It's a night of glamour and industry recognition on board the Queen Mary ship in Long Beach, Calif., during World Tea Expo.
The North American Tea Championship (NATC) Winners Tasting Circle – This is an opportunity for World Tea Expo attendees to taste NATC award-winning teas, some of the best tasting teas that are commercially available in the North American marketplace.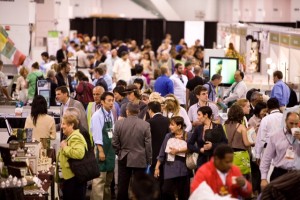 World Origin Tasting Tour – This full-day session is a highly interactive, educational and entertaining "tour," covering the tastes and cultures of some of the most important tea growing regions in the world.
Tea Business Boot Camp – A one-of-a-kind, two-day, intensive and hands-on program that covers critical topics facing the tea entrepreneur, such as the basics of a tea business, financial management considerations, marketing, purchasing and inventory, and Tea 101.
World Tea Academy LIVE! – This program is a "taste" of what World Tea Academy's online program has to offer. Attendees can participate and take the first step towards achieving industry certification.
Visit WorldTeaExpo.com to register. E-mail info@WorldTeaExpo.com or call 702-253-1893 with questions about registering, exhibiting or sponsoring. Twitter: @worldteamedia (#WorldTeaExpo or #WTE15).