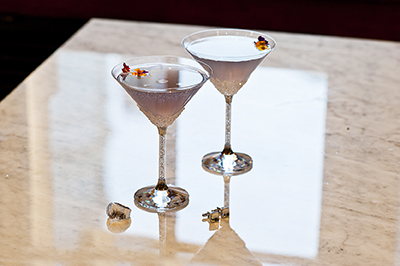 This holiday season, Le Méridien Hotels & Resorts is offering cocktail aficionados a variety of festive and delicious concoctions perfect for every occasion. From caffeinated cocktails created by baristas around the world to a Swarovski cocktail that gives back to your charity of choice, there are many reasons to celebrate the holidays at Le Méridien.
In connection with Swarovski's "Get Caught in Your Swarovski" campaign currently running throughout Philadelphia, the jewelry company has partnered with Le Méridien Philadelphia and created The Getaway, an exclusive high-end cocktail made with citrus vodka, crème de violette, and sparkling wine kissed with edible flowers. Served in a limited edition, custom-crystalized Swarovski martini glass, the $1000 beverage benefits the charity of the imbiber's choice. Guests who purchase the special drink will also receive a set of glasses and two pieces of sparkling Swarovski jewelry. For more information, visit www.getcaughtphilly.com.
To support Le Méridien's coffee culture program and to celebrate the holidays in the highest spirits, Le Méridien is also offering a selection of caffeinated cocktails worldwide.
Created by Franz Zauner of Le Méridien Piccadilly in London, the Frangelico Froth incorporates hazelnut-infused dark rum as the base, with a double illy espresso on top, ensuring a jolly evening for all! A dash of homemade sugar syrup and Frangelico, an Italian hazelnut liqueur, add a unique flavor to this sweet treat.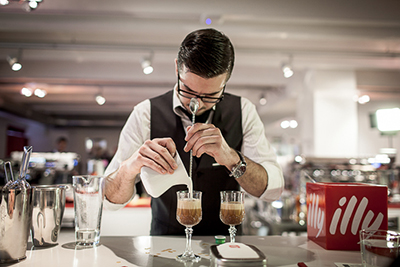 Frangelico Froth
Ingredients
45ml hazelnuts infused dark rum
20ml Frangelico
5ml homemade sugar syrup
Top up with double cream
Method
Double strain in a pre-chilled tulip glass.
Pour double cream over a mixing spoon.
Garnish with crushed and caramelized hazelnuts.
Whisky lovers will rejoice once they try the Jack Be Nimble, Jack be Mint cocktail. Created by Ahmet Ozeren, the Master Barista at Le Méridien Istanbul Etiler, the chocolate-infused concoction features Jack Daniel's and mint leaves, as well as chocolate covered almonds and powdered chocolate.
Jack be Nimble, Jack Be Mint
Ingredients
2 cl Jack Daniel's
4 mint leaves
8 cl milk
2 bar spoons powdered chocolate
2 chocolate covered almonds
Double espresso
Method
Pour all ingredients in a shaker full of ice.
Shake well and pour the mix into an on the rocks glass
For holiday revelers hoping to keep their waistline in check without losing an ounce of seasonal cheer, the Holiday Fruitcake, also created by Ahmet Ozeren, is the perfect guilt-free way to whet your appetite this season. Made with mango, gooseberries, oranges and mint, the fruity cocktail is refreshing and light, and caffeine cravers will appreciate the Espresso Doppio!
Holiday Fruitcake
Ingredients
4 gr mango puree
3 cl safari liqueur
2 leaves fresh mint
Espresso Doppio
1 cl Mint liqueur
2 grape gooseberry
1 slice orange
Method
Mash mango puree, 1 grape gooseberry, safari and mint leaves in an on the rocks glass.
Add orange on top of the mix.
Mix the coffee and mint liqueur in a cup and pour it on the other mix gently.
Garnish with a grape gooseberry.
About Starwood Hotels & Resorts Worldwide, Inc.
Starwood Hotels & Resorts Worldwide, Inc. is one of the leading hotel and leisure companies in the world with 1,162 properties in nearly 100 countries and 171,000 employees at its owned and managed properties. Starwood is a fully integrated owner, operator and franchisor of hotels, resorts and residences with the following internationally renowned brands: St. Regis, The Luxury Collection, W, Westin, Le Méridien, Sheraton, Four Points by Sheraton, Aloft, and Element. The Company boasts one of the industry's leading loyalty programs, Starwood Preferred Guest, allowing members to earn and redeem points for room stays, room upgrades and flights, with no blackout dates. Starwood also owns Starwood Vacation Ownership, Inc., a premier provider of world-class vacation experiences through villa-style resorts and privileged access to Starwood brands. For more information, please visit starwoodhotels.com.