6th Annual Gringo Bandito's Chronic Tacos Eating Contest Scheduled in Las Vegas
Palms Casino Resort Hosts Record-breaking Contest July 29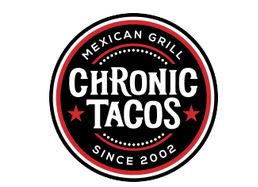 The 6th Annual Gringo Bandito Chronic Tacos Eating Contest is going down at Palms Casino Resort in Las Vegas on Friday, July 29. Gringo Bandito, the hot sauce created by Dexter Holland, and Chronic Tacos, the California-inspired Mexican Grill, have partnered once again to host the record-breaking event taking place this year at Ditch Fridays, the popular bash, at Palms Pool & Dayclub.
The event brings a mix of music, lively patrons, and, yes, lots of taco eating.There are two competition categories: amateur and professional.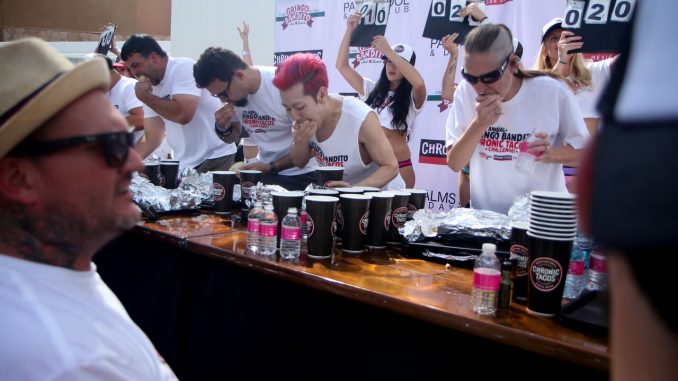 The amateurs will battle against each other as well as against Jason Acuña, Jackass' Wee Man, to win amateur bragging rights and cash prizes. The professional tier draws competitive eaters from around the world, including two-time champion Takeru Kobayashi. Last year the world famous Kobayashi won the contest and set a new world record by eating more than 140 tacos in under ten minutes.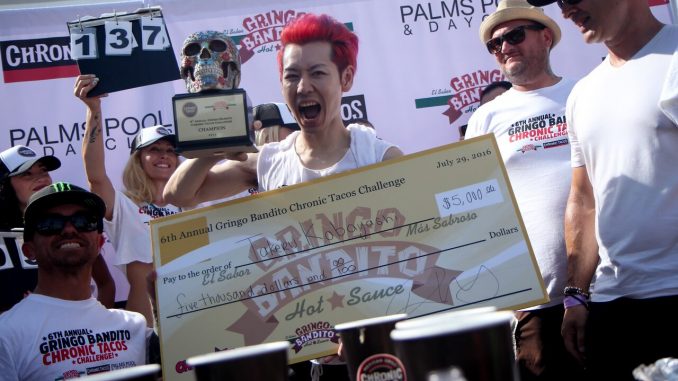 "Our annual taco eating contest has drawn competitive eaters from all over the world and we're excited to bring this year's event to the Palms in Las Vegas where we have had a location for over three years," said Chronic Tacos CEO Michael Mohammed. "Each year this event has grown, it is such a fun and unique experience to be a part of for both us and Gringo Bandito."
"It's great for Gringo Bandito to be partnering again with Chronic Tacos to bring on the biggest taco eating contest in the world!" said Dexter Holland, Founder of Gringo Bandito.
The world taco eating record-breaking event is open to the public, and runs from 1 until 3 p.m. at Ditch Fridays on July 29 at Palms Pool & Dayclub.
About Chronic Tacos
Chronic Tacos is a California-inspired Mexican grill that celebrates authenticity and the individuality of its customers. The fast-casual franchise is known for its fresh Mexican cuisine that is customized for each guest's distinctive taste. Founded in 2002, the Aliso Viejo, California-based company has more than 30 locations operating across North America and is committed to serving only the highest quality ingredients and all-natural meats. Chronic Tacos offers traditional Mexican items such as tortas, taquitos, flautas and tacos as well as burritos, tostada bowls and salads, including a breakfast menu all day. Customers can choose from vegetarian and gluten-free options, as well as carne asada (steak), pollo asado (chicken), carnitas (slow-cooked pork) and al pastor (spicy marinated pork). Seafood lovers can also order grilled, beer-battered or baja-style fish and shrimp.Each restaurant incorporates original art designs inspired by traditional "Day of The Dead" art, creating a unique experience at each location. For more information or to find the nearest Chronic Tacos, visit www.eatchronictacos.com.
About Gringo Bandito
Gringo Bandito hot sauce is the not-so-famous pepper sauce created by Dexter Holland of punk band The Offspring. Gringo Bandito is sold in Australia, Japan, Canada, Finland, Germany, Belgium, Hungary and coast to coast in the US and can be found in the top 10 on Amazon.com's highest customer rated hot sauces amongst 5000+ other products.