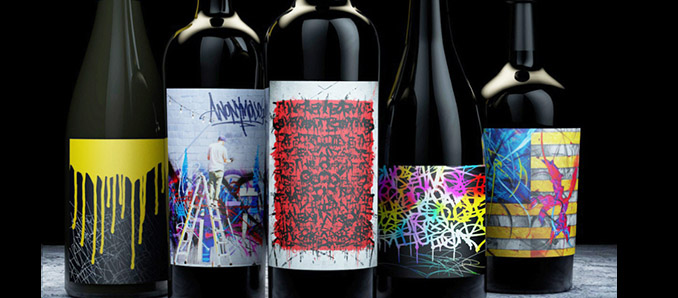 If you're thoughts are turning to shopping as Valentine's Day looms large, you're certainly not alone. According to the National Retail Federation, spending on this amorous occasion last year was purported to hit a staggering $20.7 billion—an increase of 6 percent over the prior year's $19.6 billion and dually breaking the previous record of $19.7 billion set in 2016. With this kind of historical high spending, throngs of consumers are indubitably itching for new ideas sure to impress their sweeties. With that in mind, here are a few gift ideas that will undoubtedly delight your food and beverage-oriented loved ones.
1849 Wine Company (www.1849Wine.com)
Wine is a quintessential staple on Valentine's Day and here's a great option to stock the wine cellar with: 1849 Wine. This design-minded brand draws inspiration from the 21st Century contemporary art movement. 1849 Wine's vibrant labels designed by the artist SABER capture your attention away from the endless sea of white, off-white, eggshell and otherwise underwhelming labels that plague contemporary store shelves. The company prides itself on creating California wines of the highest quality and expression. Every handcrafted bottle of 1849 Wine not only reflects the company's artistic spirit, but also their dedication for the finely-tuned art of wine making. Like an artist's fascinating power to disrupt norms, transcend taboos and change perspective, this company's overarching goal is to achieve all three with every bottle of 1849 Wine. The company's award-winning varietals include Iris—a Sonoma Coast Pinot Noir and my personal favorite (crisp and bright on the nose with a velvety smooth finish and slight oak overtone) as well as Au Jus—a Monterey Chardonnay, Triumph—a Sonoma County red blend, Anonymous—a Napa Valley red blend and Declaration—a Napa Valley Cabernet Sauvignon.
Empower Cosmopolitan Martini (www.EmpowerCocktails.com)
Entertaining a lot of people this holiday season? You probably have wine and beer covered, but how about cocktails, too? Ideal, yes, but too cumbersome—until now. Empower Cocktails, dazzles and delights with its delicious, refreshing, ready-to-pour cocktail: the Empower Cosmopolitan Martini. This easy drink concoction, which is also highly gift-worthy, contains Sweet Potato Vodka, triple sec, cooling white cranberry and zesty lime for a combination of bold flavors. All you need to enjoy it is a martini glass and your favorite garnish and you're in business. The drink is 25-proof and contains only 80 calories per every three ounces. It is best consumed chilled (but do not place it in the freezer). You can also follow one of the company's cocktail recipes listed on its Web site. I also love that Empower Cocktails has partnered with several non-profits that champion women's initiatives including the Voss Foundation, Dress for Success Boston, Kicked it in Heels and the Metro-Manhattan Community Foundation.
Savino Connoisseur Wine Saving Carafe (www.SavinoWine.com)
Sure to be well-received by any wine lover, Savino Connoisseur Wine Saving Carafe features an innovative float that seals users wine, preventing oxidation. With its elegant aesthetics, Savino is designed to maintain fresh wine for up to a week. To prevent the oxidation, the BPA-free float, designed to very stringent dimensions, rests on top of the wine. A lid with rubber seal prevents spills, and both the carafe and lid are made of high-quality flint glass, although a plastic design is also available. Large enough to hold a 750ML bottle of wine, Savino fits most refrigerators that are at least 10.5 inches tall. Savino is something every red, white and rosé lover will surely appreciate.
Emeril Lagasse Pressure AirFryer (www.EmerilPressureAirFryer.com)
You don't always have to go out to celebrate Valentine's Day festivities, or maybe you're attending—or hosting—a "Galentine's Day" celebration with a potluck spread. Either way, an easy and tasty meal is the perfect way to spend time with your significant other or dear friends and family—and even better if that delicious meal is healthy to boot! So here's a gift idea not to be overlooked, and one that can greatly simplify the in-home cooking experience year-round. It's the Emeril Lagasse Pressure AirFryer. This stainless-steel system is supercharged, replacing up to 12 different appliances. It features no less than 44 preset cooking functions including sous vide, bake, canner, grill, sauté, roast and more—all in a healthier environment than traditional deep fryers or oil-based preparations. The device itself boasts a state-of-the-art dual lid design, including a pressure-cooking lid and an air frying lid to allow for the easiest experience available. The lid also creates a hyper-pressurized environment infusing liquid and moisture into the food to squeeze out every bit of flavor. It even features a Turbo Fan, creating a whirlwind of superheated air, heating and crisping all sides of the food—top, bottom and sides—just the way many prefer. The entire system includes an Airflow Rack, Inner Pot and Mesh Crisping Basket, along with an official recipe booklet from Chef Emeril. So avoid the constrained "Prix Fix" dinner out on the Valentine's Day holiday, and otherwise enjoy perfectly prepped, healthy home cooked meals made extraordinarily easy.
The Hero Grill (HeroGrill.FireAndFlavor.com)
Also for those who love to cool and eat, and especially for those individuals and families that like the outdoors, is the opportunity for you to be someone's true hero. This via The Hero Grill—a one-of-a-kind portable grill that makes anyone's next outdoor adventure simple, clean and tasty. And, it's also especially great for space-challenged apartment dwellers who have a hankerin' for foods with fie-forward flavor. Created by Athens, Georgia-based Fire & Flavor, this grill seeks to change outdoor cooking forever. This environmentally friendly and highly portable premium option is a perfect match for the outdoor adventurer or even just for those who love that good grill flavor, space constraints aside. It's also the world's first dishwasher safe grill—yes, the grid can go in the actual dishwasher for quick and easy clean up. It weighs just nine pounds and includes the system itself, a single-use charcoal pod, multi-function thermometer, custom designed bamboo spatula, food safe bamboo cutting board and a rugged, waterproof carry case—super convenient for carrying and storage. Plus, HERO Grill uses a self-contained, all-natural charcoal pod that is ready in 10 minutes and provides 60 minutes of cooking time, meaning no more messy bags of charcoal and lighter fluid. This device's user-focused engineering combines the reusable grilling grid with an all-natural, biodegradable, single-use charcoal pod made of cardboard, lava stones and pre-stacked charcoal briquettes. When you're done grilling, pour water over the pod and add it to your compost pile. HERO defines the new standard in on-the-go grilling
The Innovia Paper Towel Dispenser (www.InnoviaHome.com)
The Innovia Paper Towel Dispenser makes kitchen clean-up easier than ever. With just the wave of your hand, it dispenses paper towels on demand, just like the automatic paper towel dispensers you see in public restrooms. Raw chicken juice on your hands? No problem! Milk spilling off the counter? No problem! Kids in both arms? No problem! This hands-free paper towel dispenser quickly dispenses paper towels one at a time and retracts unused sheets, helping to eliminate waste and improve hygiene. It reduces the risk of cross-contamination with its hands-free use. It's the technology you didn't know you needed but can't live without! The Innovia dispenser is compatible with most household paper towel brands, is available in a variety of colors, and comes in both countertop and space-saving undercabinet models. Originally founded by father and son, Innovia Products are inspired by the hands-free paper towel systems at airports, restaurants, and office buildings. Their vision is to bring together innovation, exceptional quality, and affordability to both home and business appliance users. Careful attention is paid to ensure that high-quality design and technology are united in an easy-to-use device.
TheSuitcaseLife.com Mugs & Other Merch for Travel-Lovers (www.TheSuitcaseLife.com)
Keen on finding fab gifts for road warriors that won't break the bank? Consider my own site TheSuitcaseLife.com for those who live for travel. In addition to great articles and interviews with travel industry experts, highly giftable products are also available to help women with wanderlust in their soul celebrate and proudly display their desire to 'travel, explore, shop, eat and repeat!' – a mantra that's on many of the items available. Other products proudly display the message: #slay the play – perfect for those who seek truly unforgettable and Instagram-worthy travel experiences. There are also mugs, mousepads, keychains and more for both guys and gals who love to get out and "DO SH*T"—one of many available designs and messages that adorn a diverse group of inexpensive items like various kinds of drinkware for home and on-the-go, travel bags, keychains, mousepads, ornaments and other swag showcasing a joy for journeying…every single day. The mugs in particular will keep you sippin' pretty and duly motivated while you ponder about your next vacay or business trip (or revel in your current one)! Plus they're also a great way to present those tickets or that printout of a reservation confirmation to a lucky recipient.
~~~
As the Executive Editor and Producer of "The Luxe List," Merilee Kern, MBA is an internationally-regarded brand analyst, strategist and futurist. As prolific consumer trends, lifestyle and leisure industry voice of authority and tastemaker, Merilee keeps her finger on the pulse of the marketplace in search of new and innovative must-haves and exemplary experiences at all price points, from the affordable to the extreme. The best-of-the-best across all product, service and travel categories—as well as noteworthy marketplace change makers, movers and shakers—are spotlighted in her prolific cross-media platform work that reaches multi-millions each month via broadcast TV (her own major market/network TV show "Savvy Living" and copious other shows on which she appears) as well as print and online publications. Connect with her at www.TheLuxeList.com / Instagram www.Instagram.com/LuxeListReports / Twitter www.Twitter.com/LuxeListReports / Facebook www.Facebook.com/LuxeListReports / LinkedIN www.LinkedIn.com/in/MerileeKern.
Some or all of the accommodations(s), experience(s), item(s) and/or service(s) detailed above may have been provided or arranged at no cost to accommodate this review, but all opinions expressed are entirely those of Merilee Kern and have not been influenced in any way.
Source:
https://nrf.com/media-center/press-releases/fewer-consumers-celebrating-valentines-day-those-who-do-are-spending