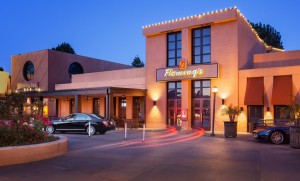 Having lived in San Diego for well over a decade I've had the pleasure of eating at Fleming's La Jolla location on numerous occasions. With each, the award-winning restaurant exhibited why it's remained a North County staple for classic steakhouse fare since opening in 1999. Fleming's La Jolla was, in fact, the third restaurant this brand launched in the United States, not far behind the original Newport Beach location that opened in December of 1998.
Fleming's La Jolla, conveniently situated in the Aventine Center across the courtyard from the Hyatt Regency Hotel, is not one to rest on its laurels or nearly two-decade strong reputation, alone. For his part, for the past nine years Chef Partner Derek Reshaw has worked tirelessly to assure each dining experience stands on its own merits.
With that in mind, I checked in with Wayne Jarret, Operating Partner of Fleming's Prime Steakhouse & Wine Bar La Jolla, to find out what's new and noteworthy on the menu and otherwise. The interview revealed these seven mouthwatering reasons to make your way to the revered restaurant this season.
MK: Steakhouses abound in San Diego. How would you sum up Fleming's approach to traditional American steakhouse cuisine?
WJ: Fleming's offers an engaging ambiance and lively environment, where guests can enjoy great food and a broad selection of fine wine, which is further complemented by attentive and knowledgeable service. We set ourselves apart by offering a wide selection of dry- and wet-aged sizes and cuts of USDA Prime beef, and other flavorful dishes, including daily-featured selections of fresh seafood, salads, delicious appetizers, innovative steakhouse Small Plates, family-style sides and tempting desserts made from scratch. Fleming's recognizes that guests want variety and exploration when dining out–it's part of the experience. Fleming's is also celebrated nationwide for the Fleming's 100, an award-wining wine program that features a curated list of 100 wines by the glass. In fact, we are the only national steakhouse company that offers 100 wines by the glass.
MK: What other qualities set this restaurant apart from other steakhouse options, specifically?
WJ: One thing that certainly sets Fleming's apart from other steakhouse options is the ambiance. The atmosphere of Fleming's is stylish and lively, with the scene enhanced by the open setting and background music that sets the tone for a first-rate dining experience. The ambiance is enhanced by an open dining room built around an exhibition kitchen and expansive bar. Warm and inviting, the setting is refined and casually elegant. Features include lighter woods with rich cherry accents, high ceilings and leather upholstery. Custom-designed alabaster chandeliers complement the scene with a warm amber glow throughout the restaurant.
MK: I've heard about Fleming's Reserve Pour, the LVE Collection by John Legend. How would you describe offering?
WJ: The LVE Collection by John Legend translates true love into the bold flavors and aromas savored in each glass. Our National Director of Wine, Maeve Pesquera, who selects the Fleming's 100 each year and curates the list of beverage, is always looking to identify the best and most unique wine varietals for our Guests to enjoy at Fleming's. The LVE Collection is exclusively available at Fleming's for a limited time.
MK: What menu adaptations do you have for the spring season?
WJ: Our Taste the Season menu offers bold and seasonal flavors. Guests can begin their meal with the Spring Tomato Bisque with artisanal garlic croutons and parmesan frico. For the main course, Guests can enjoy a Filet "Oscar" paired with a jumbo lump blue crab cake and béarnaise sauce starting at $49.95. A featured side of Roasted White Asparagus with brown butter and toasted breadcrumbs pairs perfectly with this dish. For dessert, Guests can indulge in a Warm Apple Crisp with cinnamon crème. Guests can also imbibe with a Spring Fling made with Hendricks' gin, fresh squeezed grapefruit juice and house made grenadine for $10.95.
MK: Does Fleming's have a "signature dish"?
WJ: At Fleming's, steak is our expertise and we pride ourselves on offering USDA Prime corn-fed beef, aged to perfection for flavor and texture. Whether it's Petite Filet Mignon or Prime Bone-In Ribeye, we have the perfect steak option for our Guests. All of our steaks are either classically prepared with a kosher salt and pepper seasoning then broiled at 1,600 degrees or iron crusted and finished with butter and fresh parsley.
MK: What is your personal favorite item on the menu?
WJ: The Bone in Filet Mignon is my favorite item to enjoy at Fleming's. It is not printed on our menu, but it is a nightly feature that is always available. The bone with marrow gives the meat an unbelievable flavor.
MK: I know Fleming's La Jolla also attracts patrons through its robust happy hour program. To what do you attribute this popularity?
WJ: Happy hour, with its "FIVE SIX SEVEN" and "EIGHT NINE TEN" bar menus, features five selections starting at $6 from 5-7 p.m. and eight selections starting at $9 from 8-10 p.m. Each menu offers premium cocktail, award-winning wines by the glass and signature appetizers. Fleming's "Bar la Carte" menu, served exclusively in the bar, offers Fleming's Guests satisfying dishes available any time, any evening. More substantial than appetizers or the typical "bar bites" found at many restaurants, the addition of this Bar la Carte menu makes Fleming's bar as much a destination for food as it is for wine and cocktails.
So storied is Fleming's La Jolla that Hollywood celebs are also known to saunter in for prime steaks and more. The esteemed eatery has reportedly hosted a litany of celebrity guests like Norman Reedus of "The Walking Dead" fame, BD Wong of Jurassic World and "Law & Order," and JK Simmons who won the Oscar for Best Supporting Actor for Whiplash in 2015. But, one need not be an entertainment A-lister to enjoy star treatment as each guest receives the same high level of hospitality—a truth based on my own personal experiences and observations.
If you're in the San Diego North County area and have a hankering for a perfectly cooked piece of prime beef, an amply portioned pork chop, a succulent lobster tail, classic steakhouse sides and other elevated victuals amid an energetic atmosphere, count on Fleming's La Jolla to make your outing a resounding success.
~~~
"The Luxe List" Executive Editor Merilee Kern scours the luxury marketplace for exemplary travel experiences, extraordinary events, and notable products and services. Submissions are accepted at www.TheLuxeList.com. Follow her on Twitter here: www.Twitter.com/LuxeListEditor and Facebook here: www.Facebook.com/TheLuxeList.
Some or all of the accommodations(s), experience(s), item(s) and/or service(s) detailed above were provided at no cost to accommodate this review, but all opinions expressed are entirely those of Merilee Kern and have not been influenced in any way.