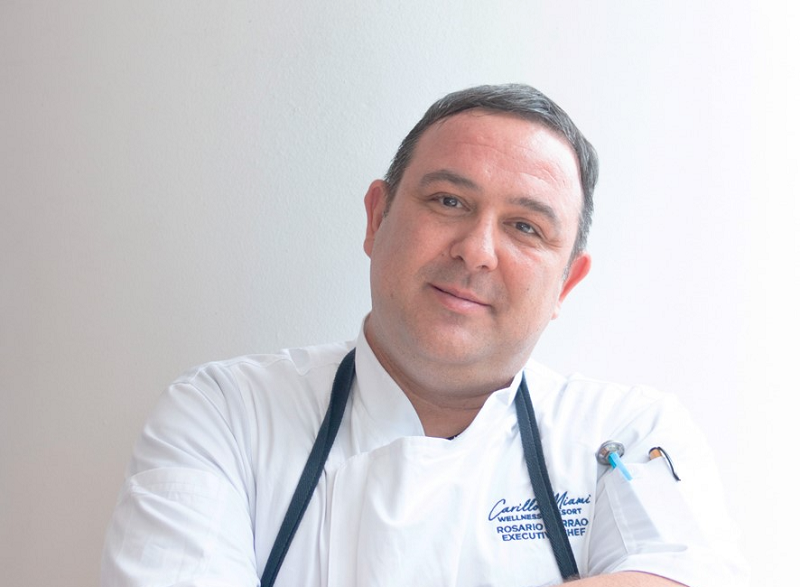 Carillon Miami Wellness Resort is delighted to announce the appointment of Rosario Corrao as Executive Chef. In his new role, Corrao will oversee all culinary operations at the Atlantic beachfront address on Collins Avenue in Miami Beach.
Along with designing menus and sourcing ingredients for the resort's two dining outlets – The Strand and Seaglass Café – as well as for in-suite dining, Corrao will also be responsible for hiring, training, and managing the kitchen brigade; overseeing budgets and finances; and ensuring memorable experiences at the table for guests.
"We are thrilled to welcome Rosario Corrao to Carillon Miami," said Patrick Fernandes, Executive Managing Director of Carillon Miami Wellness Resort. "Chef Rosario is incredibly talented, with an impressive international culinary background, and we are confident that guests and Miami residents will love what he brings to the table."
Born on the island of Capri overlooking the Bay of Naples and the coast of Italy beyond, Corrao gained early inspiration from the sunny climate and culture of the Mediterranean that surrounded him. Key to that culture is cuisine: Corrao believes the diet and lifestyle of the region are among the healthiest in the world. As such, Corrao loves to incorporate fresh seafood and locally sourced ingredients into his dishes, paying homage to both his hometown and Miami Beach.
Corrao joined Carillon Miami Wellness Resort from Fi'lia South Beach at Iberostar Berkeley Shore Hotel in Miami, where he was Executive Chef. Previously, he was with BICE Group, serving as Corporate Executive Chef for the renowned Italian restaurant company for 12 years and leading culinary operations for concepts, including Domus Italian Restaurant in Boca Raton, and Miami-based outlets such as Limoncello Italian Restaurant, Bolognese Ristorante, Pelican Café, Locanda Sibilla, Nine Restaurant, Cardoza Restaurant Sushi Bar & Grill, and Seafood Café on Ocean.
He also served as Consulting Chef for Puntino Ristorante Italiano and local catering outfits while serving as Chef de Cuisine for Escopazzo Italian Fine Dining in Miami. During his time at Escopazzo, Corrao planned and executed a special Wine Lover's Dinner at the James Beard Foundation, which later resulted in the dining establishment receiving an award for Best Italian in Miami from 2003 – 2004.
Originally certified as a Master Chef by the Culinary Arts Institute, Ippolito Cavalcanti in Naples, Italy, Corrao is now right at home along the Atlantic in Miami Beach. When he's not innovating in the kitchen, Corrao enjoys being in nature, visiting the beach, and swimming in the ocean.
For more information about Carillon Miami Wellness Resort, please visit https://www.carillonhotel.com/en.