Restaurants, hotels, caterers and country clubs go "whole hog" with La Caja China roasters.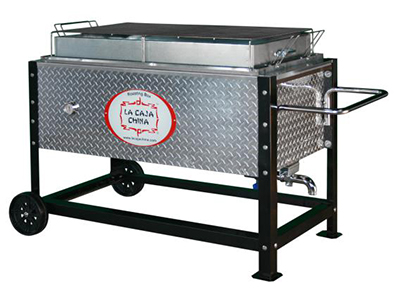 La Caja China, the increasingly popular above-ground roaster for whole animals is now available in commercial models. The new Commercial Series 150 and Commercial Series 300 models are of all metal construction can accommodate an animal of up to 100 pounds live-weight and are ideal for hotels, resorts, caterers, and country clubs. The "magic box," as it is known to its fans, has been featured recently on CBS Sunday Morning, Martha Stewart Presents, Chef Bobby Flay, and Cooking with Andrew Zimmern on The Travel Channel. And, like the original models, the commercial models allow even an inexperienced cook to produce juicy delicious, whole roasted animals without the hassle of traditional pit cooking. La Caja China offers an electric smoke generator accessory that burns real wood.
Traditional pit cooking involves digging a hole, lining it with block, adding charcoal and meat, and then watching closely to ensure that the meat doesn't dry out as dripping evaporate on the hot coals. La Caja China is the easy way to cook for a crowd. It was created in 1985 when creator Robert Guerra's father told him about "the Chinese box" he had seen in 1955 in Havana's Chinatown. Chinese cooks would place a whole animal in an enclosed metal and wood oven with charcoal on top of the lid instead of below the meat. Drippings from the meat landed in a drip pan instead of on the coals, creating a moist environment inside the box. The meat cooked slowly and evenly, stayed tender, and was almost impossible to burn. "It's a convenient, modern version of a traditional cooking method without the hassle or the mess," says Guerra. "I knew right away that we were onto something."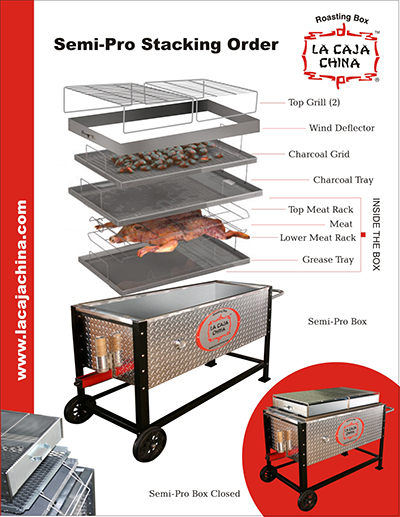 Guerra built his first prototype in 1986 and started selling La Caja China in 1987. Its popularity grew by word of mouth. Over 75, 000 of the roasters have been sold both to individuals and to hotels, resorts, wineries, caterers, and other commercial enterprises, and Guerra has showcased La Caja China for celebrity cooks including Bobby Flay and Martha Stewart.
"I use La Caja China regularly," says Chef Douglas Rodriguez of the De Rodriquez Cuba Restaurant at the Bentley Beach Club in Miami. "Not only does it turn out perfect meat, but it also attracts attention and builds anticipation while the meal cooks. And, because it requires so little attention it leaves me free to oversee the other preparations for a spectacularly memorable meal."
The Commercial Series SP-150 is $799.99 and the SP-300 is $1250. A variety of accessories including an electric smoker, top grills, covers, and a rotisserie kit add flexibility to the system, and the company's website includes recipes and instructions for cooking virtually any kind of meat. Roasters and accessories can be ordered at the company's website at www.lacajachina.com.
La Caja China manufactures and sells specialized roasting boxes along with a variety of accessories and flavoring products. The company's products are made in America and come with a "customer service for life" guarantee.
For more information please visit www.lacajachina.com