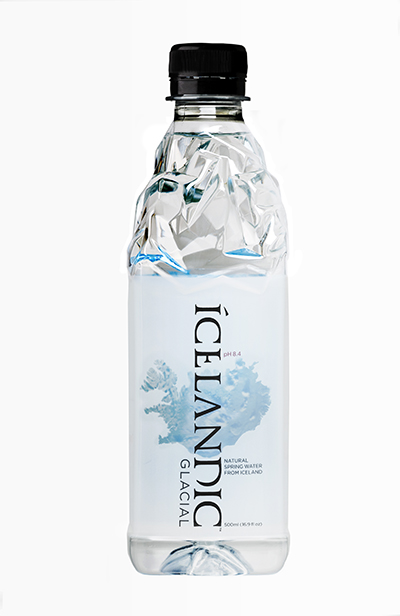 Icelandic Glacial, the super-premium natural spring water from Iceland, today announced that it has appointed Reza Mirza as Chief Executive Officer of its North American operations, effective immediately. In this role, Reza will be responsible for sales, marketing and distribution of Icelandic Glacial in North America. Reza previously held the position of President at Activate Drinks and has held management positions with many leading brands, including Nestle Waters North America and Colgate-Palmolive in New York. Co-founder, Kristjan Olafsson, will remain involved in the day-to-day operations of the company but will now focus on product innovation and developing new markets world-wide.
"We are delighted to announce the appointment of Reza Mirza at Icelandic Glacial at this time of exceptional growth for the company," commented Jon Olafsson, Chairman and Co-founder, Icelandic Glacial. "Mirza is a proven leader with extraordinary experience in the beverage industry and he will be a tremendous asset to us as we continue to grow the brand."
With nearly 20 years of consumer product experience, Mirza most recently served as President of Activate Drinks where he grew the company in key markets through increased distribution while driving double digit same store sales and increased brand awareness. It was under his leadership that Activate gained new distribution in key retailers in the Northeast, while growing the brand organically at Southern California retailers, who witnessed double digit growth in same store sales. He has also held several management positions at Nestle Waters North America where he managed a portfolio of brands with $1bn in sales and successfully led company-wide initiatives to drive growth. Prior to Nestle, he held numerous marketing positions with Colgate-Palmolive where he managed and grew sales of the toothbrush business. He also worked at Bosch in his native India, helping to launch Blaupunkt car audio into the Indian market. Reza is a master's graduate in International Affairs and International Business from Columbia University in New York City. He also earned his MBA from the International Management Institute in New Delhi, India, and holds a B.Sc. in Biochemistry from the University of Madras in India.
"I am thrilled to be joining Icelandic Glacial at this exciting time, building on the excellent and strong foundation laid by Kristjan," said Reza Mirza. "I see the opportunity to build Icelandic Glacial into a megabrand in North America through increased distribution, strong marketing and innovation. I look forward to working with the outstanding team at Icelandic Glacial to deliver on this opportunity."
About Icelandic Glacial
Icelandic Glacial is the super-premium natural spring water from the "Land Of Fire and Ice". Home to glaciers, spouting geysers, volcanoes and raging rivers, Iceland is one of the world's cleanest ecosystems. Icelandic Glacial is bottled at the source from Iceland's legendary Ölfus Spring, which was formed more than 5,000 years ago and is shielded from pollution by an impenetrable barrier of lava rock. The Spring produces water so pure that nothing is added or taken away. As a result, Icelandic Glacial possesses exceptional balance featuring a naturally low mineral content and a naturally high alkaline pH level of 8.4.
The Ölfus Spring is constantly replenished by rain, snow and ice-melt from the nearby mountains. As such, it has been deemed certifiably sustainable by Zenith International, Europe's leading beverage consultancy. Icelandic Glacial is further distinguished as the world's first certified carbon neutral natural spring bottled water for product and operation. Icelandic Glacial uses 100% natural green energy to fuel production delivering a premium bottled water to discerning consumers around the world while maintaining a "net zero" carbon footprint.
As a testament to its exceptional purity, Icelandic Glacial has been selected by Christian Dior as the exclusive hydration agent in the Diorsnow line of skin care products. Icelandic Glacial is distributed in the United States by Anheuser-Busch InBev which holds a 20% ownership stake in the Company.
For more information, visit www.IcelandicGlacial.com. Follow us on Twitter and Facebook.