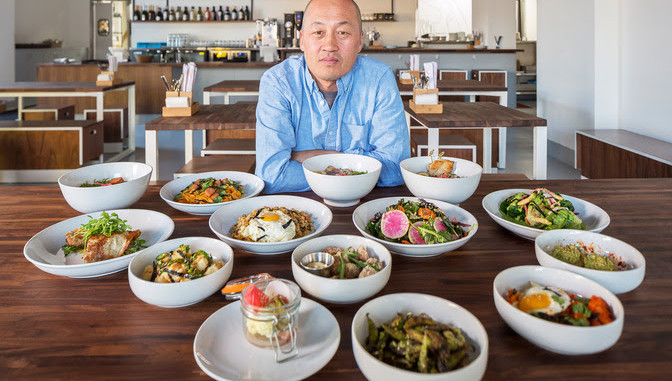 Ozu East Kitchen Goes Above & Beyond the Ramen Bowl in Atwater Village

East Meets Eastside at the New Neighborhood Eatery with Asian Comforts for the Everyday
ATWATER VILLAGE, CA – January 12, 2016 –
A bright yellow 'O' marks the spot for Los Angeles' best new ramen and a menu as delightfully nuanced as the village it inhabits. Enter
Ozu East Kitchen
, a neighborhood eatery in
Atwater Village
with cutting design, welcoming vibes, eclectic beer & wine, and a roaming selection of Eastern comfort dishes adapted for the Californian palette. Now open for dinner, the restaurant is a vision realized by owner and film producer
Paul Yi
, a 17-year eastside resident whose food affair was ignited over spicy curry while slumming at a beach resort in Ko Phangan, Thailand. After many such traveled food and film adventures, his culinary inspirations have landed off Glendale Boulevard to answer the demand for great ramen and more on LA's Eastside.
A corner off Atwater's main street is where Ozu East Kitchen summons new friends and family. Enter and engage the intersecting geometry of lighting like a suspended starry night, illuminating walnut tables and 'bento bench' seating below. Settle in to a table and be joined in good time by Ozu's culinary offerings – a carefully curated selection of snacks, smalls and bowls by Yi and Chef Joshua Han (The Crosby, Saint Martha, Trois Mec). Friends can break chopsticks over 'Chicken' Fried Tofu, Pork Rolls, Chicken Karaage, and Avocado Toast (an inventive take of yuzu guacamole over crisped rice and smoked kochujang). Specialty honors might go to the Kimchi Udon Shrimp, a creamy kimchi udon dish that plays like Eastern carbonara abundant with spam, rock shrimp, and watercress.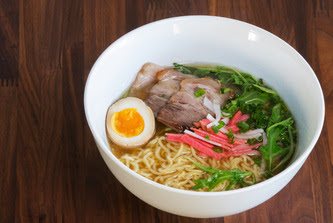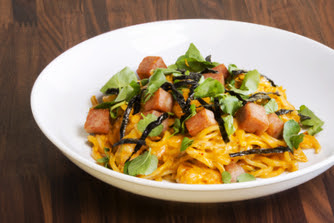 Of course, ramen hierarchy in Los Angeles is cause célèbre, and Ozu East Kitchen enters the gauntlet with three bowls for Eastsiders to immerse themselves. Signature to Ozu, each arrives steaming with rich broth that is big on flavor yet lighter in density, with pickling that stretches the palette. The result is a completely satisfying bowl with less fat and salt than to be expected, creating a lighter obsession.
• Ozu Pork Ramen, with kurobata pork belly, a pork essence broth with chicken base, ajitama egg, pickles, mizuna
• Chicken Ramen, with jidori chicken breast, ajitama egg, pickles, mizuna, and black garlic oil
• Miso Ramen, the vegetarian offering, pairs tofu and mushrooms with spinach noodles
To drink, friends can enjoy a curated selection of sake, wine, and beer. Draft taps include Pasadena's celebrated Craftsman Brewery (and its seasonal Acorn Saison), Telegraph American IPA, and Asahi from Japan. Ozu East Kitchen also offers a revolving selection of handcrafted sodas – flavors might include Vanilla Parsley Orange or Yuzu Ginger – and the only Eastside outpost for Caffe Luxxe coffee.
The restaurant is a personal reflection of owner Paul Yi – Korean American film producer and film festival founder. The Ozu name is inspired by legendary Japanese filmmaker Yasujirō Ozu and reflects Yi's background. Yi's culinary quest rooted in his grandmother's Korean cooking, and his years of research and cooking comes to fruition at Ozu East Kitchen, his restaurant debut.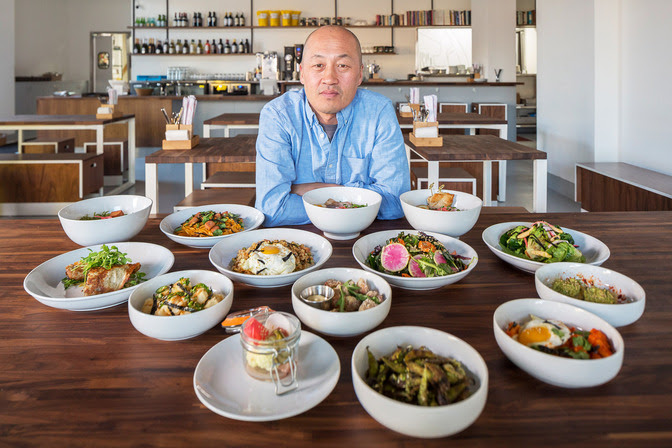 About Ozu East Kitchen
A personal reflection of owner Paul Yi's passion for Japanese cuisine coupled with his Korean American heritage, Ozu East Kitchen is a community restaurant that serves delicious, affordable cuisine in a fun, comfortable space. Izakaya inspired plates paired with beer, wine and sake, farm fresh salads with an Asian twist, Korean and Japanese spices and kimchi, fresh ramen and udon… Ozu is food for the everyday: steaming bowls of ramen, healthy bowls of rice paired with meats and vegetables, vegan and gluten free options, appetizers and salads. And whenever possible, sourcing local and sustainable ingredients. Ozu is a welcoming community restaurant, modern yet comfortable, no pretension or attitude. Great food to be enjoyed among old and new friends.The restaurant name is inspired by the prolific Japanese filmmaker Yasujirō Ozu, and owner Paul Yi is himself a film producer.