– Absolut® Invites Fans To Experience Emerging Artists Transforming The Mundane Features Of A Brooklyn Street Into An Extraordinary Interactive Art Exhibit-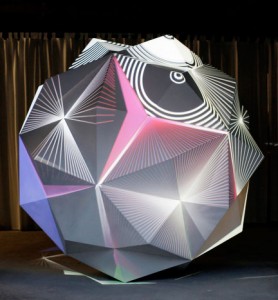 This weekend, more than twenty celebrated emerging contemporary artists transformed ordinary features of North 6th street in Brooklyn (Williamsburg), New York, into an extraordinary immersive and participative experience as part of ABSOLUT's Open Canvas initiative. From wind art to crocheted fence tapestries and digital projections, the co-created interactive art exhibition celebrates the first iteration of ABSOLUT's TRANSFORM TODAY™ global campaign, a movement inspiring creative risk-taking amongst today's creative class.
From Mundane to Extraordinary
The North 6th Street transformation (between Kent and Wythe) began June 10, when building facades, flower pots and fences became stark white canvases with an inspirational call-to-creative-arms "The Future is Yours to Create." On Saturday, June 22, dubbed "Transformation Day," the collective of artists pushed the boundaries of imaginative inspiration, sharing their respective creative mark on the block while onlookers experienced the creative process in motion.
"Open Canvas serves as a reminder that we can all transform our present and future if we adopt a daring spirit and use creativity to stretch everyday reality," said Maxime Kouchnir, Vice President of Vodkas at Pernod Ricard USA. "Collaborating with artists who deliver the unexpected is part of our rich heritage; ABSOLUT has creativity in its DNA."
Through June 29, New Yorkers are invited to experience ABSOLUT Open Canvas and interact with the creativity that surrounds them, including:
· Justin Lowe & Jonah Freeman's "The Starchamber"– a visual and digital experience surrounding the 1970's cult sci-fi hit.
· Ryan McNamara's "Dance" – a mesmerizing and interactive dance celebration on the streets of Williamsburg, individually tailored for each viewer.
· OLEK's "Forgotten Barrier"– an 80-foot long crocheted yarn fence reminding onlookers that "all we need is love and money."
"My art has always sought to bring color, life, energy, and surprise to the living space," said OLEK. "ABSOLUT's Open Canvas project has given me the creative freedom to produce exciting new work and share it with the public."
Collaborating artists participating in ABSOLUT's Open Canvas include: Asger Carlsen, Tony Cox, Craig Damrauer, Ara Dymond, Jonah Freeman & Justin Lowe, Aurora Halal, Dev Harlan, Valerie Hegarty, KATSU, Andrew Kuo, Ryan McNamara, Joseph Montgomery, Mark Nystrom, OLEK, Rostarr, el_peego, JK5, Dominic Neitz, Signal, TwoJay, Kevin Phillips, itsalrightwerealright.com <http://itsalrightwerealright.com> , Justin Beal, Michael Zahn, Lucas Knipscher, Steven Rose and Joanna Seitz.
Click here to view the ABSOLUT Open Canvas Brooklyn experience http://www.multivu.com/mnr/62253-absolut-open-canvas-initiative-interactive-art-exhibition-brooklyn
Later this summer, ABSOLUT's Open Canvas initiative will transform San Francisco. Visit www.absolut.com/opencanvas <http://www.absolut.com/opencanvas> <http://www.absolut.com/opencanvas> <http://www.absolut.com/opencanvas> to experience the initiative.
Building on a Rich History
ABSOLUT's history of collaborating with inspiring artists and creative communities to tell their story through the lens of the bottle is engrained in the brand's DNA. From Andy Warhol's first commission in 1985 to TRANSFORM TODAY, the new global campaign will feature a collection of experiences, stories and products designed to catalyze ABSOLUT fans, past, present and future, to embrace positive creative risk taking in their lives and realize that the future is not a given – it's yours to create.
0# # #
About ABSOLUT
ABSOLUT VODKA has been committed to developing innovative flavors since the introduction of ABSOLUT PEPPAR in 1986, its first flavored vodka. Since then, ABSOLUT has continued to bring a unique twist to common flavors with products such as ABSOLUT® MANDRIN®, ABSOLUT® CITRON, ABSOLUT® KURANT®, ABSOLUT® VANILIA, ABSOLUT® RASPBERRI, ABSOLUT® APEACH®, ABSOLUT® RUBY RED, ABSOLUT® PEARS, ABSOLUT® MANGO, ABSOLUT® BERRI ACAI, ABSOLUT® WILD TEA, ABSOLUT® ORIENT APPLE, ABSOLUT® GRAPEVINE and ABSOLUT© CHERRYKRAN.
ABOUT PERNOD RICARD USA®
Pernod Ricard USA is the premium spirits and wine company in the U.S., and the largest subsidiary of Paris, France-based Pernod Ricard SA, which employs more than 18,000 people worldwide and is listed on the NYSE Euronext exchange (Ticker: RI).
The company's leading spirits and wines include such prestigious brands as Absolut® Vodka, Chivas Regal® Scotch Whisky, The Glenlivet® Single Malt Scotch Whisky, Jameson® Irish Whiskey, Malibu®, Kahlúa® Liqueur, Beefeater® Gin, Plymouth™ Gin, Seagram's Extra Dry Gin®, Martell® Cognac, Hiram Walker® Liqueurs, Pernod®, Ricard® and Avión™ Tequila (through a joint venture with Tequila Avión); such superior wines as Jacob's Creek® and Brancott Estate®; and such exquisite champagnes and sparkling wines as Perrier-Jouët® Champagne, G.H. Mumm™ Champagne and Mumm Napa® sparkling wines.
Pernod Ricard USA is based in New York, New York, and has roughly 850 employees across the country. Pernod Ricard USA urges all adults to consume its products responsibly and has an active campaign to promote responsible drinking. For more information on this, please visit: www.acceptresponsibility.com .