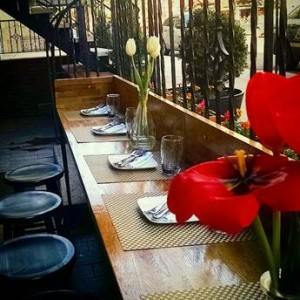 It truly is an amazing sight to see when New York restaurants open up, tables move outside and the joys that accompany dining are visible to the outside world. Everyone in New York- for some reason or another- just becomes a little bit happier. That slice of happiness is tangible at Adalya– a quant, yet quintessential Gramercy Park restaurant perfectly nuzzled away from the restless New York Streets. Located on Irving place, a tree-lined street where foot-traffic is the norm and the beautiful sounds of peacefulness fill the air, this Mediterranean-inspired restaurant and its' outdoor dining is nothing short of magical.
Surrounded by greenery and decorated with freshly-picked flowers, Adalya's front patio is the perfect place to sit back and enjoy the splendors of New York in the springtime. With the tables, chairs and outdoor bar seating hand-crafted by Mustafa Fenercioglu, one of the owners of Adalya, the outdoor dining area has the unique feel of his hometown and the restaurants namesake, Antalya, Turkey. Enjoy fresh and crisp cocktails such as the Mediteranean Momma (Gin, Campari, Lillet Blanc, Carpano Antica Formula) or Juniper Pearl (Gin, St. Germaine, Lemon, Orange Bitters, Soda) which will only add to the warmth of the sunned front patio. Share delicious small bites like Chili Vinaigrette Brussels Sprouts and Octopus or larger plates such as Duck Breast (couscous, leeks and golden raisins) or Striped Bass (beluga lentils, maitake mushrooms and fennel). With an ambiance which invites a sense of ease to all patrons, this outdoor dining experience provides an escape from the craziness we have gotten a little too comfortable with – the craziness of New York.
ABOUT ADALYA
Adalya, located in NYC's historical Gramercy Park Neighborhood, is the newest hospitality venture from NYC restaurateur Orhan Cakir (Pierre Loti), Mustafa Fenerciouglu and real estate mogul Adina Azarian with Executive Chef Derek Miles (formerly of Salinas). Offering a modern twist on Mediterranean fused fare, Adalya's focus on quality is unparalleled, as they take pride in the integrity of their dishes by staying dedicated to providing Manhattanites with the freshest natural recipes in a casual dining atmosphere. Executive Chef, Derek Miles has curated a menu of large and small plates utilizing locally sourced and sustainable seafood and farm-to-table ingredients, serving fresh and gourmet cuisine prepared with a health conscious cooking approach. Menu highlights include crispy flatbreads that range from roasted eggplant and taleggio to braised lamb and hedgehog mushrooms. Other plates include grilled lamb loin with romesco, octopus with black garbanzos and English duck breast with couscous, grilled hanger steak and a daily selection of Oysters. To complement the menu, the extensive beverage program features a global wine, bottles from Mediterranean countries like Tunisia, Israel, Turkey, and Greece, local craft beers and signature cocktails alluding to the history of the Mediterranean region, such as Hercules (Rye Whiskey, Carpano Antica Formula, Yellow Chartreuse), Juniper Pearl (Gin, St. Germaine, Lemon, Orange Bitters, Soda) and Adalya Nectar (Vodka, Aperol, Grapefruit, Mint). Modern design elements include a large 36 foot marble bar encased in rich dark wood, original mural paintings and an exposed wine cellar creating a casual vibe that appeals to a diverse group of patrons. Whether looking for a quaint restaurant with thoughtful, delicious food options, post work cocktails or a great date spot, Adalya is a NYC gem and destination boite appealing to neighbors and visitors alike.