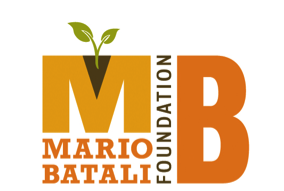 The Mario Batali Foundation (MBF) returns to Las Vegas for Swing Session Las Vegas Celebrity Golf Classic, hosted by actor and comedian Anthony Anderson and Tiger Woods' former swing coach and one of the country's most sought-after golf instructors, Hank Haney. The event includes pre and post parties taking place Friday, June 5th and Saturday, June 6th. Tickets are on sale now and will grant access to all of the weekend's events. Proceeds from these events will benefit the Mario Batali Foundation, whose mission is to ensure that children are well read, well fed and well cared for.
On Friday, June 5th, MBF will kick off the weekend festivities with Burgers in the Bunker, a casual private party from 9 p.m. to 12 a.m. at B&B Burger & Beer inside The Venetian Hotel Resort Casino. The party, featuring music by ShalvoyMusic, will take over the spacious patio, overlooking Las Vegas Boulevard.
On Saturday, June 6th, MBF brings its famed Swing Session Celebrity Golf Classic to Cascata located in Boulder City. Players will join celebrities and world-class chefs for an amazing day of gourmet food and golf, alongside MBF Founder and renowned chef Mario Batali, chef/owner of four award-winning restaurants on the Las Vegas Strip – B&B Burger & Beer, B&B Ristorante, Carnevino and OTTO. The Swing Session Las Vegas Celebrity Golf Classic promises to be the ultimate gastronomic event as guests hit the greens to eat, drink and swing their way through a memorable day of golf and deliciousness. The event will begin at 9:30 a.m. with a golf clinic led by Hank Haney. A shotgun start will follow at 10:30 a.m.

After the Swing Session Las Vegas Celebrity Golf Classic, the fun continues Saturday at 8 p.m. where guests can take part in the "19th Hole" at Carnevino Italian Steakhouse, inside The Palazzo Hotel. Guests will sample the restaurant's brand of superior hand selected dry aged prime beef, paired with opulent Italian wines, all while mingling with celebrity chefs and TV personalities. Guests can also partake in a silent auction packed with unique goods and experiences, with proceeds going to help MBF and its local commitment to the children of Las Vegas.

Players and attendees of previous Swing Session golf events have included former President Bill Clinton, former New York Mayor Michael Bloomberg, PGA Tour star Hunter Mahan, musicians Edge and Mike Mills, chefs Emeril Lagasse, Ming Tsai, and actors Billy Crudup, Andy Garcia and Josh Charles, among others. Many will return this year to beat their scores and enjoy a fun-filled day benefitting the Mario Batali Foundation.
"The Swing Session is the best of both worlds," says Mario Batali. "We're teeing up to raise funds and awareness for MBF all while enjoying a fun-filled weekend of amazing food, entertainment and company."
Individual tickets for the exclusive 2015 Swing Session Las Vegas Celebrity Golf Classic include admission to all three events and are priced at $3,500 per person. Foursomes are priced at $12,500. A limited number of tickets to Burgers in the Bunker and 19th Hole pre and post event parties are also available to non-golfers for $100 and $250 each, respectively. To purchase tickets visit mariobatalifoundation.splashthat.com. MBF is currently looking for sponsors for the 2015 Swing Session Celebrity Golf Classic. For more information on sponsoring the event, please contact Susan Marzano at smarzano@mariobatalifoundation.org.
MBF would like to thank the Venetian/Palazzo, Southern Wine and Spirits of Nevada and Jimmy John's Gourmet Sandwiches for being sponsors of the 2015 Swing Session Las Vegas Celebrity Golf Classic.
ABOUT THE MARIO BATALI FOUNDATION
Long before he was a household name, Mario Batali was a philanthropist. Whether donating his time, services or dollars, Mario has been actively involved in the charities close to his heart for many years to raise awareness and support for children's disease research and relief, and hunger relief. Prompted by these philanthropic efforts, in 2008, Mario launched the Mario Batali Foundation. The Foundation strives to ensure that all children are well read, well fed and well cared for. To learn more about the Mario Batali Foundation, visit www.mariobatalifoundation.org.