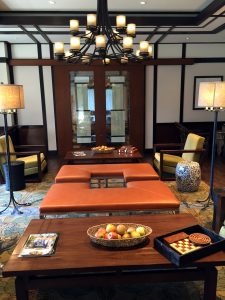 There's just something about a boutique hotel. Maybe it's the quaint locales or the stylish upscale accommodations. Perhaps it's the extraordinarily personalized level of service or the charming and unexpected touches that make it abundantly clear you're not at a cookie-cutter chain operation. It's these things and more that draw me to boutique properties time and time again, especially when I'm in a baroque beach town like Santa Monica—Los Angeles' beachfront haven of fun and fabulosity.
Well known for serving as the backdrop for hundreds of movies and a hub for all sorts of creative media companies that are headquartered there—including famous record labels like Universal Music Group and Interscope, filmmakers such as Miramax and Lionsgate Films, and a myriad of tech developers—creativity and ingenuity abounds in this Pacific paradise. Indeed, the area boasts a long-held reputation as a sanctuary of innovation and affluence, and this is aptly exemplified in the hospitality realm at The Ambrose Hotel. This award-winning property, located a mere five blocks from the expansive and bustling Santa Monica beach, boasts a masterful—and entirely memorable—boutique approach to the many facets of hotel operations.
Originally constructed in 2004 but with renovations ensuring it maintains, if not exceeds, modern standards, The Ambrose Hotel has evolved into a symbol of exclusivity with a charisma and character all its own. First and foremost, the property has only 77 rooms, with each of them unique and sumptuously appointed. This plays directly into their stated goal of creating a "home-like" experience for all of their guests, for which they do hit the mark. The limited number of rooms allows each one to take on an individual personality, despite being equipped with many of the same amenities. Here, there is a palpable air of privacy and class that's a direct result of the intimate and thoughtfully staged setting.
Each room is designed to be comfortable and exclusive and is equipped with green and sustainable LEED (Leadership in Energy and Environmental Design) -certified features that reflect the cordial and environmentally sensitive Californian spirit—and the hotel's steadfast commitment related thereto. Warm earth tones, Ambrose beds, luxury Matteo bed linens, Frette bath linens and cotton robes (the comfiest hotel robe I've ever donned) and opulent Aveda natural bath products help propagate an elegant and tranquil ambiance. Spacious limestone bathrooms (some with separate bathtubs and showers), in select rooms, roomy vaulted ceilings, hardwood floors and furnished balconies or terraces all add to the high-class comfort.
To further the feeling of cozy domestic digs, The Ambrose also offers guests a mini bar (complete with healthy organic refreshments and wholesome snack options), an alarm clock radio, hairdryer, iron/ironing board, DVD/CD player with surround sound, desk with padded chair, two line phones with speaker phone and voice mail, cable TV with HBO and Showtime, professional guest laundry, complimentary Wi-Fi access, and a choice of newspapers: USA Today, Los Angeles Times or the Wall Street Journal. All this in addition to Starbucks' Fair Trade Organic Coffee offered complimentary in-room.
The luxury hotel's amenities do extend beyond the rooms, themselves. In fact, the entire property is tailored for an elite experience from every vista and touchpoint. There are comfortable common areas like an outdoor courtyard and interior Living Room Lounge with community bar that beckon you to sit and relax—if even just for a moment, and a quiet study can accommodate small groups and private meetings. Not just relegated to the rooms, both wired and wireless Internet access is laced into the framework of the entire building to ensure optimal connectivity wherever you may be hanging out. A daily complimentary continental breakfast buffet, featuring coffee, pastries and other edibles decidedly elevated above the norm, is reminiscent of mornings at a B & B, also providing a wonderful opportunity to mix and mingle with other guests.
For those who want to remain active while traveling, Ambrose does also have a 24-hour fitness room on-site that includes a full range of high-quality exercise equipment: treadmills, ellipticals, bicycles and free weights. Certified fitness trainers in the area are even on call to assist guests with maintaining their exercise regime while away from home. And, with so much to do and see nearby the property, local transport is provided within a three-mile radius of the hotel grounds—a fantastic perk with parking sometimes difficult to be had around town. Or, pedal your way around town as The Ambrose Hotel has a fleet of bicycles for guests to use, which are perfect for touring the lengthy beach boardwalk.
Staff service wise, it becomes readily apparent that hotel employees at every level strive to conduct themselves as consummate professionals. Each are noticeably friendly, informative and enthusiastic about providing exceptional service to hotel guests, clearly intending to make every guest interaction positive and helpful. Warm greetings from front desk personnel upon re-entering the property makes it feel like being welcomed home. More than a corporate mandate, my impression is that the staff genuinely wants to go above and beyond to ensure guest satisfaction.
The Ambrose Hotel's prime location and proximity to popular coast-side venues is another factor in its continued success. Simply by virtue of residing on prime Santa Monica real estate, there is a connection to its local ethos: friendly sustainable living with a mix of cultures and sub-cultures working in harmony to thrive in a diverse community. Is it any wonder that the town motto, loosely translated into English, is, "fortunate people in a prosperous land"? The area is indeed replete with natural beauty and notable landmarks that continue to delight both residents and travelers, such as the Santa Monica Pier, Third Street Promenade and the famed Farmer's Markets–all located right down the road from the Ambrose.
For business travelers, the hotel's central location is again of great benefit. The Ambrose is a mere block from the Wilshire business district, and a locus for entertainment, the arts, content creation and academia. Santa Monica is also a part of the growing larger region known as "Silicon Beach," an L.A. Metropolitan collection of more than 500 startup tech companies, as well as major influencers in the fields of web technologies, the gig economy and the ever-expanding video game market. Even well-established tech firms from Silicon Valley like Google, Facebook and Twitter have offices in the area.
If you are considering a sojourn to the Santa Monica area, be it for business or pleasure, The Ambrose Hotel is contemporary, Zen-like lodging rife with creature comforts that will allow you to make the most of your visit. It's a plush, eco-friendly retreat that beautifully balances elegance, relaxation and functionality. Fall in love with this California craftsman-inspired home away from home that proffers haute boutique hospitality at its finest.
~~~
"The Luxe List" Executive Editor Merilee Kern scours the luxury marketplace for exemplary travel experiences, extraordinary events, and notable products and services. Submissions are accepted at www.TheLuxeList.com. Follow her on Twitter here: www.Twitter.com/LuxeListEditor and Facebook here: www.Facebook.com/TheLuxeList.
***Some or all of the accommodations(s), experience(s), item(s) and/or service(s) detailed above were provided at no cost to accommodate this review, but all opinions expressed are entirely those of Merilee Kern and have not been influenced in any way.***