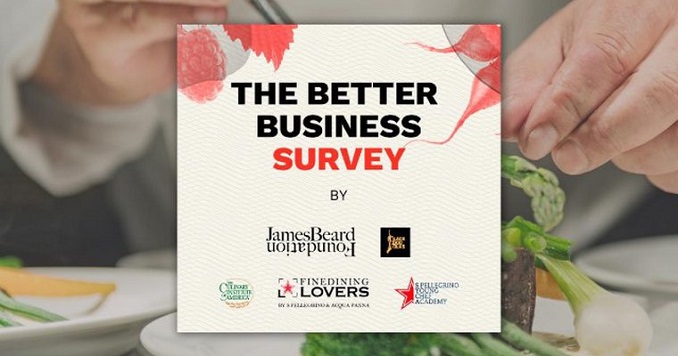 The Culinary Institute of America, James Beard Foundation, Black Food Folks, S.Pellegrino Young Chef Academy and Fine Dining Lovers have teamed up to create Better Business, a collaborative survey created as a way to research and respond to chefs' needs in terms of education, training, further career and business development.
This is one of the first cross-collaborative projects of its kind undertaken in the restaurant industry with the above organizations coming together to understand what resources chefs need to improve their business skills and create stronger, more sustainable models of operation for the future. The project will focus solely on the US and is presented in both English and Spanish language.
The Better Business survey was curated, edited, and administered by Vaughn Tan, a London-based strategy consultant, author, and professor of strategy and entrepreneurship at University College London's School of Management, and who previously worked for Google in California.
The project will launch on 9th August, initiating three stages of activity to run until the end of 2021. These stages are: Analysis (launching in August via a US-wide survey), Observation (launching in October via publishing of data), Solution (launching in November with a range of video masterclasses focusing on the key areas of interest identified by the survey).
The Better Business survey will launch with a call to action to all chefs across America to use the survey to make their voices heard, to ask for the guidance they need, and to help shape the future of the industry. The survey was designed by some of the industry's most prominent names who featured in an initial focus group. And each partner has also provided their own questions in key areas of their expertise. The results will help understand which areas chefs really need help in improving their businesses.
The survey is open to chefs from all kitchens across the spectrum of the industry: hotels, bistros, independents, fine dining, casual, and all sectors in between. The survey can be accessed from 9th August- 3rd September via Survey Monkey (https://www.surveymonkey.com/r/BBSurvey1).
The results will provide invaluable data and lead the creation of tailored video resources to help enhance the skill set of chefs.
Quotes
Aisha Ibrahim – Executive Chef, Canlis Restaurant, Seattle.
"As professionals, we have to continue to strengthen our business knowledge in order to to be adaptable, financially sustain our businesses and teams, and leave room for innovation as our industry shifts rapidly along with the market, demand, and to be able to continue our ability to attract the future of our industry".
Kris Moon, President and COO, James Beard Foundation
"Through our Open for Good campaign, we have been focused on helping independent restaurants build the capacity to come back stronger, more equitable, more sustainable, and more resilient. Hearing directly from the community on what support is most needed is critical in order to identify the most needed resource that will ensure the industry can survive, rebuild, and thrive for the long-term."
Vaughn Tan
"This survey is designed to help identify the resources chefs and other restaurant operators want that will help them run their businesses more effectively, enjoyably, and sustainably."
Colleen Vincent, CoFounder, Black Food Folks
"Black Food Folks is excited to partner with this collaboration towards a more representative and supportive culinary industry. We look forward to applying further findings to future cooperative efforts!"
Ryan King, editor in chief, Fine Dining Lovers
"Creativity is not just about what goes on the plate. The chefs of today and tomorrow need to understand how to run successful businesses above all. Our goal with this survey is to understand directly what chefs need to improve their skill set. A collaborative survey of this nature allows us to pinpoint key areas where chefs lack resources so we can all provide useful, informative content that impacts the industry for the better."
Brad Barnes, CIA '87, certified master chef and director of CIA Consulting, a business unit of the The Culinary Institute of America
"For more than 75 years, The Culinary Institute of America has prepared its graduates with the skills necessary not only to succeed but also to lead the industry forward. This collaboration affords us an opportunity to also help the broader community of restaurant professionals—at all levels—to impact positive, sustainable change in their businesses."
About The Better Business Partners
About the James Beard Foundation
The James Beard Foundation celebrates and supports the people behind America's food culture, while pushing for new standards in the restaurant industry to create a future where all have the opportunity to thrive. Established over 30 years ago, the Foundation has highlighted the centrality of food culture in our daily lives and is committed to supporting a resilient and flourishing industry that honors its diverse communities. By amplifying new voices, celebrating those leading the way, and supporting those on the path to do so, the Foundation is working to create a more equitable and sustainable future — what we call Good Food for Good™. As a result of the COVID-19 pandemic, the James Beard Foundation launched the Open for Good campaign to ensure that independent restaurants not only survive, but that the industry is able to rebuild stronger than before. For more information, subscribe to the digital newsletter Beard Bites and follow @beardfoundation on Facebook, Twitter, Instagram, TikTok, and Clubhouse. The James Beard Foundation is a national not-for-profit 501c(3) organization based in New York City.
About The Culinary Institute of America
Founded in 1946, The Culinary Institute of America is the world's premier culinary college. Dedicated to developing leaders in foodservice and hospitality, the independent, not-for-profit CIA offers master's, bachelor's, and associate degrees with majors in culinary arts, baking & pastry arts, food business management, hospitality management, culinary science, and applied food studies. The college also offers executive education, certificate programs, and courses for professionals and enthusiasts. Its conferences, leadership initiatives, and consulting services have made the CIA the think tank of the food industry and its worldwide network of more than 50,000 alumni includes innovators in every area of the food world. The CIA has locations in New York, California, Texas, and Singapore. For more information, visit www.ciachef.edu.
About The Black Food Folks
Cofounded by Clay Williams and Colleen Vincent, Black Food Folks is fellowship of Black professionals in food and drink, promoting one another for mutual success.
About Fine Dining Lovers
Fine Dining Lovers is an international digital platform that publishes insider information from within the restaurant world, drawing on its unique access to the best the industry has to offer. Its team of talented journalists writes and publishes daily content, including breaking news, exclusive interviews, recipes from the best kitchens in the world, in-depth features, inspiration from around the globe, advice on cooking techniques, insider travel guides and more for an audience of chefs, experts and gourmands. In addition to editorial content, Fine Dining Lovers is committed to supporting the restaurant industry with regular content from the world's best chefs, restaurateurs and producers. It gave tangible support during the 2020 pandemic in the form of insight surveys, downloadable guides and digital discussions with industry leaders. In the ten years that Fine Dining Lovers has been available to online visitors, it has become one of the most influential voices in fine dining, respected by food lovers, professionals, experts and media, and continues to grow from strength to strength.
About the S.Pellegrino Young Chef Academy
The S.Pellegrino Young Chef Academy is an inspiring international community where talented and passionate young chefs meet the most influential and renowned members of the gastronomic world. Open to all Young Chefs and Senior Chefs (Jurors, Mentors and Judges) that have participated in any editions of S.Pellegrino Young Chef, together with Partners that share our vision, the Academy exists as a dedicated website, private Facebook group, and public social channels. The Academy connects Young Chefs with peers and Senior Chefs, empowering and supporting them to become the game changing culinary talents of the future through a program of opportunity and learning.