Renowned Culinary Adventurer Anthony Bourdain Gets A Taste
of Nickelodeon's Hit Animated Series Sanjay and Craig,
"Snake Parts Unknown" Premiering Saturday, July 25, at 11:30 a.m. (ET/PT)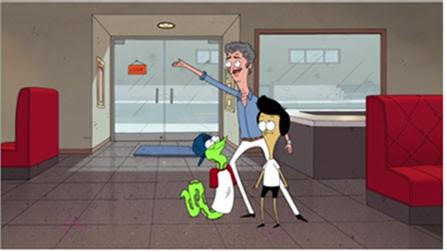 Famous foodie and world traveler Anthony Bourdain guest stars as "Anthony Gourmand," a famous TV food dude in Nickelodeon's Sanjay and Craig, "Snake Parts Unknown," premiering a.m. (ET/PT) on Nickelodeon.
"On this episode of Sanjay and Craig I play Anthony Gourmand, a character not too different than myself, but more maniacal who arrives with his travel and food show in search of the ultimate food in the little town of Lundgren." – Bourdain
In "Snake Parts Unknown," Craig has a new obsession: Anthony Gourmand, rad host of the TV series "Foodventurer." When Sanjay and Craig discover him at the Frycade, Gourmand reveals he's seeking the ultimate food. The pair proceeds to take the celebrity "foodie" on a Lundgren eating adventure where they dine on all the local delicacies: Hector's Grandma's armpit tamales, Munchie's lollipops, Farmer Larry's famous falcon butter and Noodman's jam.
Click HERE to download a clip from "Snake Parts Unknown."
Select cast and crew were on hand at this year's San Diego Comic Con 2015 as part of Nickelodeon's panel- Nickelodeon Animation featuring Sanjay and Craig – Noiice! Sunday, July 12.
Sanjay and Craig follows the misadventures of Sanjay (Maulik Pancholy), an excitable and irreverent 12-year-old boy and his best friend Craig (Chris Hardwick), a smooth-talking snake and master of disguise. The series was created by Jim Dirschberger, Jay Howell and Andreas Trolf, and is executive produced by Chris Viscardi and Will McRobb.
Fans can discover additional information about the series at Nick.com. Episodes of Sanjay and Craig are available on Nick.com and the Nick App, along with platforms including iTunes, Amazon, Xbox, Google Play, Vudu, Playstation, Hulu and VOD.