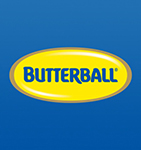 Butterball Chief Executive Officer Kerry Doughty was awarded the 2018 Poultry Person of the Year by Urner Barry, a business publisher of market news for the poultry, egg, meat, seafood industries. Doughty was recognized for his achievements at Urner Barry's 42nd annual Executive Conference and Marketing Seminar in Las Vegas on April 30.
Since 1986, Urner Barry has recognized two individuals from within the poultry and egg industries each year for their tireless efforts toward improving efficiencies of food production, marketing and distribution, as well as overall universal respect they have earned from industry peers.
"Kerry's sales background has led to a 'customer first' perspective that has guided the tone at Butterball even before he became CEO," said Butterball Chief Operating Officer Jay Jandrain. "His desire to please our customers and consumers with exceptional service and quality have been the driving force behind our success. Everything we do from an operational perspective must dovetail with this philosophy and top the list of our key success factors.
"Kerry has unselfishly extended his agenda to grow turkey consumption beyond just Butterball. He has been a strong voice for the turkey industry, knowing that if the industry thrives, there will be additional opportunities for each of its constituents," Jandrain continued. "In a market crowded with protein options, Kerry's approach to innovation as a point of difference while not losing sight of inherent nutritional benefits will prove to be a formidable combination to support the growth of turkey both domestically and abroad."
In their presentation of the award, Urner Barry's Executive Mike O'Shaughnessy and Senior Vice President Russ Whitman said Doughty was recognized as an outstanding individual who treats others like family and possesses a people-come-first mentality, and noted that his devotion, hard work and heartfelt efforts toward the betterment of the poultry business have not gone unrecognized.
"Considering the talent, passion and experience in our industry, I am honored and humbled to have received this recognition," said Doughty in response to the award. "This recognition would not have been possible without the fantastic Butterball team I work with in support of the brand and our strategic initiatives. Throughout my career, I have been fortunate to have had excellent mentors who were willing to spend the time teaching me what I didn't know with brutal honesty. I love our industry, its people and the constant change we are all driven to keep up with."
About Butterball
Headquartered in Garner, N.C., Butterball is the largest producer of turkey products in the U.S. – producing more than 1 billion pounds of turkey each year. For more than 60 years, the company has provided foodservice and retail products to customers and consumers around the world. As an industry leader in quality, food safety and animal well-being, the company employs numerous processes to ensure the health of flocks and implements recognized prevention measures to exceed food safety standards. Butterball products are currently distributed throughout the U.S. and in more than 45 countries. Butterball operates six processing plants located in North Carolina, Arkansas, and Missouri.
For consumer questions or information, please visit Butterball.com or call 1-800-BUTTERBALL (1-800-288-8372). Visit ButterballCorp.com for corporate information about the company.