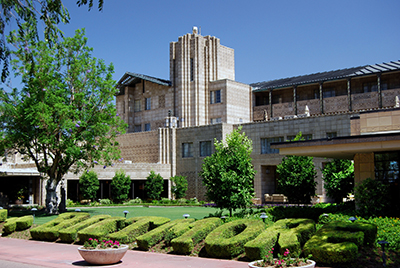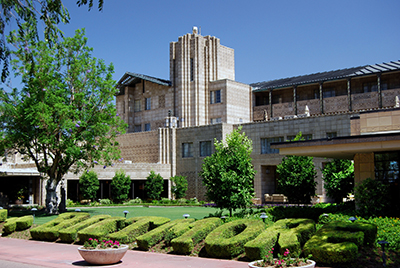 The Arizona Biltmore, A Waldorf Astoria Resort, is pairing some of Arizona finest microbrews with original menus by Executive Chef Gordon Maybury for special Biltmore Beer Dinners.
"The array of unique beers being created by these Arizona microbreweries is a joy to pair with food because they are sophisticated, nuanced and burst with a range of flavors, consistencies and finishes," said Chef Maybury. "The Biltmore Beer Dinners will be multi-faceted culinary experiences that will wow beer aficionados and novices alike."
The dinners will be held January through April 2014, on the 2nd Monday of each month, in the private Sunroom at Frank & Albert's restaurant. January 13 will feature Tempe-based Four Peaks Brewery, February 10 Mother Road Brewery of Flagstaff, March 10 Lake Havasu City-based Mudshark Brewery, and April 14 Sleepy Dog Brewery of Tempe. At each event, a representative of the brewery will discuss the beers and their brewing philosophy and process.
The dinners will start with a reception at 7:00 p.m., followed by a three-course meal. The cost is $40 per person per dinner. Tax and 18 percent gratuity are additional. Reservations are required; please call 602-381-7632.
January 13 Menu – Four Peaks Brewery:
Reception: Meats and Cheeses. Pairing: Sunbru Kolsch.
First Course: Mushroom Ravioli – Portabella, Chorizo Cream Sauce. Pairing: 8th street Pale Ale.
Second Course: Shrimp 'n' Grits with Peppers, Onions, Andouille, John's Pizzaiola Sauce. Pairing: Hop Knot IPA.
Desert: Blonde Chocolate Torte with Butter cake, Dulce Chocolate Mousse, Caramel Popcorn, Smoked Candied Almonds. Pairing: Kilt Lifter Scottish Ale
February 10 Menu, Mother Road Brewery:
Reception: Pizza. Pairing: Gold Road Kolsch.
First Course: Road Side Beer Battered Fish N Chips with Hand-Cut Crispy Fries,Spicy Housemade Cilantro Tartar Sauce, Malt Vinegar. Pairing: Roadside American Ale
Second Course: Schreiner's Bacon Mole Braised Short Rib with Fresh Masa Cake, Queso Fresco, Charred Corn, Chili Verde. Pairing: Twin Arrows Brown Ale
Desert: Banoffee Caramel Bomb with Espresso-Soaked Sponge Cake, Banana mousse, Chocolate Glaze, Praline crunch, IPA Caramel sauce. Pairing: Lost Highways Black IPA.
March 10 Menu – Mudshark Brewery
Reception: Sonoran rubbed Wings, Crow's Dairy Feta and Sweet Pepper Puff, Mini Jumbo Lump Crab Cakes with Avocado Lime Aioli, Chanterelle-Stuffed Bacon-Wrapped
Lake Havasu Hare Medallion. Pairing: Up River Light Lager.
First Course: Arizona Biltmore Grown Sour Orange and Toasted Garlic Mojo Shrimp with Cilantro Saffron Risotto, Roasted Baby Carrots. Pairing: Full Moon Belgian White.
Second Course: Walnut Crusted Rack of Lamb with Scorpion Amber Caramel, Sweet Potato Puree, Braised Spinach. Pairing: Scorpion Amber Ale.
Desert: Espresso Mint Entremet with Espresso Cake, Dark chocolate Mint Mousse
Praline crunch, Dark chocolate glaze. Pairing: Abominable Winter Stout.
April 14 Menu – Sleepy Dog Brewery
Reception: Beer Cheese Fondue, Pretzels, Sourdough, Sausages, Apples. Pairing: Marzen.
First Course: House made Pierogi with Brussel "Kraut", Andouille, Whole Grain Veloute. Pairing: Leg Humper Hefeweizen.
Second Course: Irish Red Braised Beef Cheeks with Rye Spatzle, Schriners Bacon, Baby Swiss Chard, Natural Jus. Pairing: Red Rover Irish Red.
Desert: Chocolate and Oat with Warm Chocolate Fudge Cake, Oatmeal Ice Cream, House- Made Milk Jam, Honeycomb. Pairing: Wet Snout Milk Stout.
About the Arizona Biltmore
The Arizona Biltmore has been an Arizona landmark since opening in 1929, when it was crowned the "Jewel of the Desert." The legendary Grand Dame remains one of the most recognized resorts in the world for its distinctive Frank Lloyd Wright architectural style, luxurious facilities, and storied history as a playground of the rich and famous. Nestled on 39 acres at the foot of the Phoenix Mountain Preserve, the legendary resort offers: 740 guest accommodations; a 22,000-square-foot spa offering an extensive menu of natural healing treatments and restorative therapies; a fitness center with state-of-the-art equipment; eight swimming pools including the spectacular Paradise Pool with its a 92-foot-long water slide; two 18-hole golf courses; and six restaurants and lounges, including signature Wright's at the Biltmore serving classic favorites reinvented for today's tastes, the stylish Wright Bar with patio fire pits and views of majestic Squaw Peak, popular Frank & Albert's preparing Arizona comfort food, The Café casual bistro, and the poolside Cabana Club with a swim-up bar. The Arizona Biltmore is a Waldorf Astoria Resort.
About Waldorf Astoria Hotels & Resorts
Waldorf Astoria Hotels & Resorts is a portfolio of iconic, landmark destination properties in the world's most sought after locations. From elegant, timeless properties to new developments, Waldorf Astoria Hotels & Resorts each possess the inspirational environments, unparalleled guest service and uniquely authentic moments that add up to an unforgettable experience. From sumptuous culinary excellence to world-class golf and spas, each hotel & resort offers luxuriously appointed accommodations and signature experiences. Waldorf Astoria Hotels & Resorts has grown to more than 20 hotels and resorts in the world's most extraordinary destinations. Waldorf Astoria is a global luxury brand of Hilton Worldwide. Discover Waldorf Astoria by visiting www.waldorfastoria.com.