Todd Gray of Equinox, Muse Café, Salamander Resort at Forefront of New International Sustainable Fish Movement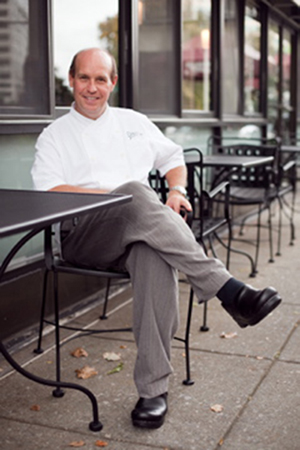 Chef Todd Gray has a New Year's resolution: to introduce the American public to their new favorite fish: flavorful, flaky Norwegian Skrei. Already an in-demand delicacy across Europe, Skrei is an extra-lean high quality cod that is considered by some to be Norway's best kept secret. During a trip to Norway Chef Gray found himself impressed with the country's commitment to sustainable farming practices and its focus on aquatic conservation, which are very much in line with his own beliefs. To ensure a healthy population and environmentally sound process, Norwegian cod fishing is the largest, most organized and strictly regulated cod stocks in the world.
Recently, Chef Gray was named to the Inaugural Norwegian Seafood Council US Culinary Board – a panel of America's top seafood and sustainability-focused chefs. In addition to spreading the word about Norwegian Seafood, culinary trends and sustainability, Chef Gray and his cohorts will engage in a number of initiatives focused on introducing fish like Skrei to the American public and encouraging chefs around the country to add it to their menus.
To kick things off, Chef Gray will be hosting a chef-to-chef educational dinner at Salamander Resort & Spa this February.
About Chef Todd Gray
From the seasonally-inspired dishes he creates every day to his undeniable influence on the city's palate, Chef Gray's impact on Washington, D.C.'s culinary scene is immeasurable. Raised in Virginia, Chef Gray studied at the University of Richmond and graduated with honors from the Culinary Institute of America. He then went on to work at a number of fine dining restaurants, where he was able hone his craft, refine his technique, and develop his kitchen philosophy. A five time nominee for the James Beard Foundation's Best Chef, Mid-Atlantic Award Todd is a longtime advocate for sustainable agriculture and incorporates local and organic ingredients into as many of his dishes as possible.
Chef Gray and his wife/business partner, Ellen Kassoff Gray, currently own and operate Equinox Restaurant and Muse Café in Washington, D.C. Todd additionally serves as the Culinary Director for Salamander Resort & Spa. In late 2013 Todd and Ellen published their first cookbook, The New Jewish Table (St. Martins Press.)
About Equinox Restaurant
For over two decades Equinox has been downtown DC's dining destination for exquisite seasonal cuisine. Owned and operated by husband and wife team Chef Todd Gray and Ellen Kassoff Gray, Equinox boasts a menu of American cuisine created using well-established European techniques. As one of the frontrunners of the sustainable and regional food movement, Chef Todd Gray serves up an incredible array of dishes that are inspired by the US' Mid-Atlantic region and highlights community-sourced, organic ingredients as much as possible. Highlights from the Equinox's distinctive rotating menu include items like Pistachio-Oat Crusted Norwegian Salmon, Bacon Wrapped Medallions of Cerena Venison, Truffled Macaroni & Cheese and Homemade Spinach Rigatoni with Beef Bolognese. Equinox is located at 818 Connecticut Ave, NW in Washington DC. For more information please visit www.equinoxrestaurant.com or call (202) 331-8118.
About Muse Café
Located inside the Corcoran Gallery of Art, Muse Café offers an affordable menu of locally-sourced chef-driven cuisine. As pioneers in the movement to promote seasonality in the DC restaurant industry, Chef Todd Gray and Ellen Kassoff Gray are among Washington's top advocates for sustainable agriculture, fisheries and humanely raised animals. The husband and wife team was recruited by the White House to work with First Lady Michelle Obama in starting the "Chefs Move to Schools" program, which promotes healthy lifestyles for elementary students and their families. Todd Gray's Muse Café is located at 500 Seventeenth Street NW in Washington D.C. Members of the Corcoran Gallery of Art receive a 10% discount. Muse Café is open Wednesday – Saturday from 10:00 a.m. – 3:00 p.m. and Sunday from 10:00 a.m. – 1:00 p.m. The restaurant is closed on Mondays and Tuesdays. For more information please visit www.toddgraysmuse.com or call (202) 639-1786.