Executive Chef André Halston Joins Casual Dining Franchise to Drive New Culinary Creations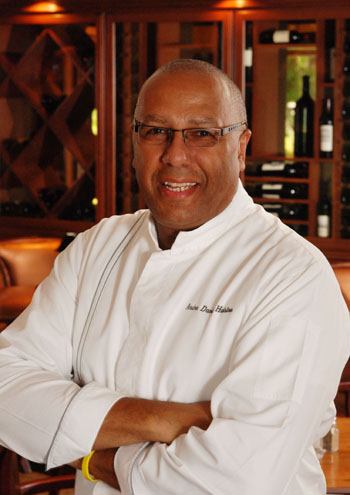 The Award-Winning casual-dining franchise Quaker Steak & Lube known for its Best Wings USA and more than 20 sauces, announced today it has hired chef André David Halston as the company's corporate chef. Chef André will join The Lube beginning Oct. 21, 2013 and bring his deep culinary experience and creativity to a menu focused on traditional American cuisine with the signature Lube twist.
"I am honored and thrilled to fill the position of Quaker Steak & Lube's corporate chef," said Chef Halston. "The Lube has created a cult like following for nearly four decades, and I am excited to jump in the front seat as we drive the brand into its next culinary chapter."
Chef André Halston brings nearly 40 years of experience in the culinary industry to Quaker Steak & Lube, most recently serving as the corporate operational executive chef and director of food and beverage for the Innisbrook Resort, part of the Ritz-Carlton Hospitality Hotel Company. His extensive background has taken him across the world from Germany to Vancouver, and Texas to California, working with different hotel and restaurant groups. He has been awarded numerous accolades for his accomplishments and achievements, which include the 2011 Grande Maître Du Gout 5 Star Award, and the 2010 Guest Chef for the US Armed Forces at Guantanamo Bay, Cuba.
"As we come up on our 40th anniversary, Quaker Steak & Lube is on track to continue our aggressive national expansion at full speed ahead! With the addition of Chef André to the team, we are ecstatic at what our future holds," said John Longstreet, president and chief executive officer, Quaker Steak & Lube. "We look forward to the new spin Chef André will bring to our signature menu items, and take this opportunity to introduce even more guests to our unique motor-themed dining experience."
The compelling décor, including race cars suspended from the ceilings, motorcycles, Corvettes and gas station memorabilia, combined with its craveable food and SuperCharged events, has created a cult-like following for The Lube for more than 39 years. The company experienced significant growth in 2012 with 11 restaurant openings, a 22 percent increase from the previous year and a 13 percent increase in system wide revenues. The company has nearly 60 locations across 18 states and Canada.
Most recently, Quaker Steak & Lube was awarded the festival favorite for the second straight year at the National Buffalo Wing Festival in Buffalo, N.Y. In addition, it was also recognized for its Triple Atomic wing sauce, winning first place in the Traditional Extra-Hot sauce category.
For more information, visit www.QuakerSteakAndLube.com. Follow The Lube on Twitter at TheOfficialQSL and on Facebook at The Official Quaker Steak & Lube. Join Lube Nation today by signing up for our E-mail club.
About Quaker Steak & Lube:
Founded in 1974 and built in an abandoned gas station in Sharon, Pa., Quaker Steak & Lube has expanded to more than 60 locations throughout the United States and Canada. The unique décor, including gas station memorabilia, classic cars, motorcycles, race cars and corvettes suspended from the ceilings combined with the crave-able food and high-octane events has afforded The Lube a cult-like fan following. Today, Quaker Steak & Lube has become one of the fastest-growing restaurant chains in the country, and has won hundreds of national and international awards for its wings and more than 20 different wing sauces.