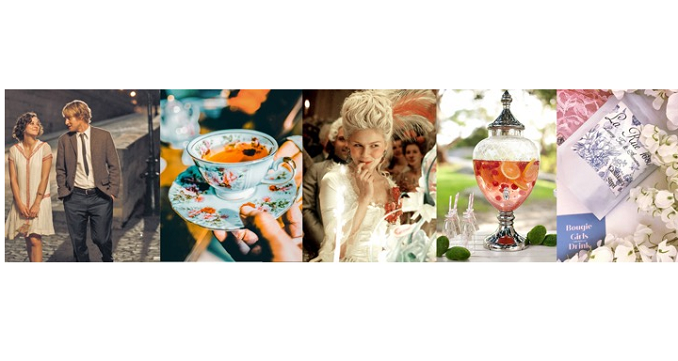 La Rue 1680 exploded on the scene in October 2020, making fans of Drew Barrymore, Carson Kressley and more with tea collections and accessories named after famous Netflix shows 'The Crown' & 'Bridgerton'. While we still aren't over The Duke not returning to Bridgerton for the HIGHLY anticipated second season – there are a few new movies and shows coming to viewers favorite streaming services that when paired with La Rue 1680, will be sure to keep the royal, Parisian glamorous vibes going all summer long.
Coming out in July:
Marie Antoinette – This Sophia Coppala classic evokes the fun and glamorous vibe of La Rue 1680. The Peach Paradise tea with a little added champagne is the perfect vibe for a tea party with the girls. Coming to Amazon prime July 1st
Midnight In Paris – The ultimate love letter to the city that inspired La Rue 1680. Viewers can sip on the surprisingly robust Casablanca Street and watch Owen Wilson walk the streets of the city of Love & Lights Coming to Amazon prime July 1st
Young Royals – a new coming of age story following Prince Wilhelm adjusting to life at his prestigious new boarding school, but following his heart proves more challenging than anticipated. Cozy up with some New England Pumpkin Spice and revel in the teen drama. Debuting on Netflix July 1st.
LaRue 1680 artisanal teas provide a high quality solution for those who desire an organic and more nutritional alternative to traditional bagged teas. Not only are they better for the environment but for our bodies. A typical bagged tea has been bleached with toxins and contains chemicals such as dioxin and epichlorohydrin. When it comes in contact with water, bleached bags can hydrolyze into cancer causing carcinogens.
Their introductory collection includes classic offerings with a twist like, India Street Vanilla Chai, Italian Cream Earl Grey, Moroccan Mint, while also offering completely new flavors like Peach Paradise, Island Breeze Pina Colada and more.
But tea is not all that LaRue 1680 provides. To give you the full 'High Tea' effect, LaRue1680 has special limited edition teas cups and sets.
You can shop for all the tea and accessories here.