Iconic brand accelerates Legendary comeback; Next up: Steak and Ale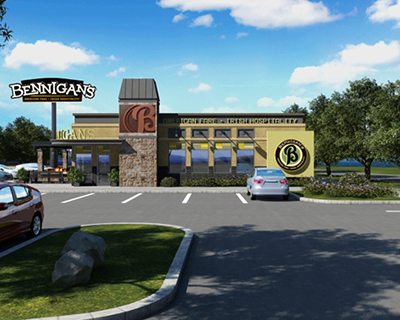 Bennigan's isn't just coming back. It's roaring back. At home and overseas.
Since the end of 2012, the Legendary restaurant brand renowned for its signature Irish hospitality has opened new franchise locations in Clarksburg, MD; Jonesboro, AR; Fort Worth and Houston, TX; Saddle Brook, NJ; Tysons Corner, VA; Panama City, FL; Veracruz, Mexico; Larnaca, Cyprus; and Dubai, UAE.
Now with over 150 restaurants open or under contract worldwide, Bennigan's Franchising Company will more than double its size.
"We're not kidding around when we say Bennigan's is in the business of redefining casual dining, and we haven't even scratched the surface when it comes to our growth potential," said Paul Mangiamele, Bennigan's President & CEO. "With every grand opening, more and more exceptional restaurant operators contact us about franchising opportunities. It's a great comeback story, and the best part is, all those people who loved Bennigan's years ago are getting a chance to revisit us and experience our great food and friendly Irish hospitality again."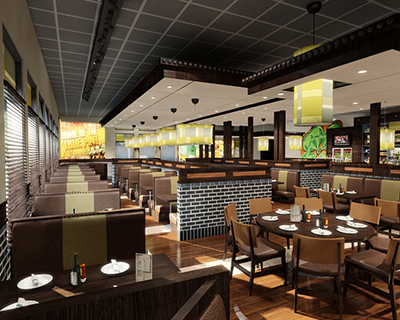 Of the new restaurants in Bennigan's current pipeline, 50 are planned on the Indian subcontinent through a Master Franchise Agreement executed in October with Suri Hospitality International. The first of these locations – which will include both traditional Bennigan's and the fast-casual "Bennigan's on the Fly" concept – is expected to open in Spring 2014 in Mumbai.
Ten additional Bennigan's restaurants are on tap for the UAE where franchisee Dynamic Hospitality already operates two popular locations.
Additional development agreements are likewise in place for expansion in Arkansas, California, Florida, Minnesota, New Jersey, Tennessee, Texas and Virginia; and internationally in Algeria, Ecuador, Mexico, Central America, Cyprus and Korea at US Army Base Camp Humphreys.
New grand openings will be announced shortly in Fayetteville, TN (coming later this month); Melbourne, FL; Amarillo, TX and San Jose, CA, where new franchisee, Narender Taneja, is set to develop five new Bennigan's over the next few years.
"To celebrate the success of our brand's resurgence, we are hosting all our Franchisees, General Managers and Brand Ambassadors at our Global Franchise Conference next month in Fort Worth," said Mangiamele. "And I'm proud to announce that our keynote presenter will be Jim Sullivan, a world-renowned restaurant expert that I've known for many years."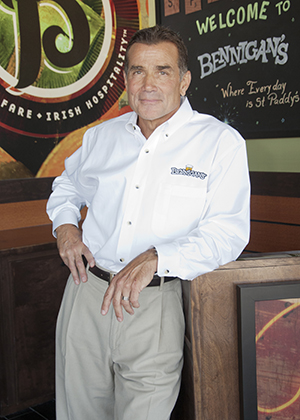 "In addition, now that Bennigan's has gained such impressive momentum, we're preparing for our second major comeback initiative: the beloved Steak and Ale brand," said Mangiamele. "To gauge how deep the emotional connection was to this iconic brand, we quietly opened a Facebook page, Steak and Ale's Comeback, just a few months ago and have already attracted more than 16,000 fans! We believe it is time to introduce Steak and Ale again."
David Hollinger, franchise owner of the new Bennigan's in Panama City, plans to open the first new Steak and Ale restaurant on the planet next year in Florida.
"There's no brand I'd rather operate than a Bennigan's, and my partners and I intend to expand its footprint throughout Florida in the months and years ahead," said Hollinger. "But after talking with Paul about his vision for the new Steak and Ale, I got really excited about bringing back that classic concept as well. Stay tuned…we have some great news coming soon!"
ABOUT BENNIGAN'S
Bennigan's is a high-energy neighborhood restaurant and tavern that is redefining casual dining. With chef-driven food, innovative drinks and warm, friendly Irish Hospitality, this Legendary brand delivers memorable dining experiences to every guest, every meal, every day. Every member of the team "bleeds green" and demonstrates a 25/8 focus to support its franchise community. The company's revolutionary comeback has introduced a new generation of Bennigan's that reflects the brand's history and pays respect to its rich heritage. Bennigan's focus on reinvention, flexible prototypes, Legendary service and compelling returns on investment has resulted in explosive growth both domestically and internationally.
For more information, visit www.bennigans.com and find them on Facebook and Twitter.