Ovations Food Services Selected to Bring their Everything's Fresh Concept to the O.CO COLISEUM Home of MLB'S Oakland Athletics l and NFL'S Oakland Raiders

Ovations Food Services, a nationally renound food and beverage catering and concessions provider to over 135 public assembly facilities throughout the United States and Canada, has been selected by the MLB Oakland Athletics and NFL Oakland Raiders to provide their signature Everything's Fresh approach to all catering and concessions provided at the O.CO Coliseum. Ovations is a subsidiary of the Philadelphia-based sports and entertainment firm Comcast-Spectacor.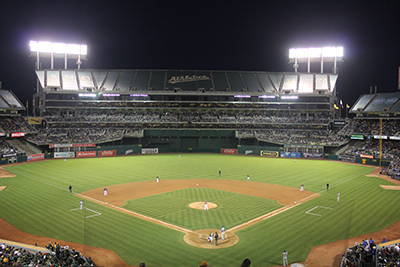 Ovations took over operations on January 1, 2014, stepping-up to the plate to design more efficient kitchen layouts, create fresh menus and implement custom concepts. Ovations' Everything's Fresh program, which includes a special focus on using locally sourced ingredients and a rotating seasonal menu, will mean exciting proprietary and custom concepts that bring the flavors of Oakland to both the A's and Raiders' fans.
"For Ovations' future, I couldn't be more excited to team with the Oakland A's and Raiders," said Ken Young, Ovations' President & Founder. "Ovations is known for the one-of-a-kind experience we bring to all the facilities we operate, crafted through our fresh service, fresh food and fresh ideas. We look forward to bringing our fresh approach to Oakland."
Jay Satenspiel, Ovations' on-site Regional Vice President of Operations added, "It's a true honor to be selected as an on-site representative to head-up the food and beverage team at a high-energy facility. Fans will immediately notice the Ovations difference."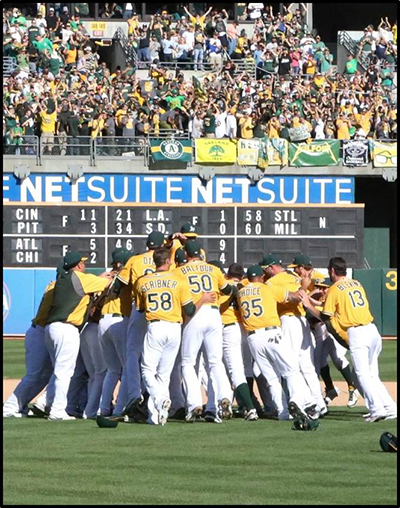 Satenspiel officially became part of the Ovations team over a decade ago at the openings of AutoZone Park in Memphis, TN, and the Isotopes Park in Albuquerque, NM. Between 2005 and 2008, he lent his expertise to Ford Field in Detroit, MI, the Las Vegas Motor Speedway, and Wrigley Field before returning to Ovations. With over 30 years of outstanding achievements in the industry – from the cutting board to the boardroom – Satenspiel's hallmark is his 120% commitment to every project.
About Ovations Food Services
A nationally ranked food service company, Ovations Food Services delivers fresh menus, fresh management and fresh ideas to public assembly venues, hotels and casinos throughout the United States and Canada. Ovations specializes in food, beverage, merchandise and hospitality services for stadiums, arenas, convention centers, fairgrounds, expo-centers, racetracks, zoos, performing arts centers, amphitheaters, casinos and hotels. Considered by many as the best managed and most innovative company in the industry, Ovations' results oriented senior management team has been involved in managing almost every major public assembly facility throughout the United States and Canada.
About Comcast Spectacor:
Ovations parent company, Comcast-Spectacor is the Philadelphia-based sports and entertainment company which owns the Philadelphia Flyers (NHL), the home arena for both the Flyers and the NBA's Philadelphia 76ers, the Wells Fargo Center, and four Flyers Skate Zone community ice skating and hockey rinks. In addition, Comcast-Spectacor is also the principal owner of Global Spectrum, the fastest growing firm in the public assembly management field with more than 115 facilities throughout the United States and Canada; Ovations Food Services, a food and beverage service provider; New Era Tickets, a ticketing and marketing company for public assembly facilities; Front Row Marketing Services, a commercial rights sales company; FanOne, a digital fan marketing company; and Paciolan, the leading provider of venue enablement, ticketing, fundraising and marketing technology solutions.