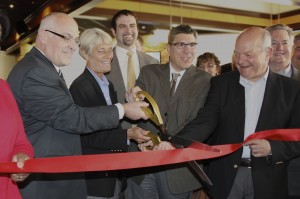 Hratch Basmadjian has always felt there was great synergy in operating a Bennigan's restaurant alongside the Holiday Inn Hotel & Suites he manages in Elgin, Illinois. The two literally feed off each other.
But over time, both the hotel and the restaurant began to show their age. He and franchise owner Scott Castle agreed it was time to invest in a renovation. Little did they know they were embarking on what Basmadjian would later refer to as "a huge success story."
"The restaurant was getting quite old, so we spent a great deal of time and money on the remodeling work," said Basmadjian. "Elgin has a very competitive dining market, so we knew we needed to do it right. It was also important for our Bennigan's to have its own identity – including an outside entrance and signage – and not simply be known as a 'hotel restaurant.'"
Out went the old, dated décor, replaced with a sleek, contemporary look, featuring a large, welcoming bar area, several flat-screen televisions, upgraded booths, a large VIP seating area and even a new outdoor patio. When it was complete, the new-look Bennigan's was so attractive, CEO Paul Mangiamele sang its praises.
"The Elgin team did an extraordinary job on executing our remodeling initiative, taking one of the chain's oldest locations and making it look brand new again," said Mangiamele. "More important, their sales jumped immediately and have been growing strong ever since."
Following the 2011 renovation, the Elgin Bennigan's increased its capture rate (business from the Holiday Inn's overnight guests) to a whopping 40-45 percent, from 15 percent pre-renovation. Year-over-year revenues jumped 31 percent in 2012 and more than 20 percent in 2013. It's on pace for another 15 percent bump in 2014.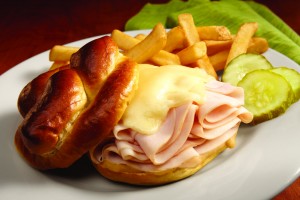 The Elgin team gives additional credit to the support received from Bennigan's corporate, including world-class training programs, the brand's new menu and beverage program, St. Paddy's Day promotional campaigns and more.
"Our guests absolutely love our new menu, which has generated just as many compliments as the remodeling work we've done," said Castle. "We made a conscious decision to run this franchise by the book, and to make the investments that Paul and his team have been recommending. The results speak for themselves."
In addition to its attractive new space, Basmadjian initiated a strong marketing outreach to local businesses, food sample deliveries to secretaries and neighbors in a five-mile radius, and a thriving banquet and catering business.
"We are blessed with a large restaurant and two full kitchens, so we take advantage of them by hosting lots of special events, such as baby showers, sports team banquets and other large and small gatherings," explained Basmadjian. "In addition, the hotel hosts weddings, reunions and other large events on a regular basis, and our catering menu is a big hit. Bennigan's also handles the hotel's room service orders, so again, we profit from the synergy between the properties."
Castle has encouraged his fellow Bennigan's franchisees to invest in a remodeling initiative as soon as they sense that it is needed.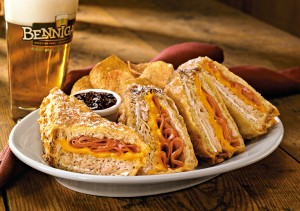 "My only regret is that we didn't do it sooner," Castle said. "It was the smartest business decision I've made since I purchased the franchise in the first place."
ABOUT BENNIGAN'S
Bennigan's is a high-energy neighborhood restaurant and tavern that is redefining casual dining. With chef-driven food, innovative drinks and warm, friendly Irish Hospitality, this Legendary brand delivers memorable dining experiences to every guest, every meal, every day. Every member of the team "bleeds green" and demonstrates a 25/8 focus to support its franchise community. The company's revolutionary comeback has introduced a new generation of Bennigan's that reflects the brand's history and pays respect to its rich heritage. Bennigan's focus on reinvention, flexible prototypes, Legendary service and compelling returns on investment has resulted in explosive growth both domestically and internationally.