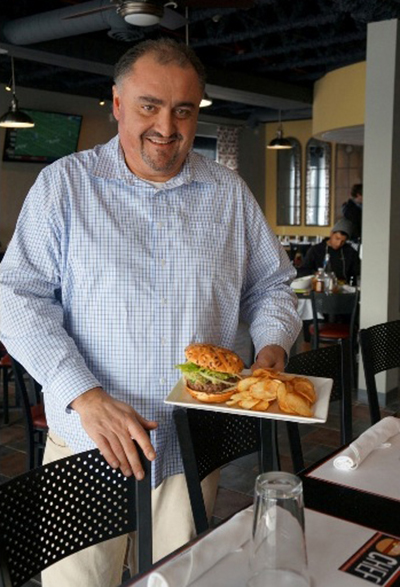 Chef Cristiano Bassani, owner of the popular Bapi Ristorante in Arlington Heights, opens Big Chef Burgers, a new gourmet burger and pizza restaurant in Schaumburg, Ill on January 7. Located at 1602 E. Algonquin Rd. (just east of Meacham Rd., telephone: 847-221-8539), Big Chef Burgers is a casual and relaxed full-service restaurant that features fresh gourmet burgers, wood-fired Neapolitan pizza, homemade gelato milkshakes, artisan salads and desserts. Full bar service and private dining is available.
To Bassani's many fans, the term "big chef" is more than a euphemism. This highly respected 6'6″ culinarian, with a gentle style and a great love of food, has endeared himself to the many foodies who flock to Bapi.
"I've been living in the Chicago area for many years, and I've always had the desire to open a great burger or pizza joint in the northwest suburbs that raises the bar," says Italian-born and raised Bassani. "Big Chef Burgers is going to be the best of both worlds and, clearly, a cut above the rest. We're offering full-sit down service and great reasonably-priced food that's locally sourced. The menu includes artisan Neapolitan pizza made in our large wood-fired brick oven. We also will serve some tasty fresh salads. An added treat will be our homemade gelato-based malts and milkshakes, not to mention the desserts which are chosen from among my most popular. The mood is very casual and homey, with a simple touch of style and sophistication. I'm confident everyone will have a great time and a great meal."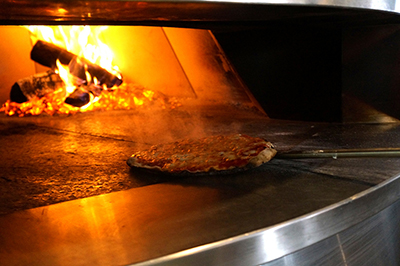 Big Chef Burgers' décor is modern and comfortable. The restaurant has a dining bar that overlooks the open kitchen and a main dining room with plentiful table seating. There also is a bar/lounge area with high-top tables, serving original cocktails, "adult-fortified" milkshakes, wines and craft beers.
For events, there is a private, A/V-equipped room that accommodates up to 20 people for meetings or celebrations. Outside catering also is available.
The burgers are big, made from fresh hormone-free Angus beef
Big Chef Burgers are made from a full half-pound of fresh 75% lean ground hormone-freeSpicy Burger DSC00194 et Angus beef. Guests can choose their choice of bun-regular, pretzel, or onion-and each burger comes with a generous side, choice of fresh cut French fries, fresh cut sweet potato fries, fresh cut homemade potato chips, onion rings, mashed potatoes or cole slaw. Each of the sides can also be ordered separately for $3.50.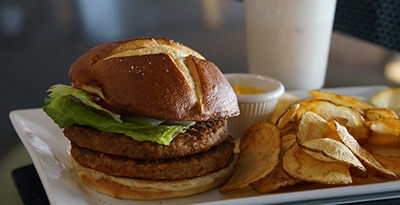 Bassani has created a varied menu of burgers that reflects his inspired culinary passion. The Truffle Burger ($12) comes with Swiss Cheese, Truffle Oil, Fried Egg, Tomato, Lettuce and Onion. The Italian Burger ($10) features fresh buffalo mozzarella, Arugula, Sun Dried Tomatoes and Onions. The Spicy Burger ($9) is a Mexican-inspired delight that includes Jalapeño, Guacamole, Tomato, Onion, Lettuce and Spicy Mayonnaise.
The Turkey Burger ($10) is made from ground turkey with Provolone cheese, caramelized onion, lettuce, tomato and mayonnaise. The Paradise Burger ($12) is an Angus beef burger with grilled shrimp, cream cheese, lettuce, tomato, and tarragon mayo. The Bacon Burger ($10) is topped with spicy cheddar, bacon, lettuce, tomato and mayonnaise.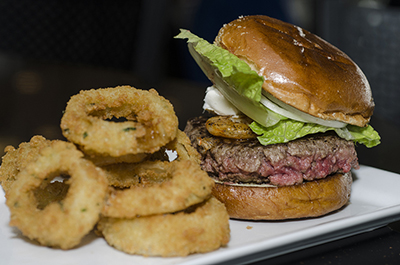 Bassani is proud of his signature burger creation, The Big Chef Burger. This $20 larger-than-life extravaganza is meant for hungry connoisseurs of classic all-American burgers: one full pound of fresh ground angus beef topped with American cheese, sautéed onion, wild mushrooms bacon, lettuce, and tomato.
Pizzas are prepared with Bassani's chef's touch in the wood-fired brick oven
Pizza aficionados will be thrilled that Bassani has adorned his menu with a mouth-watering selection of wood-fired 12-inch Neapolitan pizzas, all made from fresh, top-quality ingredients.
Whatever is your fancy – Big Chef's pizza selection will please. Expected favorites include the Pizza Margarita ($8) with homemade tomato sauce, fresh basil and mozzarella; the Quattro Stagioni ($8), topped with homemade tomato sauce, Italian ham, artichokes, sautéed mushrooms, and black olives; and the Pizza Vegetariana ($8), made with homemade tomato sauce, mozzarella cheese, roasted pepper, grilled eggplant, zucchini, and sautéed spinach.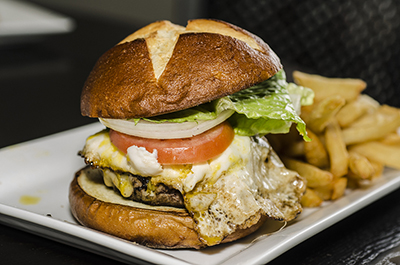 Cheese lovers will crave the Pizza Quattro Formaggi ($8) with Mozzarella, Gorgonzola, Brie, and Fontinella cheeses. Meat fans will be thrilled with the Pizza Salsiccia E Cipolla ($8) with homemade tomato sauce, hand-made mild Italian sausage, onion and mozzarella cheese. Mushroom lovers will enjoy the Pizza Con Prosciutto Cotto E Funghi ($8) with homemade tomato sauce, sautéed mushrooms, Italian ham, and mozzarella cheese. Cured meat fans will enjoy the Pizza Con Buffalo Mozzarella Prosciutto Crudo Rucola E Pomodorini ($12), with fresh buffalo mozzarella, prosciutto, fresh baby arugula, and cherry tomatoes, or the Pizza Con Pancetta E Grana ($8) with homemade tomato sauce, pancetta, and shaved fresh Parmesan cheese.
Big Chef Burgers also offers an authentic Calzone ($8) with homemade tomato sauce, prosciutto, mushrooms, and mozzarella cheese.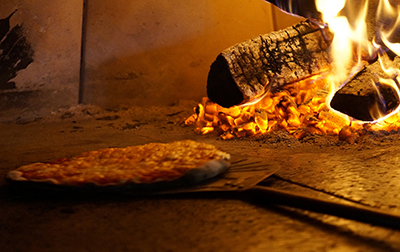 Since most folks can't live on burgers and pizza alone, Bassani has also included a variety of fresh salads on the menu. The Caesar Salad ($8) is made with fresh Romaine lettuce, shaved Parmesan, and homemade Caesar dressing. Guests can add shrimp ($4), scallops ($4) or grilled chicken ($3). The Lentil Salad ($8) is made with lentil beans, asparagus, roasted red beets, crumbled blue cheese and homemade balsamic vinegar dressing. The Spinach Salad ($8) features baby spinach with pears, pecorino cheese, dried cranberries and almonds in homemade lemon and extra virgin olive oil dressing. The House Salad works as a delicious side salad, with Mesclun salad greens and tomatoes in homemade balsamic vinegar dressing.
The "Big Sweet" with gelato shakes and artisan desserts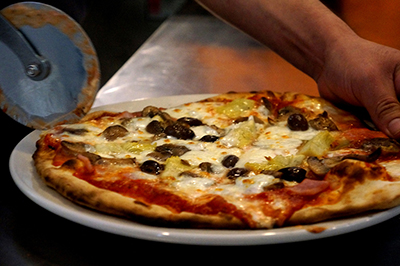 Big Chef Burgers prepares generously sized gelato milkshakes or malts, all made from fresh natural ingredients and priced at $4.50. Flavors include chocolate mint, strawberry vanilla, banana peanut butter, and mocha cappuccino.
The artisan desserts ($5 each) include Bassani's wonderfully crafted favorites: Panna Cotta with Carmel Sauce; Flourless Chocolate Cake with Vanilla Ice Cream; Crème Brûlée with Fresh Berries; Apple Tart with Cinnamon; Vanilla or Chocolate Gelato.
Coffee lovers will note that Espresso beverages are available, including cappuccinos and lattes.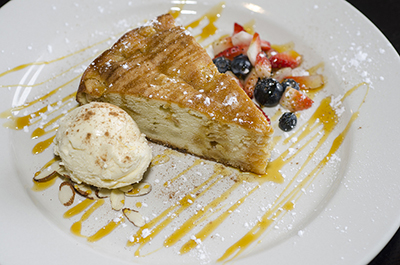 Chef Cristiano Bassani is one of Chicago's most highly respected chefs. As a native Italian who was born in the Lombard region of Italy, he is filled with a passion for cooking and a love for his Italian culinary tradition. He has made America his home for 22 years and this has inspired him to create his newest concept, Big Chef Burgers. With this exciting casual restaurant, Cristiano focuses his attention on three cornerstones of casual American cuisine: burgers, pizza and shakes. His goal is to create memorable renditions of these American standouts, served in a comfortable and hospitable setting at reasonable prices.
"Growing up and beginning my career in Italy has definitely influenced my approach to Big Chef Burgers," says Cristiano. "In Italy, there is a strong emphasis on quality. Italian chefs are concerned with perfecting traditional, authentic dishes rather than doing things differently just for the sake of being unusual. I am approaching Big Chef Burgers the traditional Italian way. We are emphasizing quality in everything we do-we're determined to make the best hamburgers, the best pizza, the best milkshakes. We want to be known for our quality. We understand that Chicagoans like to try new things, so we will come up with new twists on our dishes, but our quality will always come first."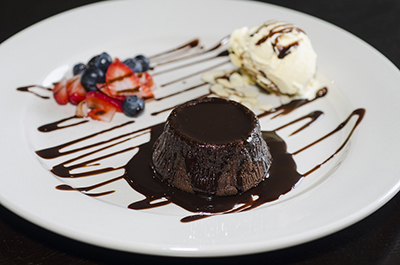 The first inklings of Cristiano's culinary career began at a young age when he would help his mother prepare family dinners. After years of dabbling in the kitchen, Cristiano realized he was destined to become a chef. At 14, he left the comfortable confines of his hometown and headed for culinary school in the bustling, metropolitan center of Milan.
At 17, Cristiano was awarded his first official cooking job, right out of school in Milan. He spent the next two years enriching his culinary repertoire at respected regional restaurants such as Hotel Villa Cortino in Sirmione del Garda and Ristorante Leonardo in Milan. Cristiano learned all he could about Northern Italian cuisine.
In 1991 at age 19, his hard work finally paid off. He received an interesting offer from New York City-based restaurateur Pino Luongo, a successful, well-known, international restaurateur. Impressed with Cristiano's talent and dedication, Luongo offered him a position at his upscale Le Madri restaurant in New York. "Moving to New York was like a dream to me," Cristiano says. "It was something I really wanted to do." Soon, his bags were packed and he was off to the Big Apple.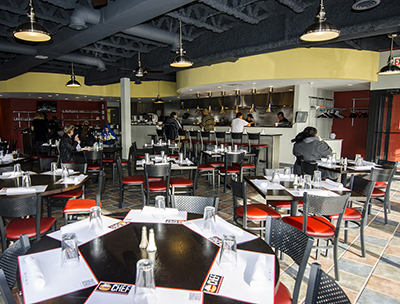 After his stint at Le Madri, he took a position at the highly acclaimed Sapore di Mare restaurant in St. Bart's, where he worked for two years. In 1992 he returned to the United States where he served as Executive Chef of Luongo's highly respected Coco Pazzo in Chicago for three years. In 1995 he moved crosstown to Bice in Chicago's Streeterville neighborhood. Food critic Phil Vettel of the Chicago Tribune lauded Bice's decision to hire Cristiano as "a stroke of genius." Cristiano was then invited to head the kitchen of Bice in Miami South Beach.
He returned to Chicago in 1997, where he worked in a variety of settings in the Chicago metropolitan area and built a strong reputation as a talented chef who met very high standards of excellence. During this period he was the owner and executive chef of Carpaccio in Palatine, I Gemelli in Addison, Ill., and Cristiano's in Palatine.
In 2004 Cristiano became Executive Chef for the popular Carlucci in Downer's Grove and then, in 2005, he opened BaPi Italian Restaurant with his partner from I Gemelli, Alberto Piazzini. He continues to own and lead the kitchen at BaPi to this day.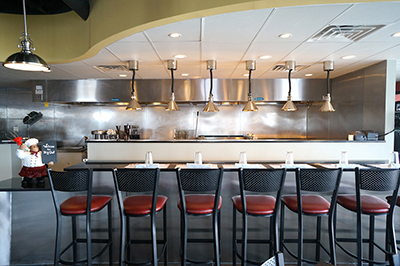 In early 2013, Cristiano began putting together his plan for a casual burger restaurant. The goal was to offer Chicagoans truly outstanding burgers coupled with authentic wood-fired Neapolitan-style pizza and artisan milkshakes. The result is Big Chef Burgers, a full-service restaurant with bar service and a broad menu of additional delicious dishes, including salads, sandwiches and desserts.
Cristiano has been favorably reviewed by local media such as the Chicago Tribune, the Daily Herald, as well as dining blogs such as Trip Advisor and Restaurant Reviews Chicago. He has appeared on Fox TV and WGN radio. He has partnered with Academia Barilla for its Chicago Botanic Garden Italian cooking series.
About Big Chef Burgers
Big Chef Burgers, located at 1602 E. Algonquin Road in Schaumburg, Illinois, is a casual and relaxed full-service restaurant serving gourmet burgers and artisan Neapolitan pizza and homemade gelato shakes and malts, plus tasty salads and luscious desserts. The full bar features a creative selection of specialty cocktails, "adult" milkshakes, wines and craft beers.
Big Chef Burgers is open from 11 a.m. to 10 p.m. every day. Private dining is available for small to medium-sized groups and outside catering also is available. All major cards are accepted and there is ample free parking. For more information, please call Big Chef Burgers at (847) 221-8539 or visit the website at www.bigchefburgers.com and find them on Facebook and Twitter.