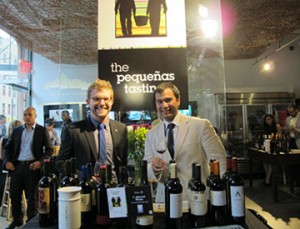 A selection of boutique wineries were highlighted at Wines of Chile's inaugural "Pequeñas" tasting this week at Puro Chile in New York City. The event, aptly named after the Spanish word for "small," showcased over 75 unique wines, some of which have never been poured in the United States.
A select group of over 100 attendees, including top sommeliers, wine buyers, importers, distributors and media, were invited to taste offerings produced by these small, innovative wineries from the country's many wine regions. In addition, guests sampled seven Old Vine Carignan and 12 Chilean "Icon" wines, or ultra-premium labels, which served as examples of the unique terroir and talent from Chile's top producers.
"The Pequeñas tasting was a great way to explore the smaller operations in Chile, many of which the U.S. market does not yet have access to," said Jake Pippin, Marketing Coordinator of Wines of Chile USA. "We wanted to celebrate the boutique wineries and provide a broader view of Chile's wine industry, which is fueled by many passionate and pioneering small vineyards."
Chile is home to many lesser-known wineries that produce complex, unique wines throughout the country's diverse regions. The participating wineries included: Villaseñor, Tara de Atacama, Viña Echeverria, Altaïr, Balduzzi, The Mine, Amaral, Las Niñas, Camino Real, Botalcura, Tipaume, Von Siebenthal, Meli, Intriga, Calcu, Maquis, Pargua, Casa Marin, Domus Aurea and Antiyal. Held at a Puro Chile, which exclusively sells and promotes the best products and services of Chile, the interactive event provided an opportunity for guests to speak firsthand with winery representatives, as well as taste the wines paired with an array of authentic Chilean dishes.