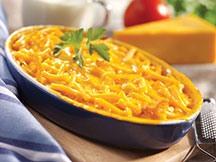 JTM Food Group, a national leader in creating menu solutions for the food service industry, will introduce several new products at the School Nutrition Association's (SNA) 2013 National Conference in Kansas City, MO, July 14-17. School Nutrition Directors and professionals from across the country will attend the show and sample JTM's newest product offerings. JTM provides menu items to over 7,000 school districts across the United States, reaching more than 12.8 million K-12 students with delicious, healthy menu offerings.
This year's show will feature over 25 JTM products, including:
A new line of fully cooked, flavored and unseasoned beef and turkey IQF Crumbles
New shredded and whole-muscle meat entrees
New ready-to-use vegetarian soups
Improved whole-grain rich products
Improved burgers and patties, processed using the latest Formax® Tender-Form® technology resulting in a product with better texture, increased moisture and improved eye appeal
The featured products are part of JTM's continued focus on creating easy-to-use, healthier menu options for school lunches that are both appealing to students and provide ease and versatility to the School Food Service Directors.
"It's great to have the opportunity to feature our products at the SNA show again this year," says Brian Hofmeier, Vice President of Education Sales at JTM Food Group. "As one of the largest providers of menu items for schools, the show is the perfect stage to showcase these in-demand products to the School Food Service Directors and professionals looking for products that help meet the demands of the National School Lunch Program."
JTM's SNA new product launch includes the Newly Formulated Whole Grain Rich Mac & Cheese and Reduced Sodium, Ready-to Use Vegetarian Soups; as well as a Mushroom Beef Patty, pepperoni and taco flavored IQF Crumbles, shredded Cuban Pork and Ropa Vieja.
"The new formula for the Whole Grain Rich Mac & Cheese holds well while delivering great flavor, and the reduced sodium vegetarian soups are a tasty meatless option, an increasing need for many school districts," added Hofmeier. "Ropa Vieja, a classic Latin dish made from slow-cooked shredded beef, will address the high demand for Hispanic dishes in many of JTM's southern districts."
JTM Executive Chef Rob Lafond, Chef Martin Johnson and Chef Mike Pickett will be at booth #826 during the SNA's Annual Conference overseeing the preparation and creation of the recipes that JTM will serve from five branded stations. Visitors will be able to sample recipes like:
Three Bean Chili Loaded Nachos at the Meatless Monday station
Ropa Vieja Mini Tacos from the Caramba Cantina station
Firecracker Pork at the Soaring Dragon station
Pasta Primavera at the Cecilia's station
Philly Steak Paninis from the Main Street Café station
About JTM Food Group
Family owned and operated since 1980, JTM Food Group specializes in menu solutions that deliver superior results to the food service industry. Focused on customer service, quality and innovation, J.T.M. serves thousands of schools, restaurants, military and government organizations, food distributors and retailers throughout North America. In 2012, JTM was named the 77th largest private firm on the Deloitte Cincinnati USA 100 list, and in 2011, JTM was named one of the Cincinnati Business Courier's Fast 55, an award that recognizes the fastest-growing private firms in greater Cincinnati. For more information, visit www.JTMFoodGroup.com.