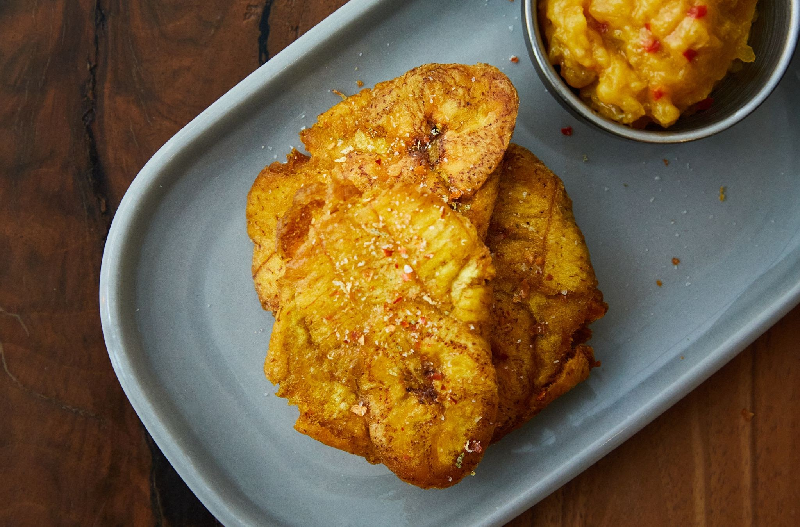 Throughout the COVID pandemic, diners noticed a restaurant mainstay, bread service, slowly disappearing from restaurants. Whether it was to reduce shared plates or limit interaction, with vaccination requirements helping to bring back the return of service as it once was, eateries across the country are bringing back their complimentary starters. We've rounded up restaurants that go beyond simple bread service to offer bites that truly enhance the meal experience.
See below for some of our favorite options, ranging from fried patacones with mango chutney at a new mesoamerican concept in New York's Chelsea neighborhood, to housemade herbed popovers at a Jazz-era spot in Greenwich Village
HOWM Cocina & Cocktails – New York, NY
Inspired by the kitchen's role as a gathering place in a home, the new HOWM Cocina & Cocktails, a shared plates concept helmed by Chef Byron Penafiel [Bilboquet, Rotisserie Georgette], focuses on the flavors of Mesoamerica, spanning from the Yucatan Peninsula down to El Salvador and Costa Rica. Keeping true to the cuisine, every meal starts with complimentary hot, crispy patacones, which are deep fried plantains, topped with with chili salt and mango chutney. Found throughout Latin America, patacones are a traditional appetizer with recipes often passed down through families, making them the perfect introduction to a meal at HOWM.
Society Cafe – New York, NY
Located in the heart of Greenwich Village, Society Cafe at the Walker Hotel is a cozy sublevel American restaurant serving dinner and weekend brunch that celebrates the neighborhood jazz scene with regular live music. To kick off each meal, guests can enjoy Chef Manny Gonzales-Charles' signature herbed popovers, bringing a twist to the traditional bread course with these light and airy bites. The popovers are served with an herbed butter dressed up with thyme, rosemary and chives, a perfect complement to a pre-dinner cocktail like The Last Marie, featuring Gin, Amer Dit Picon, grenadine, and lemon.
Georgia James – Houston, TX
Georgia James, Chef Chris Shepherd's Houston steakhouse, known for its dedication to locally-sourced foods and farms, makes each meal feel celebratory with their take on breadservice. The restaurant serves complimentary sourdough to every guest with a small candle, and when the wick is removed by the server, it's revealed that the candle is actually rendered brisket fat from local barbecue restaurant Feges BBQ to dip the bread. This indulgent twist highlight's the Georgia James dinner experience — that steakhouses can be unconventional and fun.