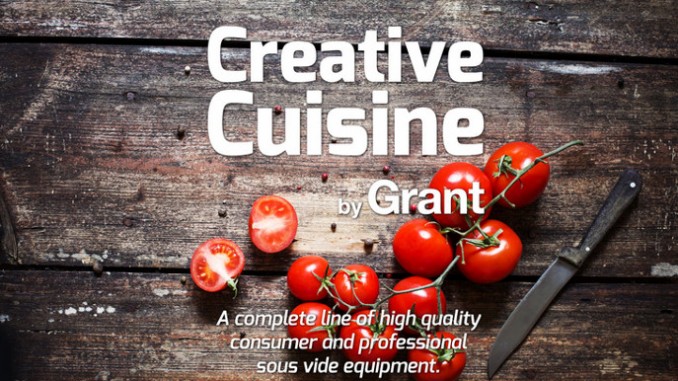 British-Based Grant Instruments Launches U.S. Entity
Complete collection of sous vide controllers, immersion circulators and water baths will soon be available to American-based home chefs and commercial kitchens
Grant Instruments, Ltd., a U.K.-based company with a 60-year history producing precision scientific equipment, today announced the formation of its U.S. division that will bring Grant's premium sous vide appliances and accessories to the American market.
The U.S. entity, Creative Cuisine LLC, is headed up by industry veteran Robert Lamson, who has a deep professional history of catapulting sous vide and other culinary appliances to the international forefront. Creative Cuisine will cater to both the at-home and professional chef through a complete range of products, from entry-point sous vide controllers to the most sophisticated commercial immersion circulators and water baths available. The brand will debut its initial product line at the International Home and Housewares Show (IHA) in Chicago from March 5 to March 8, 2016, in the Lakeside Building at McCormick Center in booth 12963.
"When I jumped into the sous vide industry eight years ago, there was little awareness for this cooking style among home cooks and professional usage was also fairly limited – all that has changed," noted Lamson, chief operations officer of Creative Cuisine, and previous executive at SousVide Supreme and fusionchef. "The sous vide category is a huge market opportunity, with many brands jumping into the mix. Grant, however, is uniquely positioned to enter the market given its six-decade history of creating scientific equipment focused on precision temperature control. In addition, by offering innovative, top quality products for both the home and commercial space, Creative Cuisine is poised to be an all-encompassing sous vide resource that sets new standards for this still emerging culinary field."
Grant first entered the sous vide market in 2008, with the debut of its water baths in the U.K. market, a product well-regarded by many top British chefs. The specialty division has grown steadily since, prompting the company to take things across the pond.
For more information about Grant, visit www.grantcreativecuisine.com or contact enquiries@grantcreativecuisine.com for wholesale inquiries.
About Grant Instruments
Grant Instruments (Cambridge) Limited is a world-renowned supplier of scientific, life science and data acquisition products. The company has been designing, manufacturing and distributing measurement and control systems for the past 60 years and has established a worldwide reputation for high quality, reliable and robust systems designed to satisfy the most demanding requirements across industrial, scientific, R&D and environmental applications. Headquartered at Shepreth on the outskirts of Cambridge, England, the company has an extensive network of scientific dealers and distributors servicing Europe, the Americas, and the Asia Pacific region. For more information, visit www.grantinstruments.com.