Amy Smith joins the Food and Beverage Experience team at Buffalo Wild Wings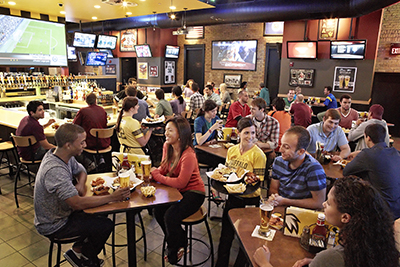 Buffalo Wild Wings, the destination for wings, beer and sports, has named award-winning chef Amy Smith director of culinary innovation. Smith will be responsible for creating, executing, and overseeing an annual product development plan and ensuring it aligns with restaurant operations. She will also manage logistics for all new or improved ingredients, menu items, equipment, and small wares.
Smith joins the Buffalo Wild Wings team with more than 12 years of experience leading and managing the development of recipes, menus, and product lines for casual and fine dining restaurants and packaged food companies. She has developed several successful, on-trend concepts that meet consumer demand and generate revenue.
"At Buffalo Wild Wings, we're committed to providing the best possible casual dining experience for our Guests, which means we're constantly looking for creative ways to delight Guests with creative menu items for every palate," said Todd Kronebusch, vice president of food & beverage experience. "Amy's breadth of menu knowledge will help us take our approach to culinary innovation to the next level, and we are looking forward to her taking the charge in the development of new menu offerings that not only bring Guests in, but also bring them back."
In her previous role, Smith served as the director of culinary innovation at Logan's Roadhouse. Her accomplishments include developing a long-term menu strategy integrated with marketing, brand positioning, and business needs, along with managing a multimillion dollar operating budget.
About Buffalo Wild Wings
Buffalo Wild Wings, Inc., founded in 1982 and headquartered in Minneapolis, is a growing owner, operator and franchisor of Buffalo Wild Wings restaurants featuring a variety of boldly flavored, made-to-order menu items including its namesake Buffalo, New York-style chicken wings. The Buffalo Wild Wings menu specializes in 21 mouth-watering signature sauces and seasonings with flavor sensations ranging from Sweet BBQ to Blazin'. Guests enjoy a welcoming neighborhood atmosphere that includes an extensive multi-media system for watching their favorite sporting events. Buffalo Wild Wings is the recipient of hundreds of "Best Wings" and "Best Sports Bar" awards from across the country. There are currently more than 975 Buffalo Wild Wings locations across 49 states in the United States, as well as in Canada and Mexico.
To stay up-to-date on all the latest events and offers for sports fans and wing lovers visit www.BuffaloWildWings.com.