Front of the House® is your local one stop shop for buffet displays, cocktail, and tabletop solutions.
With nearly 30 eye-catching collections comprised of over 2000 trend-forward products in a variety of bold shapes, unique textures, and vibrant colors, Front of the House® is the premier tabletop source supplying solutions to local Florida chefs, restaurateurs, hotels, spas, and caterers; as well as to an extensive roster of loyal customers worldwide!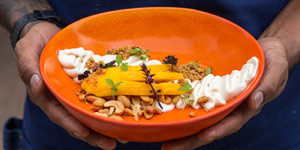 One unique benefit that local Florida chefs and F&B professionals have access to is the ability to visit Front of the House's expansive showroom in the MiMo District of Miami and then place and pick up orders right from our 100,000 sq ft Distribution Center that's fully stocked with all of our in-demand dinnerware, buffet, and tabletop solutions.
Creating a memorable, positive, experience is something we take seriously, whether our customers are local or across the globe. But there's something special to be said for our Southern US-based customers to be able to take advantage of shopping "local", and we encourage you all to reach out, come visit, and join our Front of the House® Family today!
To schedule your VIP Visit, please call 305-757-7940 x 113, or email our Customer Concierge at christopher@foh.cc.