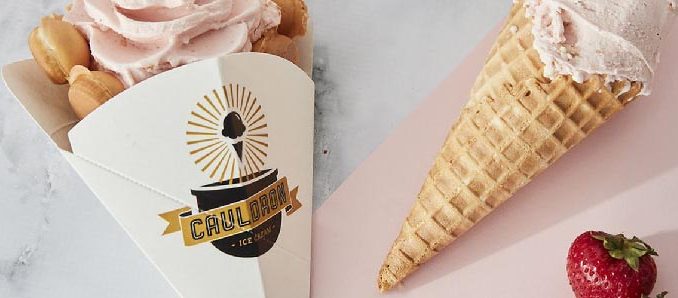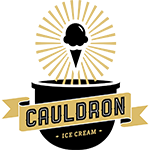 The long-awaited nitrogen ice cream shop, Cauldron Ice Cream, has announced it will be officially opening its Kearny Mesa store on Saturday, June 9. To celebrate its first San Diego County shop, located in the heart of the Convoy at 4646 Convoy Street, Cauldron is hosting a Grand Opening celebration from 6 PM – 12 AM on June 9. Festivities will include free merchandise for the first 100 people in line and additional giveaways all night long.
"It's very exciting for us to finally open doors in Kearny Mesa, especially after the public has been so eagerly and patiently waiting to taste Cauldron Ice Cream," says James Ho, one of the franchisees of the new location. "We want to make a splash with this community, since it is Cauldron's first introduction to San Diego residents, and we are confident they will love our unique, innovative ice cream flavors just in time for the warmer summer months."
Cauldron's creative concoctions first broke onto the dessert scene in 2015 and have been making a splash in the media and online ever since. The concept, founded by Terence Lioe and Desiree Le, is best known for its made-to-order liquid nitrogen ice cream and Instagram-famous OG Puffle Cone. Cauldron's famed cone, which was inspired by a popular Hong Kong street snack, has been recognized by Cosmopolitan, People Magazine, Food Network, The Huffington Post, and more, for its viral explosion and photogenic qualities. The menu, with viral qualities of its own, showcases unique ice cream flavors like Earl Grey Lavender, Milk and Cereal, and H20 Rose, all of which are handcrafted in small batches and served as a traditional scoop or shaped like a rose. To keep flavors fresh and intriguing for its masses of regular customers and new fans alike, Cauldron regularly adds seasonal flavors to its menu at each location.
The Kearny Mesa store is the first of three total units to be opened across San Diego County by franchising group Cauldron Collective. A separate franchisee has also signed on to bring three Cauldron locations to North County San Diego, with particular interest in the Carlsbad, San Marcos, and Del Mar/Encinitas areas. Cauldron Ice Cream operates locations in Santa Ana, Artesia, and Glendale, and additional stores are planned for Orange County; Los Angeles County; Santa Clara County; Dallas, Texas; and Toronto, Canada.
Cauldron Ice Cream is partnered with Fransmart, the industry-leading franchise development company behind the explosive growth of brands like Five Guys Burgers and Fries, The Halal Guys, and Qdoba Mexican Grill, as their exclusive franchise development partner to grow the brand. The concept is currently looking for experienced multi-unit foodservice operators to develop franchise territories in major markets. To learn more about franchising opportunities with Cauldron Ice Cream visit http://go.fransmart.com/cauldronpr.
About Cauldron Ice Cream:
Cauldron's plan was to invent a new style of ice cream that people had never seen before. With advanced technology, they consistently provide what is described to be one of the creamiest and most flavorful ice cream options. The ice-cream shop has been featured on the Food Network, and in both Cosmopolitan and People Magazines. Alyson Escobar, writer of the LA times, stated the puffle cone put "O.C. on the dessert map." For more information about Cauldron Ice Cream, visit www.cauldronicecream.com.
About Fransmart:
Fransmart is the global leader in franchise development, turning emerging restaurant concepts into national and global brands for over 10 years. Company founder Dan Rowe identified and grew brands like Five Guys Burgers & Fries and Qdoba Mexican Grill from 1-5 unit businesses to the powerhouse chains they are today. Fransmart's current and past franchise development portfolio brands have opened more than 3,000 restaurants in 45 states and 35 countries. Fransmart and their partner brands are committed to franchise development growth—as of 2017, over 1,000 new restaurants are in development across their current portfolio.