Chef Eric LeVine
Multi-award Winning Chef, Restaurateur and Author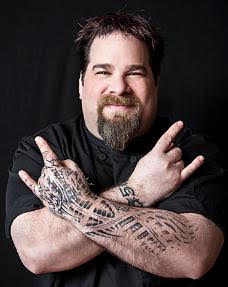 While most kids were playing with action figures, Eric was in the kitchen testing and tasting recipes. As a youngster growing up in Brooklyn, New York, Eric found excitement, challenges and passion in his favorite place – the kitchen.
He studied at The Culinary Institute of America in Hyde Park, New York and soon after graduation, worked under celebrity chef David Burke at the River Café. He credits this experience with sparking his creative artistry with food.
Chef Eric believes that food speaks a universal language. He has worked with Chef Jean-Louis Le Massion from Le Petite Café in France, Chef Giovanni Brunell at Il Tratattoire da Familia in Italy, and Master Chef Lee Ho of Otani from Japan. The world took notice, as Chef Eric became Chef de Cuisine at the famed Marriott Marquis in New York City. Chef Eric continued to incorporate internationally flavors while introducing new techniques to his preparation and presentation.
The James Beard Foundation recognized Chef Eric for his contributions to the gastronomic culinary scene in the United States and nominated him for Outstanding Chef of Year. In addition, Chef Eric was also invited for the third time to host a dinner at the James Be­ard House in New York for the Great Regional Chefs of America Series, the first catering chef to be given this prestigious opportunity.
The superlatives continued when The International Chef's Association named Chef Eric Creative Caterer of the Year and Chef of the Year – the only American chef to receive that distinction. Chef Eric has been twice featured in Wine Spectator Magazine with an Award of Excellence. USA TODAY recognized him as one of the Top Ten New Chefs. Food Art Magazine named Chef Eric one of the Top Ten Chefs. He was featured in Jezebel Magazine in the Top Twenty Chefs of Distinction. Catering Magazine, Cater Source Magazine and Chef Magazine all recognized him for his creative small plate creations and trend setting approach. In 2011, he become the Food Network's "Chopped" champion.