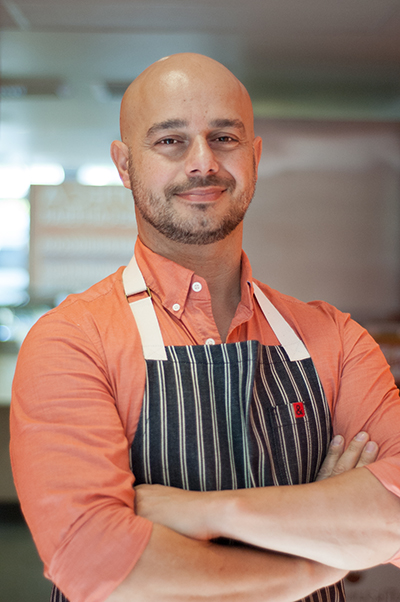 Piccolo Group, formed by Executive Chef Bobo Ivan and Restaurateur Vittorio Viotti, is pleased to announce CiBOTECA, the duo's first fast-casual concept that will bring an authentic taste of Italy to the local community. A gourmet delicatessen, CiBOTECA will take guests on a journey through the selections of gastronomia, from panini to insalate, seasonal sides and take-away creations, pastries to European style coffee, and a retail collection of imported goods inspired by the markets of Italy. By updating classic dishes from his homeland with a Californian's love for seasonality, Bobo has curated a menu that is both familiar and intriguing, ensuring this "house of food" welcomes all.
"Our goal is to highlight compelling flavors and create an atmosphere and menu where the local community can enjoy authentic, yet approachable food," says Bobo. "Using carefully selected ingredients, we hope to reflect a lighter approach to eating that encourages guests to further explore Italian cuisine outside of a restaurant environment."
Poised to service the surrounding coastal neighborhood and celebrate the ethos of, "eat less, taste more," a large component of CiBOTECA's menu features a variety of panini lightly-portioned to emphasize the quintessential Italian meats, cheeses, and oils incorporated into each bite. For lunch, guests may encounter a Pork Bun with pork belly baked in duck fat or Speck with mozzarella, cream of porcini, and truffle oil, while on a following evening Smoked Salmon with mushrooms, arugula, and mascarpone would be the combination of choice. Bobo's ever-changing assortment of market-fresh insalate and warm vegetable sides round out a nourishing lunch or dinner, with choices such as Farro with tomatoes, arugula, walnuts, and basil pesto; Tuna Conserva with celery root, candied beets, and olive; Eggplant Parmesan; Fennel Gratin; and Marinated Heirloom Tomatoes.
Ideal for working parents on-the-go or for those attending a last-minute dinner party, CiBOTECA's "Homemade to Make at Home" items allow guests to embrace their inner Italian in their own kitchen with a selection of appetizers, pastas, sauces, and spreads. Venetian-Style Black Cod Spread tops freshly baked crostini; Braised Octopus in Tomato Sauce is nestled into warm polenta; and the Arancini di Riso, Bobo's version of the risotto croquette, is bound to be a favorite all on its own. Additionally, retail goods are available for purchase offering a range of artisanal products, gelato, Piccolo-made sauces and ragus, imported oils, cheese, and unique snacks hand-selected from community and family-driven companies.
For the patisserie, Ivan partnered with Yukari Kamiya, the pastry chef for all Piccolo restaurants, who combines her Japanese sensibility with Italian influences to offer one-of-a-kind gourmet sweets and pastries. Crafted in the front-of-house and presented in glass displays imported from Treviolo, Italy, the desserts are showcased like jewels and include Green Tea Tiramisu, Nutella or Fruit Tea biscotti, Financier, and bite-size Orange, Rum, and Sesame chocolates.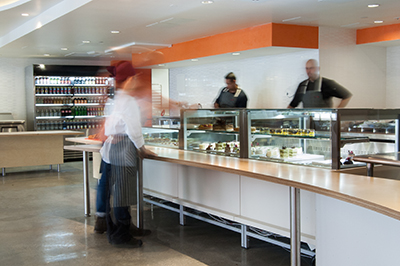 Additionally, morning guests can choose from an assortment of breakfast bites such as a Croissant Sandwich with prosciutto and gruyere, sliced Panettone, and Granola with yogurt. CiBOTECA proudly partnered with Santa Monica-based Caffe Luxxe for the cafe, as they share the same philosophy of community, quality, and approachability. Guests can sip freshly brewed coffee and specialty drinks like Caffѐ Frizzante, an iced espresso lightly sweetened and mixed with sparkling water, or the Caffѐ Nico, a hot espresso served with candied orange, half and half, and topped with a sprinkle of cinnamon.
"Bobo and I have always been inspired by our Italian roots," Vittorio says. "When creating CiBOTECA, we found a need in our community for the feel of local markets in Italy that were omnipresent in our youth, offering a unique well-crafted prosciutto to one family and housemade eggplant parmigiana to another."
Bobo and Vittorio led the design process for CiBOTECA, as they do all of their restaurants, with an eye toward blending functional take-away service with an inviting atmosphere. With the creative assistance of Architect Gregory Ginter, the communal experience is guided by the 20-seat circular counter that abuts an open kitchen, allowing guests to peruse the display cases of gourmet items as they watch chefs prepare a new dish. The bright white tiles ascending the walls reflect the natural seaside lighting, which is juxtaposed with the vibrant orange walls detailed with a Mediterranean-inspired patina. The main entrance features interspaced shelves that showcase retail items and a "living wall" of plants created by Flora Wall Design.
About CiBOTECA
CiBOTECA is located at 606 Broadway Avenue, Santa Monica, CA 90401 and serves breakfast, lunch, and dinner seven days a week from 8:00 a.m.- 8:00 p.m. For more information please visit www.ciboteca.com or via their Facebook page. Piccolo Group's other concepts include Piccolo Venice and Hostaria del Piccolo.