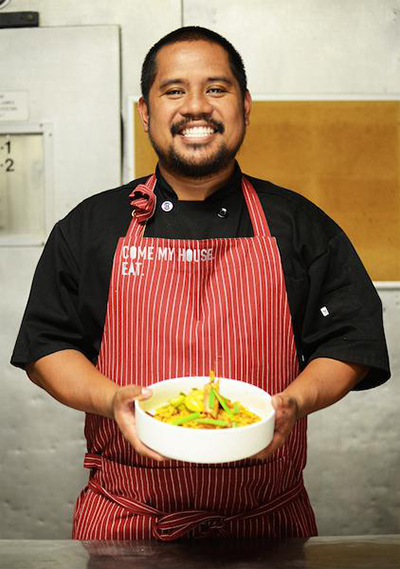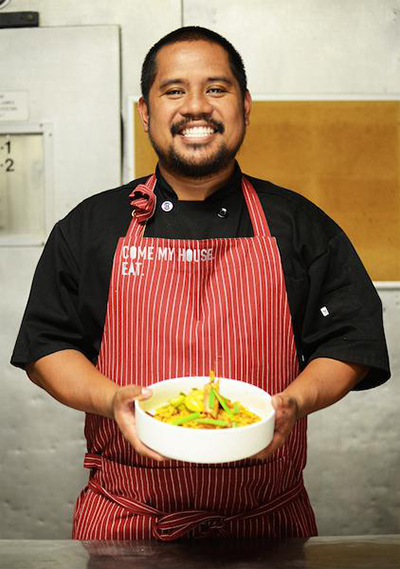 Chef Sheldon Simeon of Migrant Maui located in the beachfront Wailea Beach Marriott Resort & Spa on Maui has been recognized by Food & Wine magazine as one of the top 10 up-and-coming chefs in the U.S. In an online competition, thousands of votes were submitted to Food & Wine, which has announced Chef Sheldon as "The People's Best New Chef 2014 – Northwest & Pacific Region."
"We are proud of Chef Sheldon and whole-heartedly congratulate him," said John Tolbert, cluster general manager of Wailea Beach Marriott Resort & Spa and Waikoloa Beach Marriott Resort & Spa. "Sheldon is a brilliant young chef who was raised on the island of Maui and whose cooking is influenced by Hawaii's island flavors, his grandparents' Filipino cooking, and Hawaii Regional Cuisine."
In season 10 of the Top Chef reality competition cable TV show, Chef Sheldon placed in the top three, dueling against two other chefs in culinary challenges and was named "Fan Favorite". Simeon partnered with Chef Mark Ellman, one of the original founders of the Hawaii Regional Cuisine movement and manager/producer Shep Gordon to open Migrant Maui. Ellman and Gordon, also co-owners of Mala Wailea restaurant at Wailea Beach Marriott, always seem to attract a bevy of Hollywood's Who's Who to their Maui venues including Mala Wailea that is backed by a star-studded list of celebrities including rocker Alice Cooper, Richard Donner (Hollywood director), Don Nelson, Mike Kroeger (Nickelback), and Jerry Moss (winner of Kentucky Derby and founder of A&M Records).
At Migrant Maui overlooking the Pacific Ocean, Chef Sheldon prepares his specialty dishes such as the popular Hibachi Hangar Steak with nouc cham, pickled shallots and watercress, Korean Fried Chicken served with peanut sauce, roasted peanut and Thai basil, and Bottom of the Kalbi with shredded head cabbage and warm kalbi dressing. Guests can dine at the restaurant any day of the week from 5 to 10 p.m. The cocktail lounge is open until 11 p.m. Parking is validated. Visit www.migrantmaui.com.
Wailea Beach Marriott Resort & Spa offers one of the best oceanfront locations within the luxurious Wailea Resort destination on Maui, Hawaii. The resort offers 544 guest rooms and suites, featuring amenities including high-speed Internet, a 27-inch flat screen TV, cable TV, video games and a private lanai (balcony). The resort offers five swimming pools, including the adult-only Maluhia Serenity Pool, Mandara Spa, Migrant Maui restaurant from award-winning chef Sheldon Simeon, Mala Wailea restaurant from world-renowned chef/owner Mark Ellman, the Whale's Tail Fresh Juice Stand, the only Starbucks store in Wailea, poolside dining at Kumu's, "Te Au Moana" luau from the renowned Tihati Productions, Akamai Business Center, HD Video Conferencing capabilities and nearby golf, tennis and the exclusive Shops at Wailea. For more on this oceanfront resort in Wailea, or to make reservations, please visit waileamarriott.com or call 1-808-879-1922. Follow Wailea Beach Marriott on Twitter or like us on Facebook.