MUSIC, CRAFT BEER AND GOURMET MAN FOOD FESTIVAL
JULY 15, 16 AND 17 AT TOYOTA PARK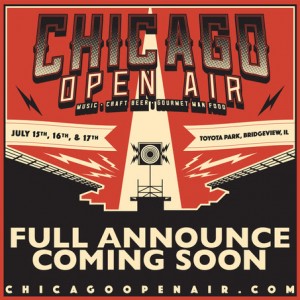 Bridgeview, Illinois and Toyota Park will host the 3-day debut of the Chicago Open Air music festival, which will feature performances by more than 60 rock music artists, an outdoor Gourmet Man Food and craft beer village and other entertainment from July 15 through July 17, 2016.
Chicago Open Air is produced by Danny Wimmer Presents, Live Nation and Toyota Park, with the support of the Village of Bridgeview and Bridgeview Mayor Steven Landek.
The Gourmet Man Food village will celebrate Chicagoland's delicious cuisine featuring a wide variety of food and beverage vendors, a craft beer village with top breweries from the region, as well as various onsite brand and fan experiences.
One headline band will be announced on Tuesday, February 9 at 5:00 PM Central Time, with discounted early bird General Admission tickets available for purchase at that time. The full list of Chicago Open Air music, craft beer and artist-inspired beverages, as well as the Gourmet Man Food lineup will be revealed Tuesday, February 16 at 5:00 PM Central Time via the festival's website (www.ChicagoOpenAir.com).
Mayor Landek said Bridgeview is proud to have the 3-day Chicago Open Air event at Toyota Park, adding the goal is to bring world class events to the Bridgeview sports and entertainment stadium.
"Chicago Open Air is the next step in fulfilling that promise to our citizens," Landek said. "Danny Wimmer Presents has a proven track record of producing successful events in MLS stadiums that attract attendance from around the world. This is a great opportunity for our city as we continue to benefit from this investment."
Festival producer Danny Wimmer of Danny Wimmer Presents comments, "Chicago has a deep history with rock 'n' roll, from the pioneers of Chicago blues, to the icons of modern rock that call this place home, to the incredible live experiences that have happened here. I've been looking at the Chicago market for quite some time. With the rich music history, the incredible craft beer culture and the celebrated Chicago food scene, I couldn't be more excited to debut the 3-day Chicago Open Air festival this July. We're excited to work with Mayor Steven Landek, who's very supportive of developing arts and entertainment in the area, and bringing more large scale events to the stadium."
For more information on Chicago Open Air, visit www.ChicagoOpenAir.com.