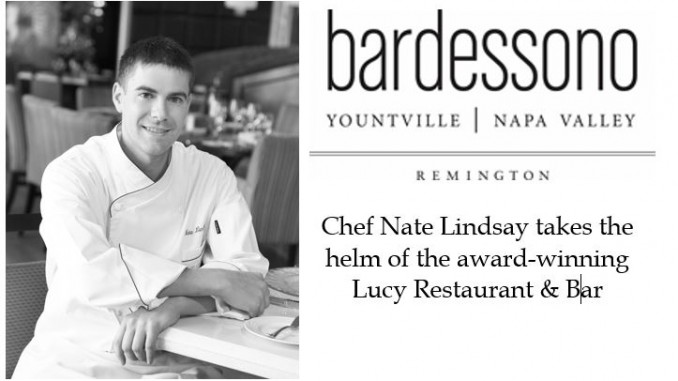 LUCY RESTAURANT & BAR AT BARDESSONO HOTEL & SPA APPOINTS NEW EXECUTIVE CHEF
Chef Nate Lindsay takes the helm of the award-winning Lucy Restaurant & Bar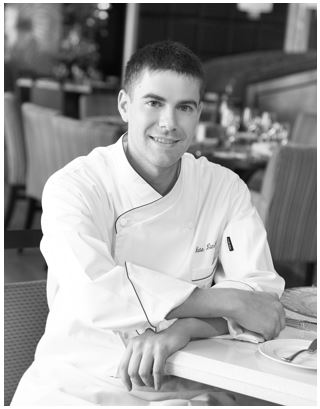 Bardessono Hotel & Spa, the luxurious, LEED Platinum Certified wine country retreat in the heart of Napa Valley, has announced the appointment of Nate Lindsay as the new executive chef. Lindsay will oversee all aspects of the culinary experience at Bardessono and for Lucy Restaurant & Bar, the hotel's award-winning, signature restaurant presenting innovative, garden-inspired cuisine that embodies the property's "exceptional by nature" modern aesthetic and eco-spirit.
"We are delighted to welcome Chef Lindsay to Bardessono and excited to watch Lucy thrive from his fresh culinary vantage, talent and enthusiasm," said Sileshi Mengiste, divisional vice president, Luxury Division Remington Hotels. "Chef Lindsay brings a balanced approach to food thanks to his successful background of intuitive leadership and creative talent – all critical traits to help ensure continued growth and success at Lucy and Bardessono."
Most recently, Lindsay was the executive chef at the farm-to-fork restaurant, Jardenea, at Melrose Georgetown Hotel in Washington D.C., Lindsay embraces the philosophy of serving inventive dishes through artful presentations with the use of the highest quality seasonal ingredients. Noted by Parade Magazine as a chef who "takes the whole farm-to-table trend to a whole new level," Lindsay's talent at creating harvest-centric cuisine is revered by national media outlets and the DC community.
"I'm very excited about this next chapter in my career," adds Executive Chef Nate Lindsay of Bardessono. "It is an honor to lead the culinary team at Lucy and I look forward to getting to know the Yountville community while making their Lucy dining experience exceptional."
Lindsay's love affair with food has put his career onto the fast track within Remington Hotels, Luxury Division. Prior to his role as executive chef at Melrose Georgetown Hotel, Lindsay was a part of the pre-opening team at One Ocean Resort & Spa and Azurea Restaurant in Atlantic Beach, Fla., where he quickly assumed the position of executive sous chef. He spent time overseeing all food and beverage outlets at the Florida resort.
"We are delighted to welcome Chef Nate Lindsay to our team at Bardessono," said Nanci Sherman, general manager, Bardessono Hotel & Spa. "With Chef Nate leading our team, we can expect Lucy to soar to the next level in terms of originality, presentation, competence and flavors."
Lindsay studied advanced culinary arts at the Connecticut Culinary Institute in Suffield, Conn. Before joining One Ocean Resort & Spa and Azurea, Lindsay led the kitchen for Amelia Island Plantation Ocean Grill in Fernandina Beach, Fla.
Lending his talent to multiple charity events and organizations, Lindsay has supported philanthropic events such as the Friends of James Beard Benefit Dinner, Children's Home Society Caring Chefs, Tom Coughlin's Jay Fund Foundation and First Coast Premier Wine Extravaganza benefiting the Children's Cancer Fund. This past year he also served as a 2015 Embassy Chef Judge during Washington D.C.'s Embassy Chef Challenge where a dozen embassy chefs present signature epicurean delights and compete for the Judges' Choice and People's Choice Awards.
Operating around a food and beverage philosophy ruled by the seasons, Lucy Restaurant & Bar has become a Napa Valley favorite and iconic experience that emphasizes local production and sourcing. The rotating menu uses only local-sourced and freshly picked ingredients when possible from the onsite culinary garden. The culinary team at Lucy is passionate about working closely with Napa Valley farmers and organic dairy producers to create locally-inspired dishes.
Nestled in the heart of Yountville, Bardessono prides itself on offering a mindful approach to living the good life. "Deep green" with luxury, a subtle aesthetic, privacy and graciousness, Bardessono models hospitality with enduring expressions of land and family that fostered and sustained the original Bardessono family farmstead. The hotel boasts Lucy Restaurant & Bar with its own on-site, CCOF (California Certified Organic Farming) culinary garden, and a full service spa as well as personalized spa treatment areas in each of its guest rooms.
To experience or learn more about Lucy Restaurant & Bar at Bardessono, please call (707) 204-6000, visit www.bardessono.com, or follow on Facebook, Pinterest, YouTube and Instagram.
About Remington Hotels
Remington is a dynamic, growing, independent hotel management company with over 40 years of experience in the hospitality business. Providing top quality service in the areas of project management, property management and condominium hotel management, Remington's track record of success demonstrates a unique understanding of the hotel business in all phases of the economic cycle. The culture across these disciplines is centered on achieving results. At Remington, the belief is in their associates as the ultimate source of the company's competitive advantage. Remington Hotels has a reputation for consistently delivering outstanding results to owners and investors, as well as brands, guests and associates, making Remington Hotels the premier service provider to the hospitality industry™.