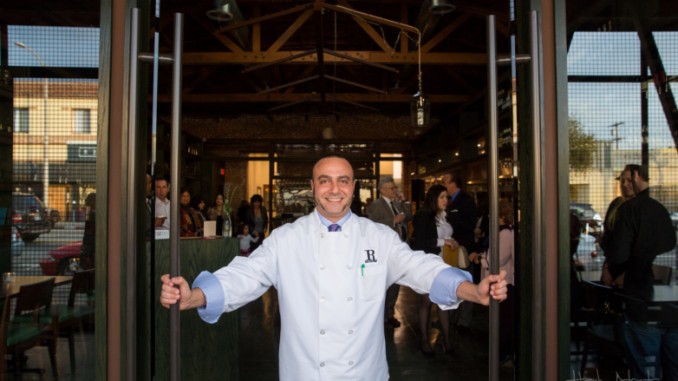 Chef/co-owner Sevan Abdessian and partner/wife Tamar Kevonian welcome you to Recess Eatery Highland Park!
Address: 5022 York Blvd, Highland Park 90042, Los Angeles CA
Website: www.recesseatery.com
The family owned business is now a part of the enterprise zone, encouraging other new businesses to grow with them! Their objective is to have a kid-friendly restaurant, catering to young families in the Northeast LA area without sacrificing their sense of casual elegance charm nor their great food, made with organic ingredients, prepared fresh every day and beautifully presented. This second location also brings an edgy vibe with a fun environment, adapting to the neighborhood, opening late-nights daily with a large selection of crafted cocktails, wine and beer.
The playful 5,000SF library-inspired restaurant designed and built by Spacecraft Design Group, is dominated by a warm-neutral color palette using green, brown and beige earthy tones. The woodwork dominates the ample space, providing a warmer feel, and the furniture is made out of a deep-brown wood mixed with green leather, with two of the walls covered in library-like shelves full of food items. The lovely outdoor patio backyard has two blooming olive trees as well as a cozy (working) fireplace made with brick and sand color with green accents, perfect for al-fresco brunches during the weekend and dinning under the stars any night of the week!
During these first weeks, hours of operation will remain 5pm to midnight Sunday through Thursday and 5pm to 1am Friday & Saturday. By Valentines Day weekend, hours of operation will expand to 9am – 1am Friday & Saturday and 9am – midnight on Sundays, adding breakfast and lunch during these new daytime hours.