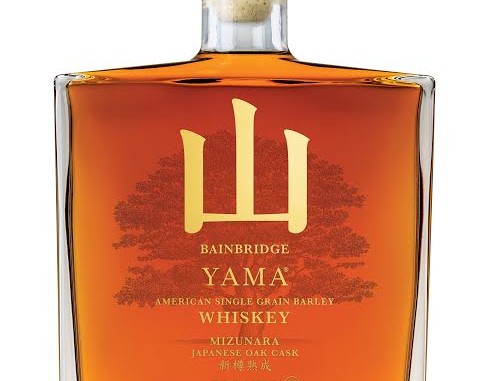 BAINBRIDGE ORGANIC DISTILLERS INTRODUCES THE WORLD'S FIRST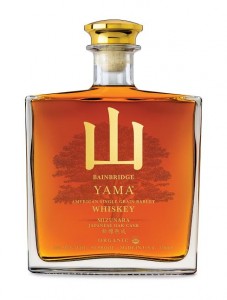 JAPANESE WHISKEY AGED EXCLUSIVELY IN VIRGIN JAPANESE CASKS
Only 200 bottles of this inaugural bottling of Bainbridge Yama Mizunara Cask Whiskey will be available globally,
from select group of retailers and from the distillery directly.
ORGANIC CRAFT DISTILLERY LOOKS EAST TO CREATE FIRST-EVER WHISKEY
Bainbridge Island, Washington State, U.S.A., January 1, 2016: Bainbridge Organic Distillers, winners of
multiple awards including World's Best Wheat Whiskey and World's Best Vodka, is proud to announce the
launch of Bainbridge Yama Single Grain Japanese Mizunara Cask Whiskey. Bainbridge Yama is the first-
ever non-Japanese whiskey to be aged exclusively in hand-crafted barrels made from rare Mizunara oak
harvested from the Japanese island of Hokkaido. Set for limited global release in Spring 2016, Bainbridge
Yama Mizunara Cask Whiskey takes its inspiration from the small village of Yama founded on Bainbridge
Island by Japanese immigrants in the 1880s.
THE JAPANESE MIZUNARA CASKS
Bainbridge Organic Distillers' Mizunara casks begin their life in the forests of the northern Japanese island of
Hokkaido. Mizunara oak trees (Quercus crispula) are hand selected for harvest based on the vitality of the tree and
the quality of the wood. After harvest the Mizunara oak is quarter-sawn and then air-dried in Japan for at least 3
years. When the rough wood has fully seasoned Bainbridge Organic Distillers imports the wood to the United States.
Once the Mizunara oak arrives in the U.S. it is inspected by master distiller Keith Barnes, and then transported to a
family-owned 4th generation custom barrel cooperage where the talented and dedicated team of coopers patiently
transforms the wood into barrels designed to meet Bainbridge Organic Distillers' unique requirements.
THE YAMA WHISKEY
4000 miles away the whiskey that will become Yama begins its journey from grain to glass in the fertile fields of
Washington state's Skagit Valley where organic Full Pint and Alba barley is grown on a small 3rd generation family
farm near the saltwater confluence of the Skagit River and the Puget Sound. After harvest the barley is trucked 77
miles to Bainbridge Organic Distillers facility, where the un-malted grain is milled and mashed. Fermentation takes
place in one of the distillery's four 550 gallon stainless steel fermentation vessels. Yeast used in the production of
Scottish malt whisky is used to develop the set of flavor notes that makes this whiskey so special and unique. After
fermentation the mash is distilled on the grain where small head and tail cuts are made, and then a second time
where the distilling team monitors the run continuously so they can make the cuts at precisely the right moment. As
with all of Bainbridge Organic Distillers' spirits, cuts are made "by hand" and based on the qualities of the spirit as
it flows into the spirit receiving tank, no computers or electronic equipment are used.
EAST MEETS WEST, BAINBRIDGE ISLAND STYLE
After the second distillation the whiskey is diluted to 126.5 proof and allowed to marry with the water for a period
of 1 to 2 weeks. While this is happening the virgin Japanese Mizunara oak barrels are readied for filling. The casks
are filled with hot water to allow the wood to swell sufficiently to achieve a watertight state and any leaks are
addressed before whiskey is introduced into the barrels. Mizunara oak has a well-earned reputation for being brittle
and prone to leakage and this is especially true when working with barrels that have never been used. Once the
Bainbridge team is satisfied that the barrels are tight and sound the casks are filled with the new-make YAMA
whiskey. The YAMA whiskey will rest in 100% virgin Japanese Mizunara oak cooperage until it is mature and
ready for bottling. The finished whiskey, a ruddy copper in color, is un-chill filtered and free from additives, flavor
enhancers and coloring agents, and bottled at 90 Proof or 45% ALC./VOL. MSRP for a 750ml bottle is $495 USD.
"Obtaining stocks of this rare and sought-after wood, and bringing this special whiskey to fruition, has taken more
than 6 years and the efforts of many people both here in America and in Japan", says distillery owner and master
distiller Keith Barnes. "It has been an effort fueled by friendship, passion, determination and an unbelievable
amount of hard work by all those involved. But once we stood back to look at the accomplishment, and taste the
whiskey, it's been worth every effort we've made."
TASTING NOTES
Bright aromatics of mango, vanilla, toasted sandalwood, tropical flowers, marzipan and star anise. Flavors open on
nutmeg and clove, pear and toasty wood notes, settling out to honeyed vanilla and toasted marshmallow. Finish is
warm and lingering with fading spice and a pleasant oak grip.
THE BAINBRIDGE YAMA PROJECT
Bainbridge Yama Mizunara Cask Whiskey takes its name from the village of Yama, founded on Bainbridge Island
in 1883 by Japanese immigrants coming to Bainbridge Island to start new lives and realize new opportunities.
Creating Bainbridge Yama has been a goal of Bainbridge Organic Distillers founder and master distiller Keith
Barnes since opening the distillery in 2009. "Living on Bainbridge Island we have always known that this place
shares a special connection with Japan and the Japanese that first came to Bainbridge Island in the 1880s. The small
Yama village was a thriving place back then, complete with a traditional Japanese teahouse, Japanese baths,
Buddhist temple, a hotel and shops. Tamegoro Takayoshi's general store in Yama was said to have the best ice
cream on the island." The closure of Port Blakely Mill in 1922, an employer for many of the men living in Yama,
caused village residents to relocate to different parts of the island where they took up farming or opened shops and
other small businesses. Over the decades the Yama village site was slowly reclaimed by nature.
Today the Yama village site represents the last undisturbed Issei (First Generation Japanese immigrant) village site
in the United States not destroyed by development. Bainbridge Yama Mizunara Cask Whisky was first envisioned
by distillery founder and distiller Keith Barnes as a way to draw attention to the unique history of the island he calls
home, and also to raise money to support the efforts of the community to preserve and present Yama's history to
today's generation of Bainbridge Island residents and visitors to Bainbridge Island.
"When I heard that efforts were being organized to preserve the Yama site, its artifacts and history, I wanted to take
part. Making a very special whiskey using rare Japanese Mizunara oak that follows the same path to Bainbridge
Island from Japan made by those first Japanese immigrants seemed fitting. And creating a whiskey that
harmoniously blends the Mizunara wood's Japanese character with the unique salt-air influence we see in the
whiskies we barrel-mature here on Bainbridge Island seemed like a once in a lifetime opportunity. Making the
whiskey USDA Certified Organic was icing on the cake."
Profits from the sale of Bainbridge Yama Mizunara Cask Single Grain Whiskey will support the ongoing efforts to
preserve the unique Yama history for the study and enrichment of generations to come.