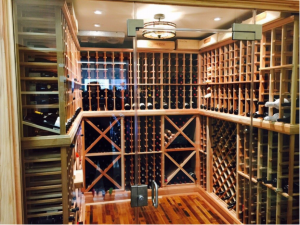 Gerard's Wine and Spirits, a premier destination for the finest wines and beers, adds a temperature controlled wine cellar to showcase their huge collection of wines. The cellar is believed to hold as much as 1000 bottles of wine at a time. Wines are sensi1ve to heat.
There is nothing more degrading than extreme heat or cold. Therefore proper maintenance of temperature in the room or cellar where wines are stored is of utmost importance. These characteris1cs of wines is studied and implemented by the Gerard's team in their wine cellar which can maintain a temperature of 55-58 degrees and 55-75 degrees rela1ve humidity which is ideal for wines.
These wine cellar condi1ons are essential in graceful aging of the highly expensive and valuable wines in order to store them at their peak for many years. Coming to the design of cellar, it must be admitted that the cellar is made up of high quality wood having bevelled rails with eased edges. Every rail on their cellar has bevelled front edge which gives aesthe1c benefit. Also, each rail has an eased edge to ensure that when a person inserts a bottle into the rack, the label does not tear which adds to the func1onal benefit of the cellar. Another feature of the cellar is the individual bottle bins to hold bottles of different sizes. The medium bin can hold a 1-3 litre bottle whereas a large bin can hold huge precious 1-6 litre bottle.
The main idea of building a wine cellar is to protect the wines from potentially harmful external influences and also to provide darkness along with a stable temperature. If wines are exposed to light, vibra1on, heat or irregular varia1on in humidity and temperature, they are likely to spoil and lose their quality. When the wines are stored properly, they not only retain their quality but also enhance in terms of flavor, aroma and their complexity according to their maturity. Gerard's Wine and Spirits has made an excellent addi1on to their store. This development will result in a huge increase in the selec1on of wines and also protect the very expensive and valuable wines from losing their quality. Gerard's was established in 1956 and is known as the premier destination for wines and beers on the Jersey shore. Gerard's still continue to be family owned and still operating in the same way. They give utmost importance to their customers and make great efforts to satisfy them. They attempt to serve their customers with the best. They are now proudly presenting their collection to the rest of the country and will surely be able to widen their collec1on of wines after the addi1on of the wine cellar. Please visit them online at www.finewineonline.com