As the Countdown to Christmas is progressing, the Legends Culinary team at AT&T Stadium is preparing an array of flavorful recipes for holiday events of all kinds being hosted at one of the United States' most popular event locations. The Legends team is combining classic ingredients in fresh ways. Following is Executive Chef Orazio LaManna's clever approach and fresh re-construction of holiday flavor classics: Christmas Surf n Turf. Turkey scallopini and traditional cornbread dressing combine with succulent shrimp and a white wine cream sauce with cranberries to delight everyone at the holiday table!
Chef Orazio LaManna's Christmas Surf n Turf (left) a reconstruction of classic favorites for refreshing approach for the holiday table. Also among Chef LaManna's featured recipes for Legends Holiday 2013 events at AT&T Stadium are the Grilled Duo, a grilled petite filet mignon, housemade chorizo stuffed chicken breast, mango cucumber relish, tomato and yellow pepper sauce; and Herb Crusted Texan with creamy polenta, roasted tomato, citrus adobo and fried sage.
Christmas Surf n Turf
Orazio LaManna, Executive Chef, Legends/AT&T Stadium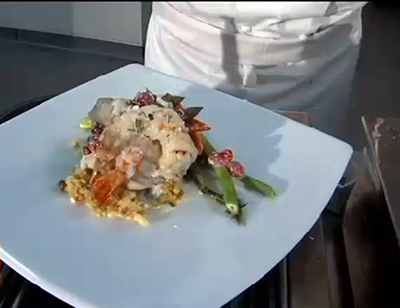 Cornbread Dressing
Ingredients
½ loaf Cornbread
1 large single celery stock
¼ med. onions
1/4 lb sliced bacon
1tsp. chopped thyme
1 tsp. chopped sage
1tsp. marjoram
¼ cup fresh cranberries
¼ cup Turkey Stock or chicken broth
1 Tbsp. melted butter
Preparation
Preheat oven to 325° F. and butter a 2-quart baking dish.
Cut cornbread into small cubes and dry in 2 large shallow baking pans in oven 20 minutes or leave out at room temp overnight.
Finely chop celery, onions, and bacon, leave all separate.
In a large, deep skillet sauté bacon over moderately high heat, stirring, until browned, about 8 minutes.
Add celery and onions and cook, stirring, until vegetables are softened, about 4-5 minutes, add herbs and cranberries and continue to cook 4-5 minutes.
In a large bowl toss together cornbread and bacon mixture and transfer to baking dish.
Ladle stock or broth over cornbread stuffing and bake, covered, 1 hour. At this point brush dressing with melted butter and continue to bake uncovered for 20 minutes more.
Surf n Turf
Ingredients
3 tablespoons vegetable oil
½ cup all-purpose flour
4x 4oz thin Turkey scallopini
2 Tbsp. olive oil
8 large raw shrimp16/20 count, peeled and deveined
1 garlic clove minced
½ small shallot, minced
¼ cup white wine
1 ½ cup heavy cream
1 tsp. chopped basil
½ tsp. chopped thyme
½ lemon, juice
Cranberries
1 Tbsp. butter
Preparation
Heat a 12-inch heavy skillet (not nonstick) over high heat until hot, then add oil and heat until it shimmers.
Meanwhile, stir together flour, 1 teaspoon salt, and 1/2 teaspoon pepper.
Pat dry Turkey Scallopini and dredge in flour, patting off excess.
Cook Turkey turning once, until browned and just cooked through, 2 to 2 1/2 minutes. Transfer to a plate.
Discard old oil from skillet, then add 2 Tbsp. olive oil. Sauté Shrimp 3-4 minutes on each side and set aside.
Using the same skillet, add the garlic and shallots and deglaze pan with white wine and reduce wine by half.
Add cream and reduce to nice saucy consistency.
Meantime cook down cranberries in a separate pan with the butter… cook cranberries for approximately 15 minutes on medium heat.
Finish cream sauce by adding the fresh herbs, lemon juice and cooked cranberries.
Season to taste with salt and pepper.
Assembly
Place a spoonful of Cornbread dressing on dinner plate.
Top with turkey scallopini and shrimp
Spoon sauce over shrimp
Present with vegetable of your choice.
ABOUT AT&T Stadium
AT&T Stadium is the largest, most technologically advanced entertainment venue in the world. Designed by HKS and built by Manhattan Construction, the $1.2 billion stadium features two monumental arches, the world's largest HDTV video board cluster, an expansive retractable roof and the largest retractable end zone doors in the world. Features of the stadium include seating for 80,000 and expandability for up to 100,000, over 300 luxury suites, club seating on multiple levels and the Dallas Cowboys Pro Shop, open to the public year round. The stadium is also home to a world-class collection of contemporary art, made up of over 50 pieces from an international array of curated artists displayed on the walls and in the grand public spaces of the venue. In addition to being the home of the Dallas Cowboys since opening in 2009, the stadium has hosted Super Bowl XLV, the 2010 NBA All Star Game, the annual AT&T Cotton Bowl Classic. In 2014 it will be home to the NCAA Men's Final Four and in 2015 the inaugural College Football Playoff Championship Game. The venue has also played host to high school and college football, concerts, championship fights and other special events. For more information, go to http://stadium.dallascowboys.com.
About Legends Hospitality
Legends, owned by the New York Yankees, the Dallas Cowboys and the Checketts Partners Investor Fund, is an industry leading sports entertainment company with disciplines focused on sales and marketing, hospitality, and feasibility market analysis and includes: Legends Hospitality, a premier provider of general concessions, premium food & beverage, catering, and retail merchandise; Legends Global Sales, which offers team owners, facility operators and athletic departments premium tickets sales and service, PSL sales execution, CRM, sponsorship and naming rights capabilities and sales training; Legends Global Planning, which provides project feasibility, economic impact studies, funding plans and business operational reviews.; and Legends Attractions, which combines its best-in-class design, sales and marketing, hospitality and merchandise services to create memorable Guest experiences in the Observatory and Stadium Tour industries.