Seonkyoung Longest, winner of Food Network's Restaurant Express, named Executive Chef at the signature Asian restaurant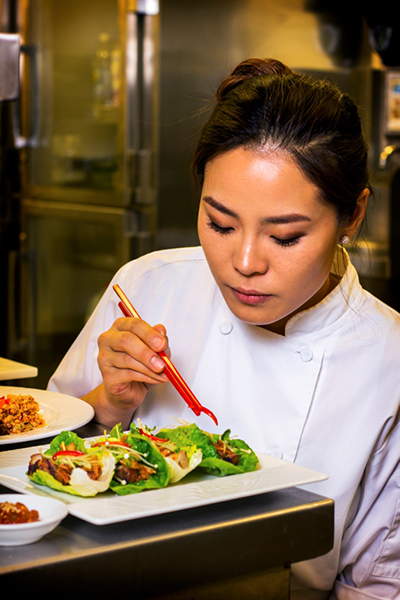 Jayde Fuzion, a fresh, social, contemporary Asian restaurant is now open at the four-star awarded M Resort Spa Casino. Led by Seonkyoung (Sun-Key-Young) Longest, the winner of Food Network's Restaurant Express, Jayde Fuzion presents Longest 's concept of freshly prepared Japanese, Chinese and Korean small plates made with her signature Mississippi flair.
A self-taught home cook, Longest is passionate about cooking, which helped her adjust to life in the United States. Born and raised in South Korea, she moved to Mississippi in 2009 with her husband. She began watching Food Network, where she learned to cook new recipes, with her own twist.
"Every evening, I would prepare something new for my husband inspired by something I'd seen watching Food Network, but I'd add a unique twist. Soon enough, I was making my own cooking videos with a small camera, sharing the happiness cooking brought me and my recipes with people from all over the world. Becoming a contestant on Restaurant Express, was very exciting," said Longest. "Winning and ultimately seeing my dishes on the menu at a four-star Vegas resort is a dream come true!"
Located in the space formerly occupied by Marinelli's Italian Restaurant, the 150-seat restaurant offers an intimate dining experience complete with an 11-seat sushi bar and 20-seat private dining room, which is available for special events and overlooks the resort's pool piazza. Booths and tables offer views of the resort's outdoor pool piazza and al fresco dining is available on the terrace.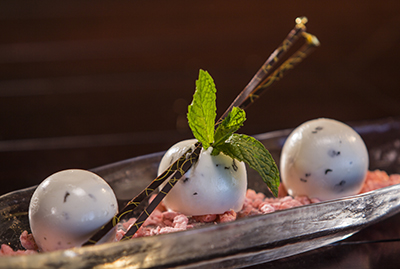 "Jayde Fuzion is a perfect fit with our existing food and beverage offerings. We anticipate it being a favorite among all our guests, who have been waiting for an Asian dining option for some time," said Anthony Layton-Matthews, Vice President of Food & Beverage at the M Resort. "We're fortunate to have Seonkyoung lead this restaurant. Her food is delicious and her personality is dynamic. We couldn't be happier to have her join our team."
Delivering a personal and creative take on Asian cuisine, the menu brings guests on a culinary journey through China, Japan and Korea with selections of dim sum, tempura, noodle dishes, fusion specialties and sushi, sashimi and nigiri items. Among Longest's signature items, guests will find Samgyeopsal Lettuce Wraps, grilled pork belly, kimchi, enoki mushroom, and cucumber topped with Korean Ssam-jang sauce and wrapped in gem lettuce ($8) and Bibimap, a Korean rice bowl of assorted vegetables, bulgogi and poached egg with a sweet tangy sauce ($14). Other items include the Five Spiced Duck Sliders, marinated roast duck, pickled cucumber & carrots on a bao bun with hoisin glaze ($9) and Korean Street "Tacos," scallion pancakes, bulgogoi and napa cabbage with sriracha-lime dressing ($7).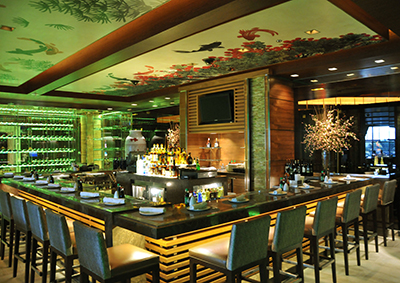 In addition to presenting signature dishes, Jayde Fuzion will also offer guests several signature drinks like Sake Mojitos, fresh muddled mint, yuzu, sugar, sake and club soda ($7) and Red Soju Sangria, soju, simple syrup, pinot noir, red grapes, pomegranate and club soda ($6).
The restaurant's design blends traditional Asian details with modern touches incorporating hues of greens, pinks and reds. The 22-foot-wide marble stairway is flanked by pink and rose colored flowers opening into a sophisticated bar and lounge. The open and intimate dining room showcases large-scale murals of Koi fish and exquisitely beautiful Cherry Blossoms, common details throughout the restaurant and revered symbols in Asian cultures. As Feng Shui details, the Cherry Blossom is said to indicate love, happiness and feminine beauty while the Koi fish signify good fortune and success. Also significant, the restaurant's colors reflect harmony, luck and happiness.
Jayde Fuzion is open for dinner daily from 5-10 pm. Dinner reservations are recommended by calling (702) 797-1000 or by visiting www.theMresort.com.
ABOUT M RESORT SPA CASINO
M Resort Spa Casino is a Forbes Travel Guide Four Star rated resort located on over 90 acres at 12300 Las Vegas Blvd. S. on the southeast corner of St. Rose Parkway and Las Vegas Boulevard. Situated higher in elevation than other resort-casinos on the Las Vegas Strip, the M Resort provides optimal views of the world-famous Las Vegas skyline from its guest rooms, suites, conference center and restaurants. The resort offers 390 guest rooms and suites, over 92,000 square feet of gaming, multiple restaurants and bars, more than 92,000 square feet of meeting and conference space, a state-of-the-art spa and fitness center and a 100,000 square foot events piazza. M Resort is operated by Penn National Gaming, Inc. For more information visit TheMResort.com, and find them on Facebook and Twitter.