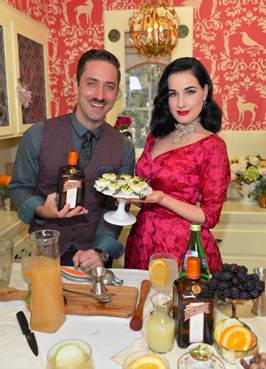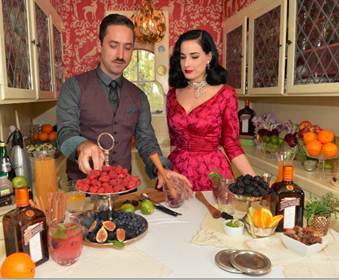 Food & Beverage Magazine attended Cointreau's online Virtual Holiday Soiree, hosted by the Queen of Burlesque Dita Von Teese and Cocktail & Spirits Expert Kyle Ford. Most people are familiar with Dita's glamorous persona, but what you may not know is that she has a passion for entertaining. When she's not on stage, Dita is usually at home treating her friends to some delicious food and signature cocktails straight from her kitchen.
Dita "virtually" invited fans and cocktail enthusiasts from all over the world into her home for a master class in entertaining and cocktail making for the holidays. The soiree took place in Dita's colorful kitchen, which is adorned with hot pink wallpaper and truly speaks to her unique, vintage-inspired style. She and Kyle showed viewers how to make three chic and simple cocktails that are perfect party staples – the Cointreau Rickey, the Cointreau Berry Rickey and the Cointreau Apple Crisp (recipes below). Since Cointreau is an 80 proof spirit, it makes a great base for cocktails and is a unique, stylish alternative to gin or vodka.
Dita loves to throw a party, and she shared some of her go-to entertaining tips with the viewers. Some of the highlights included:
Create a signature cocktail– Having a specialty cocktail is a great way to add a personal touch for your guests. Dita loves The Cointreau Rickey because it is chic and easy to make with just 3 simple ingredients- Cointreau, lime and soda.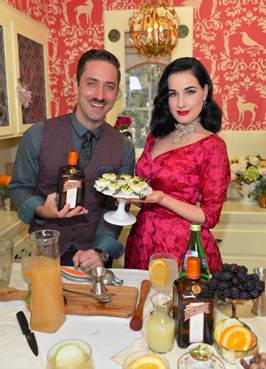 Setting up a Cointreau Rickey Bar for guests – This is a great, interactive way for your guests to enjoy their cocktail experience – all you need is Cointreau, lime, soda and a beautiful arrangement of your favorite fresh ingredients to muddle in. Since we're approaching the holiday season, Dita loves to use ingredients like fig, apple, rosemary, sage, thyme, etc. She also says, "It drives me crazy having to do dishes all night, so by personalizing their cocktails, guests will remember which drink is theirs!"
Pay attention to lighting –As Dita mentioned, "Lighting is a good place to start…to set the tone." She recommends using scented candles that "suit the season" or using dimmer switches where possible. Proper lighting can turn your home into a "lair of seduction."
Have a theme party – Sometimes, a fun theme is reason enough to have a party. Dita explained, "I like to have classes for my friends. So recently I invited all my girlfriends over and had a hula-hooping lesson here at my house. I set up a Cointreau Rickey Bar and all my friends were really excited by it." She also throws potluck parties with different themes for the food – such as brunch or Mexican food – with cocktails to match, of course!
Batching cocktails – Instead of running back and forth to the kitchen making drinks for your guests all night, pre-batch your cocktails and serve them in beautiful carafes, or as Dita mentioned, a vintage punch bowl that she recently picked up at the flea market. They look beautiful and allow you, as the host, to spend time with your guests.
Using mixed barware – Don't be afraid to use mixed or mismatched barware or glassware. Dita loves finding vintage glassware at flea markets and frequently uses it when entertaining. It's another way for your guests to identify their glasses because each one is different!
Keep it simple – Simplicity is the golden rule of entertaining, as far as Dita is concerned! She suggests, "The cocktails should be simple, all the food should be quite simple and that's the key to having a good party that doesn't make you frazzled." Your guests don't want to see you stress, so keeping your cocktails and food simple is the best way to ensure a successful party.
FEATURED COCKTAILS:

The Cointreau Rickey
2 oz. Cointreau
1 oz. Fresh Lime Juice
3-4 oz. Club Soda or Seltzer
Build all ingredients in a glass with ice.
Stir briefly.
Garnish with orange peel and lime twist.

Cointreau Berry Rickey
2 oz. Cointreau
1 oz. Fresh lime juice
2 Blackberries
2 Raspberries
5 Mint leaves
3-4 oz. Club Soda or Seltzer
Muddle the berries and mint in the bottom of a glass.
Build cocktail with remaining ingredients and ice.
Stir briefly.
Garnish with raspberry and blackberry on a pick and a mint sprig.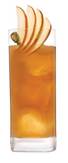 Cointreau Apple Crisp
2 oz. Cointreau
1 oz. Fresh Lime Juice
3 oz. Fresh Apple Cider
Pinch of nutmeg
Build all ingredients over ice in a highball glass.
Stir well and garnish with apple slices.