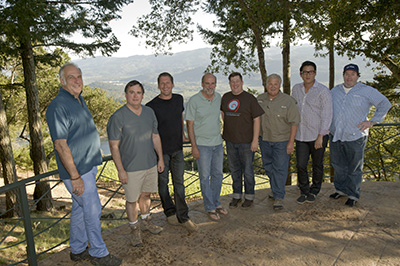 American Harvest Workshop: 5 chefs, 4 days, 26 years . . . and counting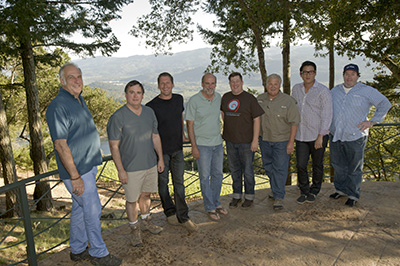 Each September, Cakebread Cellars brings together a select group of chefs, food producers and serious food and wine enthusiasts for four days of learning about and celebrating America's artisan food and wine products. It's a concept and format that has remained basically unchanged since the first Workshop in 1987.
The Workshop (AHW) has always been thought of as a sort of artists' colony – a comfortable get-away where chefs can be inspired, share ideas and take chances. It is a very hands-on, intensive program that includes tastings, working the grape harvest, insightful seminars, an on-site farmers market, farm visits, and planning and creating two memorable dinners around local purveyors' products. And, of course, sitting down to eat and drink in the company of other participants and the Cakebread family.
Hospitality and entertaining have been at the core of the Cakebread mission since the 1980s, when Dolores developed her organic kitchen garden. Today, the program is managed by culinary director, Brian Streeter. Brothers Bruce and Dennis Cakebread travel extensively and keep an eye out for talented new chefs who would be a good fit for the program. Bruce guides participants in focused wine tastings; and both he and Dennis have led the groups on hikes up and down the surrounding vineyards. Winemaker Julianne Laks walks everyone through the winemaking process. In fact, each year she and Bruce taste through upwards of 100 "library wines" from Cakebread's cellars prior to the Workshop and choose 25 – 30 wines to showcase at the AHW.
The American Harvest Workshop has seen more than 120 chefs from all over the U.S. and abroad graduate from the program. To commemorate its 25th anniversary, Brian worked with some 60 chefs who participated in previous years to create The Cakebread Cellars American Harvest Cookbook (Ten Speed Press, 2011), a compilation of recipes from past chefs, the winery and purveyors who have made AHW such a long-running success.
Certainly, the Cakebreads never imagined they'd be hosting the Workshop some 25+ years later. And while the program requires a great deal of planning, the family continues the tradition because "it reminds them why they got into the wine business in the first place – for the pride of crafting a handmade product and the pleasure of sharing it."
Save