Copper & Kings American Brandy Co. launches CR&FTWERK™ American Brandy aged in craft beer barrels
American Craft Spirits. American Craft Brewers. American Craftsmanship.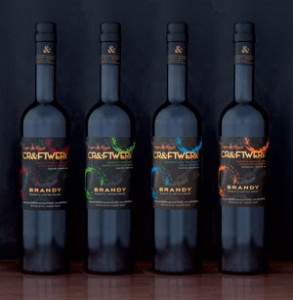 Louisville-based Copper & Kings American Brandy Co. is launching the CR&FTWERK series of small batch, American Brandy aged for 12 months in oak barrels previously used to age eclectic American craft beers from 3 Floyds, Sierra Nevada, Oskar Blues and Against the Grain breweries. The allocated release will be available in select liquor stores and bars in Copper & Kings' current 22 market footprint. Each new brandy expression is 55.5% ABV and 111 proof with a suggested retail price of $50 per 750 mL bottle.
"We have always been inspired by the imagination, fearlessness and balls-to-the-wall creativity of American craft brewers," said founder Joe Heron. "We hope that a little of this energy and spirit rubs off on us. We work with a lot of fine brewers, and it is fantastic to extend the typical barrel relationship into a two-way partnership with everyone sharing the inspiration and alchemy that lives inside the barrel. We are very proud to be associated with some of America's very finest craft brewers."
"This is far more than monkey-dust marketing" said head distiller Brandon O'Daniel. "Our ambition was to directly infuse the character and personality of the crafted beers within the American Brandy with honest authenticity. Brandy distillate is sooo responsive to its maturation vessel. The way that it works with the craft beer flavors is deliciously complementary – like-minded spirits one might say!"
Copper & Kings CR&FTWERK™ Series (111 proof/55.5% ABV)
$50 for 750 mL bottle
Matured in the craft beer barrels for 12 months, the CR&FTWERK series has a barrel entry proof at the high end, +/- 130 proof, to maximize flavor extraction and is bottled at 111 proof, to minimize dilution with just a touch of water to open it up.
All Copper & Kings brandies are unadulterated by any additives that may impact on the authentic and direct flavor from the craft beer barrels. The spirits are non-chill filtered, which would extract the flavors they are trying to retain, with no addition of boisé (oak flavor or infusion), which would muddy the natural flavors, and no added sugar or caramel color.
Recommended serving – ambient to start, and then add ice (or ice cold water) for a significant transformation.
3 Floyds "Dark Lord" Russian Imperial Stout (Munster, Ind.)
NOSE: Malty, earthy, cloves.
TASTE: Dark chocolate, coffee. Whiskey like.
FINISH: Quite viscous, finishes powerfully with hints of molasses.
Sierra Nevada Smoked Imperial Porter (Chico, Ca.)
NOSE: Red currant, surprisingly fresh, faint citrus. Hints of smoke.
TASTE: Unexpectedly hoppy, strong vanilla and malt. Smoky.
FINISH: Very mellow and smooth with a slight hoppy return.
Oskar Blues "G'Knight" and "Deviant Dale's" Imperial IPA (Brevard, NC)
NOSE: Grapefruit, citrus. Hoppy. Renegade florals.
TASTE: Clean, crisp hints of black pepper and a very slight IPA bitterness.
FINISH: Cool, grapefruity.
Against the Grain "Mac Fanny Baw" Peated Scottish Ale (Louisville, Ky.)
NOSE: Is this Scotch Whisky? Smoke, peat, vanilla and oak. Take you by surprise floral note.
TASTE: Fresher than nose suggests. Spearmint, with a hint of briny saltiness. Honey and light caramel.
FINISH: Super long and lingering, smooth through and down the back of your throat.
The distillery also produces the following portfolio of fine distilled spirits:
Copper & Kings Craft Distilled Brandy (90 proof/45% ABV) – $35 / 750 mL
Copper & Kings Butchertown Brandy (124 proof/62% ABV) – $60 / 750 mL
Copper & Kings Immature Brandy (90 proof/45% ABV) – $30 / 750 mL
Copper & Kings Absinthe Blanche (130 proof/65% ABV) – $55 / 750 mL
Copper & Kings Un-Aged Apple Brandy (90 Proof/45% ABV) – $30 / 750mL
Copper & Kings is available in 22 markets includes: Arkansas, California, Georgia, Illinois, Indiana, Kentucky, Louisiana, Massachusetts, Minnesota, Mississippi, New Jersey, New York, Ohio, Oklahoma, Pennsylvania, Rhode Island, South Carolina, Tennessee, Texas, Wisconsin and the District of Columbia.
Note: Download high-resolution bottle shots and more.
About Copper & Kings American Brandy Co.:
Copper & Kings uses small batch copper pot-distillation to forge untraditional, non-derivative, pure pot-distilled American apple and grape brandies and absinthe that are non-chill filtered with no added sugar, colors, flavors or synthetic chemicals. The state-of-the-art distillery exclusively focuses on the distillation of brandy. Copper & Kings is located at 1121 E. Washington St. in Butchertown, Louisville, KY. For more information, visit www.copperandkings.com or follow @CopperAndKings on Facebook and Twitter.